Celebrating the 75th Anniversary of the Gay Dolphin in Myrtle Beach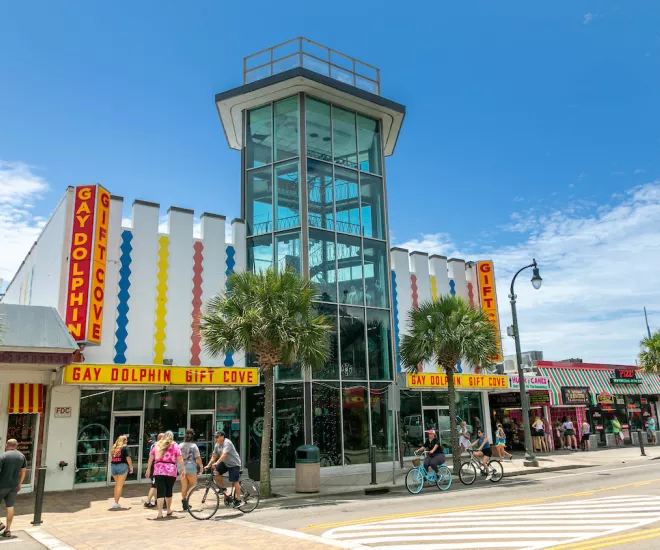 Celebrating the 75th Anniversary of the Gay Dolphin in Myrtle Beach
Cherished and transformational are two words that describe what the Gay Dolphin means to the Myrtle Beach community of visitors and locals. While Myrtle Beach has changed over the years, the one place that has remained a constant staple of the Boardwalk is the Gay Dolphin.
Starting out as a small gift shop back in 1946, the owner, Justin Plyler, had a vision for what Myrtle Beach could be – an affordable beach town where families can gather, and traditions can take shape. His entrepreneurship set the tone for Myrtle Beach as he owned and operated a mini golf course, three inns, a reptile show, Myrtle Beach's first aquarium, a monkey and gorilla exhibit, a rifle range, Kiddieland, a theme park with bumper cars, a pony rink, etc. – and of course, the iconic gift shop.
The Gay Dolphin Gift Cove, originally named "Shell Craft Gift Shop," was destroyed in 1954 by Hurricane Hazel and slowly built back, including the iconic glass tower. The store was operated by Justin and his wife, Eloise, with their two children, Kay Plyler and Justin "Buz" Plyler, who now runs the shop. The Gay Dolphin has become one of the oldest businesses in the Grand Strand that is still owned and operated by the original family.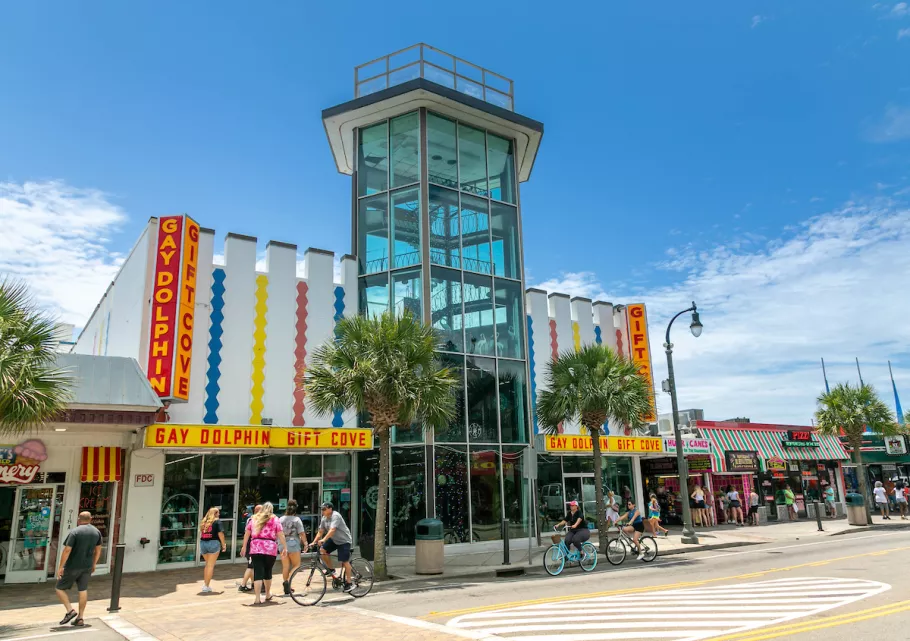 In the early days, the Plyler's and their employees would make many of the items sold in the store, including postcards, stickers, t-shirts and little blue license plates with names that they would become known for. Many of the original visitors to Myrtle Beach were mill workers who were looking for a relaxing and affordable beach vacation destination for their family, and the Gay Dolphin sold items that the visitors could afford. The Gay Dolphin is a testament to the hard work and love for Myrtle Beach that makes this beach destination beloved by millions of visitors each year.
Now, the Gay Dolphin is both a gift shop and attraction for visitors who come from far and wide to explore the multi-level shop filled with more souvenirs, t-shirts, home décor, and holiday items than you can imagine. But it's not just a gift shop, it's a place where generations of families can remember bringing their children, and their children's children to pick out an item to remember their beach vacation in Myrtle Beach. Help us celebrate the Gay Dolphin's 75th Anniversary by posting a picture of your favorite souvenir on the Boardwalk with the hashtag #mymyrtlebeach.
Find the Gay Dolphin at 916 N. Ocean Blvd, Myrtle Beach, and they are open from 9:00 am to midnight during the summer. If you are planning your next trip to The Beach, make sure you add the Gay Dolphin to your must-see list!
For more attractions and things to do in Myrtle Beach, check out our website.