How To Get Here
Traveling To The Myrtle Beach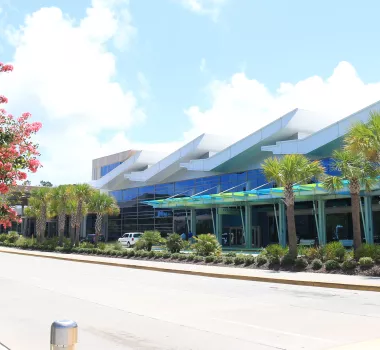 So your group wants to get to the Grand Strand fast so they can begin enjoying the sights and sounds of the Myrtle Beach area sooner, no problem! Flying to the Myrtle Beach area is quick and effortless with so many well-known carriers including Allegiant Air, American Airlines, Delta, Porter, Spirit, and United Airlines​. Check to see if your location flies to the Myrtle Beach area!
The Myrtle Beach International Airport serves as the commercial airport for the Grand Strand and also offers service for private companies. Once you've arrived, don't fret over transportation to your ultimate destination. In addition to the Myrtle Beach International Airport, there are several other local airports serving the private and corporate sectors.
We want your group to visit so we're working hard to expand roadways for travel to South Carolina's Myrtle Beach area. A proposed Interstate 73 corridor would create more of a direct route for visitors to the Grand Strand from states throughout the upper mid-west and north east.
Want to know how "close" the individuals in your group are to the Myrtle Beach Area? Take a look at these cities and the driving distance.
Get Driving Directions On...
.. MapQuest.com .. Expedia.com .. Yahoo.com .. MapBlast.com ..
Getting Around The Myrtle Beach
Once your group has arrived, don't fret over getting to your ultimate destination because the Grand Strand's network of roads has vastly improved to make traveling the Myrtle Beach area a breeze.
The 28-mile Veterans Highway (S.C. 22), a four-lane road that links U.S. 501 west of Conway and U.S. 17 north of Myrtle Beach, opened in 2001. The Carolina Bays Parkway (S.C. 31), which opened in December 2002, runs from S.C. 9 to U.S. 544; and eventually it will extend to U.S. 17 south of Myrtle Beach. Harrelson Boulevard, a new access road to Myrtle Beach International Airport from U.S. 17 Bypass, also opened in 2002. Other completed projects: Robert M. Grissom Parkway, which runs parallel to U.S. 17 Bypass and provides a passageway through central Myrtle Beach, and extensive improvements to U.S. 501 and S.C. 544, major thoroughfares to Myrtle Beach area.
Ocean Boulevard and Kings Highway (also known as Business Hwy. 17) run north and south along the Grand Strand parallel to the Atlantic Ocean. Highway 17 Bypass, a busy section of highway referred to by locals as simply "the Bypass," is the Grand Strand's westernmost route running parallel to the ocean. The Bypass begins in Murrells Inlet and continues northward until it merges with Kings Highway just before the Restaurant Row district. Mile markers are located on Business and Bypass Hwy. 17 to make navigation easier.
The Carolina Bays Parkway (S.C. 31) is a six-lane scenic highway from S.C. 9 to US 501 near Myrtle Beach Raceway.
The Robert M. Grissom Parkway is a four-lane route from 62nd Avenue North in Myrtle Beach to Harrelson Boulevard near the Myrtle Beach International Airport.
Parking meters between Kings Highway and the Ocean, from 29th Avenue South to 31st Avenue North are in effect from March 1 through October 31.
Getting Around has never been easier - Leave the driving to us!
The Coast RTA - Waccamaw Regional Transportation Authority; (843) 488-0865
Local bus service is available by The Coast RTA. The Coast is affordable bus transportation along major thoroughfares and to and from the Grand Strand and neighboring towns. Schedules are available at all Myrtle Beach Area Convention and Visitors Bureau offices. The Coast is a regularly scheduled bus system, consisting of more than 80 vehicles, offers service seven days a week, 365 days a year. Lymo buses travel on 22 routes servicing the Coastal Carolina region, including Myrtle Beach, North Myrtle Beach, Surfside Beach, Conway, Loris, and Aynor.
Inspiration Guide
Get your Official Myrtle Beach Area Meetings and Groups Inspiration Guide.
Contact a Meeting Specialist
Contact a Meetings & Conventions specialist to plan your next event in Myrtle Beach.
Submit Meetings RFP
Submit a Meetings RFP and we will assist in making your meeting experience the best it can be!