3 Day Sensory-Friendly Travel Itinerary
Well, you finally found the courage to try a mini vacation with your family. Congratulations! I know when our family traveled, our son's needs were of the biggest concern. We always needed a kitchen and the activities were chosen by their level of noise, triggers and physical effort needed. When we found a fit for us, we repeated it year after year. My hope for you is that by visiting Myrtle Beach, the most autism friendly destination in the states, that you'll come back year after year too! Be sure to get your Autism Travel Card from Champion Autism Network for discounts and perks. Let's map out some ideas for a three day weekend.
Myrtle Beach offers every possible style of accommodation to meet your needs. Beach condos abound as well as full house rentals and even time shares. Many of the hotels and beach homes, including Blue Green Vacations Resorts are autism friendly with staff that is trained to help you and make your visit a breeze. Several, if not all, offer pools and beach access as well as game rooms and craft activities. The closer you are to central Myrtle Beach, the more activities are just a short walk away.
Be sure to pick up a Visit Myrtle Beach Visitors Guide full of coupons and information about restaurants and attractions. Once you've settled into your room, you can sit down as a family and decide your activities. Making a plan known to your child can help alleviate stress and set expectations. You can also visit websites to see things before you arrive in town.
Assuming you arrive mid-afternoon, you'll have some time to play. If you are staying at a resort, take a walk together to get familiar with things. Your child may see something that draws their attention or they may show you something that causes stress so that you can eliminate that activity. In our family, the pool was always the first thing to do. You may have dinner on your mind too. Angelo's Steak and Pasta serves delicious and generous portions of Italian food. They also offer a private room if you think you'll need that quiet space for your child. (Call ahead to let them know you'd like to use it.)
Saltaire Coastal Kitchen at Holiday Inn in Surfside has autism trained staff and delicious food with a beautiful view. Another autism welcoming favorite of ours is Famous Joe's Hamburgers. As you can guess they specialize in hamburgers and similar foods and the prices are very modest. This restaurant tends to be noisy so take out might be best. You'll be so close to the beach, you can have a picnic. 
This first evening might be a quiet one to recover from the trip or just enjoy your new space. However, a walk on the beach is always nice when the sun is less hot.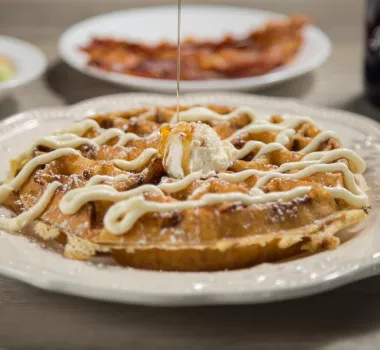 Myrtle Beach is filled with delicious breakfast places. Johnny D's is very autism supportive, however, they can be busy if you are visiting in the summer months. If you want to get something quick and yummy to take back to your room, try Benjamin's Bakery or Milk and Honey in Surfside Beach. Both have wonderful coffee, breakfast sandwiches and pastries. If you are staying north of Surfside, visit Croissants Bistro or Blueberry's Cafe for yummy options.
On the weekends, Champion Autism Network often hosts autism friendly events such as Ripley's Aquarium, movies, trampoline park, or bowling. All of these events have been designed to lessen sensory issues. Visit Champion Autism Network's Facebook page for current listings. However, if you are visiting when there aren't events, never fear - many of these attractions will accommodate sensory needs at their guest services areas. 
Let's not forget the beach! Afternoons can be fairly hot and sunny. I find evenings to be just delightful with less chance of a sunburn. Either way, be sure to bring beach toys, towels, sunblock, hats and an umbrella that you can get at any retailer. Chairs, umbrellas and other beach items are often included in beach rental properties.  Be sure to visit the Beach Safety page for more information.
A very nice way to end the first day is with a sunset ride on the SkyWheel. This very large observation wheel has temperature controlled gondolas which glide smoothly and without tipping. The views are gorgeous! If you're worried about a person in your party feeling panicky, there is a button to let the attendants know you need to get off. The staff is autism trained and if you show your Autism Travel Card you can get to the front of the line.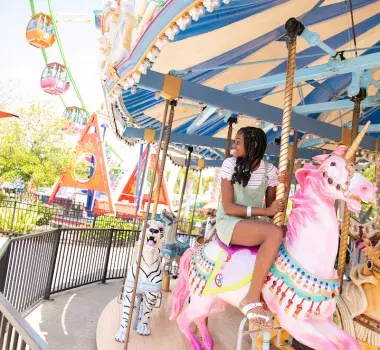 Today is your last day but the fun doesn't have to stop! The beach is always available for a nominal parking fee, unless you still have access at your accommodation.
If you want to squeeze in some shopping, eating and attractions all in one stop, then Broadway at the Beach is your place! This beautiful shopping center surrounds a lagoon and is all connected by boardwalks. Stores abound giving you an opportunity to find that perfect souvenir. There are also amusement rides including some for little kids. 
Senor Frog's is great fun for Mexican food, and they have lagoon side seating too. It can get busy and loud here at night so I recommend lunch here. While walking the lagoon be sure to look for the carp feeding stations. Even as a grown up, I still get a thrill seeing these fish rise up and beg for food. If you need some green space to run off some energy, The Hangout has a lawn with chairs. You can eat here as well, with a large menu with wide range of offerings such as burgers, nachos, seafood and salads. Check their calendar for concerts and events that might interest you.
So much to do in so little time! By now, you should all be pretty tired, well fed and happy. Have a safe trip home and be sure to visit us again!