Sensory Friendly Ripley's Aquarium
January 14, 2023 - June 10, 2023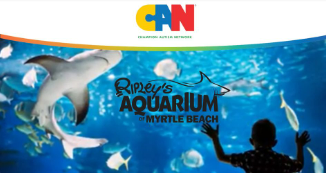 House lights up and music and sound effects down. Noise canceling headphones available at guest services.
CAN card rates: Adults: $15, Children 6-11: $12, and Children 3-5: $7.
Be sure to get your special Selfie Scavenger Hunt sheet from the Guest Services desk. You get a prize when you turn it in. 
Saturday, January 14, 2023 | 9:00am
Saturday, February 18, 2023 | 9:00am
Saturday, March 11, 2023 | 9:00am
Saturday, April 15, 2023 | 9:00am
Saturday, May 13, 2023 | 9:00am
Saturday, June 10, 2023 | 9:00am