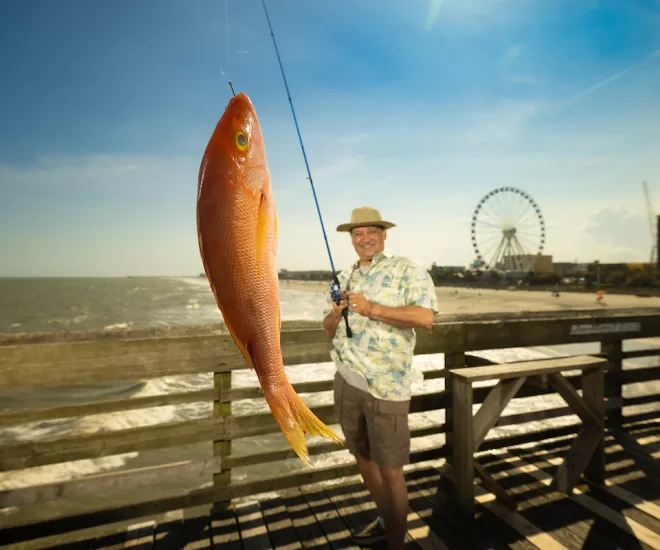 The Myrtle Beach, South Carolina area is home to some of the most bountiful natural beauty in the United States. Its temperate climate and affordability mean you can enjoy outdoor attractions year-round. Fishing has long been a premiere recreational activity in the Grand Strand, and you can enjoy all types--from deep-sea fishing to kayak fishing to pier fishing.
The Grand Strand region has both saltwater and freshwater fishing thanks to the Atlantic Ocean, Intracoastal Waterway, and Waccamaw River. With easy access to the water and great amenities, anglers of all levels can expect an amazing fishing experience in the greater Myrtle Beach area.
Grand Strand Fishing Rodeo 
One of the longest running tournaments in the Southeast, the Grand Strand Fishing Rodeo is from November 1st and continues monthly through October 31st, 2023.
For more information on rules, registration and prizes, click the button below. 
Myrtle Beach Fishing Charters
Myrtle Beach Deep Sea Fishing Charters & Party Boats With Captain Robert!
9945 Nance Street, Calabash, NC 2846
(910) 575-0017
Offering Myrtle Beach Area party boats, charter boats, deep-sea fishing, inshore, offshore & Gulfstream charters with Calabash Fishing Fleet.
4495 Baker Street, Little River, SC 29566
(843) 249-1889 or (843) 450-2694
A coast guard-approved vessel offering an exclusive charter fishing experience. They offer 1/2-day charters as well as 3/4-day and gulf stream charters for the more experienced fisherman. We offer shark fishing, bottom fishing, and trolling. Aboard with Captain Ricky, you will have the luxuries of a charter boat. Let our mate be at your service. We offer fish cleaning, help with coolers, packing fish for travel, etc. We are located at Cricket Cove Marina in Little River, South Carolina. 4th generation fisherman with over 40 years experience.
Boat Location: Cricket Cove Marina
4495 Baker Street, Little River, SC 29566
(843) 361-7445
If you want to embark on an adventurous fishing trip, you need Captain Smiley. With their experienced captains and professional crew, the Little River Fleet offers some of the best gulf stream fishing trips available on the Grand Strand for grouper, snapper, jumbo bass, triggers, and much, much more. Fish inshore sounds, inlets, tidal creeks, and near-shore wrecks in the Myrtle Beach - Little River area. Full and half-day charters.
4123 Highway 17 Business, Murrells Inlet, SC 29576
(843) 651-3676
Fishing trips include private charters, inshore/near shore, deep-sea fishing, shark fishing, and a public head boat. Crazy Sister Marina also offers boat slips for rent, a fuel dock with ethanol-free unleaded and diesel fuel, and a ship store stocked with all the essentials.
Fish Hook Charters
Capt. Ronnie Atkinson
2200 Little River Neck Rd., North Myrtle Beach, SC 29582
(843) 283-7692
A local fishing charter company with years of local experience, dedicated to providing the best fishing charter experience. With large, accommodating boats and trained Captains at the helm, you'll be in good hands when you decide to take a trip with us. Myrtle Beach, Little River, and Calabash.
975 Nance Street, Calabash, North Carolina 28467
(800) 373-2004 | North Carolina: (910) 579-3660 | South Carolina: (843) 249-3571
Since 1948, the Hurricane Fishing Fleet has been the Myrtle Beach area's leader in head boat and deep-sea fishing charters. Located in Calabash, NC, our port is the closest to the ocean in the area, allowing for more fishing time and less riding time. Myrtle Beach's Original Deep-Sea Fishing Head Boat.
Reel Action Fishing Charters
2201 Little River Neck Rd., North Myrtle Beach, SC 29582
(843) 997-3077
Your source for private Myrtle Beach fishing charters, family fishing charters, and eco-tours in the Myrtle Beach area. With medium-sized boats capable of carrying up to 6 adults, we focus on a more private experience. Children 11 or under go free with an adult accompanying them.
1525 13th Avenue North, North Myrtle Beach, SC 29582
(843) 626-9500
Voyager offers the largest and most comfortable party fishing boat in the Carolinas! Special fishing rates year-round with 1/2-day, 1 day, and 24-hour trips. Private charters, large groups, deep-sea fishing!
Pier Fishing
If pier fishing is more your style, the Myrtle Beach area has five piers where you can relax and enjoy beautiful ocean views while you fish.
9700 Kings Road, Myrtle Beach, SC 29572
(800) 553-1749 or (843) 449-7323
At 1206 feet, the Apache Pier is the longest wooden fishing pier on the East Coast. With a loaded Bait and Tackle shop, an oceanfront restaurant, and a huge arcade the Apache Pier has something for everyone.
3500 N. Ocean Blvd., North Myrtle Beach.
(843) 249-1625
Fishing enthusiasts visiting Myrtle Beach will find Cherry Grove Beach Pier as the first stop on their tour. Regulars who come to the 980-foot long pier can boast that one of the Grand Strand's biggest catches – a 1,780-pound tiger shark – was nabbed right here. Fishing passes are $2.00 admission with $6.00 per rod. No fishing license needed with paid admission.
1304 N. Ocean Blvd., Myrtle Beach
(843) 448-4314 or (843) 448-6500
Located in the heart of Myrtle Beach, just next door to the world-famous SkyWheel, Pier 14 offers amazing scenery, great fishing, and a fantastic restaurant that bears the same name with a menu consisting mainly of seafood options. Fishing passes and rentals are good for the whole day, so you can leave and return at your leisure. Fishing pass $7.00.
110 North Ocean Blvd., Myrtle Beach, SC 29577
(843) 445-7437
Second Avenue Pier is famous for its wide variety of catches. Everything from Finger Mullet to Flounder to Spanish and King Mackerel, and even Barracuda! Catches are seasonal, with Flounder abundant in the summer and fall, and Winter Trout in the colder months.
Whether it's fishing, spending time with the family, or enjoying a relaxing cocktail against an ocean backdrop, Second Avenue Pier has you covered. Built in 1936, this 900-square foot long pier offers an oceanfront bar and restaurant, as well as gift and tackle shops.
Surfside Drive, Surfside Beach, SC
(843) 238-0121
The Surfside Pier is currently under construction!