The Bowery: A Landmark that Changed Country Music
The Myrtle Beach landmark, The Bowery, opened in 1944 for our visitors, locals and the men stationed at the US Army Air Corps airfield -- where the Market Common District is now --  during WWII. The new club was right at the beach and faced the side of the Myrtle Beach Pavilion. That was going to be a great draw…until the Pavilion burned down on December 28th of that year. It was replaced four years later, after the war was over, with a new Pavilion made of fireproof material that stayed there until it was razed in 2006. The Bowery, however, is still going strong. 
Its third ever owner is Victor Shamah. He grew up in Myrtle Beach since the late 1950s and still has the same friends that he did in high school. His family owned the tiny beachwear store next door to the Bowery where Victor worked as a teen. In fact, he ran that location while his family manned their larger stores nearby. One of the most popular items that he sold was "Wild Country" t-shirts. That was the house band at the Bowery next door.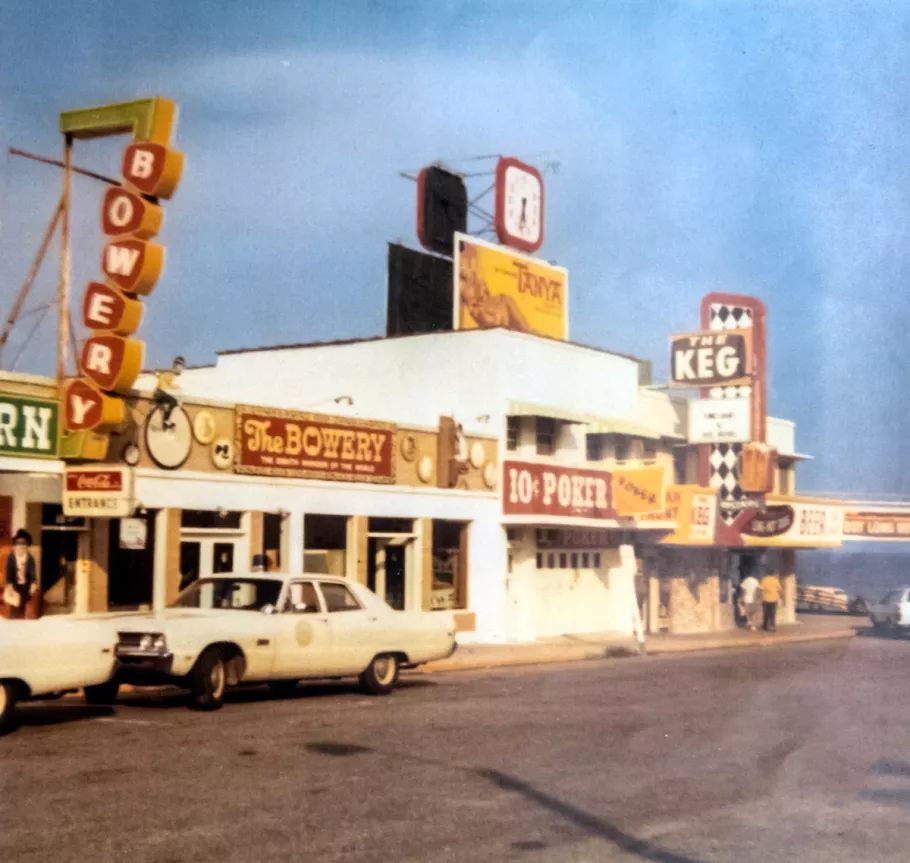 The group started there in 1973 where they worked for tips and beer as "Young Country" then changed their name in 1977.  In the off season, when Victor was 15, he would travel with the band. In 1979, they changed their name to "Alabama." And, in July of 1980, at the height of the summer season, they left the Bowery. Why would they abandon their longtime gig during the most lucrative time of year? Well, they finally landed the record deal that they had been hoping for and it was time for them to fulfill their destiny.  Those three cousins from Fort Payne, Alabama, Randy Owen, Teddy Gentry and Jeff Cook, were about to change country music forever. 
Victor says that they came to The Bowery as musicians, but they left as entertainers. That club made them who they were. They could try out all of their new songs on the bar audience and find out what the public wanted. It wasn't by chance that they had a string of number one hits early in their career. They knew that people would like those songs before they ever released them. The Bowery patrons unwittingly had served as an insightful focus group. They made Alabama an overnight success, six years in the making. 
It wasn't just their talent that won fans over, it was their heart.  They are some of the most genuine and generous folks that you ever hope to meet.  They would stay after every gig until the last autograph was signed.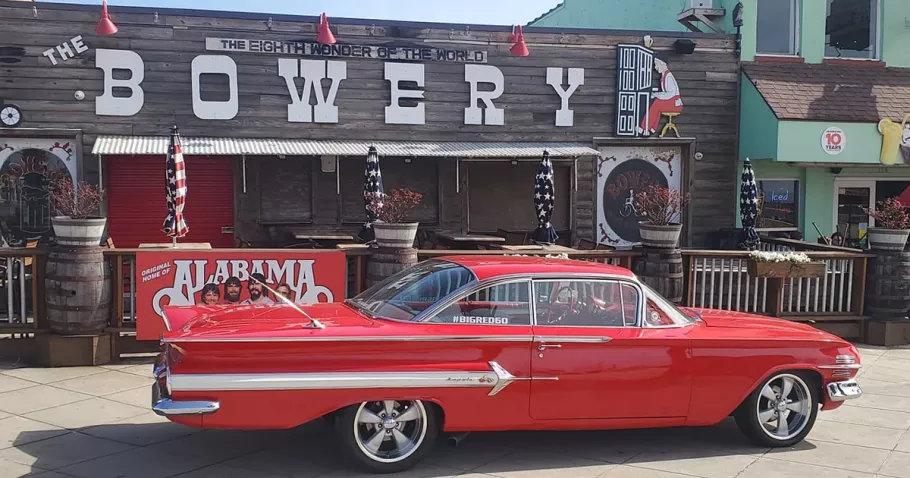 Randy still stays in touch with Victor.  When Myrtle Beach gets a little knocked around by a hurricane, they are on the phone to Victor asking if they can do a fundraiser for us.  Fortunately, our damage has never been that severe.  Jeff Cook came back for all of The Bowery's major anniversary events.  The band never forgot its Myrtle Beach roots.  Their Alabama Theatre is one of the most popular entertainment venues along the Grand Strand today. 
Soon after they left in 1980, The Bowery was for sale, but the band hadn't made their millions yet and couldn't afford to buy it.  So, at the age of 22, Victor sold his car and borrowed money from his dad to make the down payment, and the seller owner-financed the property.  Victor claims that selling beer was a lot easier than selling t-shirts. He has been serving five generations of customers ever since and claims that he can't retire…he could, of course, but apparently just doesn't want to.
As for the band, with 80 million albums sold and 43 number one hits, these Country Music Hall of Fame icons since 2005, are considered the greatest country music act of all time, the G.O.A.T. of country music so to speak.  They won two Grammys, three Country Music Association Entertainer of the Year trophies and five Academy of Country Music Entertainer of the Year awards. 
And when you've won just about everything your industry has to offer, it allows you a little leeway to work on a project just for the fun of it.  And, in 1997, that's what Alabama did. They put out an album with only one country song. The rest were variations on Beach Music, the genre that you do the South Carolina State Dance, The Shag, to. The title track was "Dancin', Shaggin' on The Boulevard."  It was a love letter of sorts to Myrtle Beach, the place that made them who they were. 
Each verse mentions a club or hangout that was still there in the late 90s or had long since been replaced.  They list the beach music acts who played those venues who are considered legends today.  The last verse refers to the precursor to what is now Ripley's Believe It or Not. Sloppy Joes fed many a starving lifeguard and co-ed waitress in the middle of the night during the summers. They were also a bingo parlour where live puppies were some of the prizes when I was a little kid. 
Well, I'm hangin' out down at Sloppy Joes
They may doze but they never close            (That really was their tagline.)
And the Bama boys at the Bowery and    
They can't dance but they play for free
The video was made in Myrtle Beach.  It provides a snapshot of some of the popular spots that are no longer here. At the end of the video, they show a little television monitor with what is probably a VHS tape recording of a real live performance of them back in the day. 
Back then, my cousins worked at the Gay Dolphin Gift Cove at the other end of the block from the Bowery where they would go when their shifts ended. Not only did they befriend the band members, they would bring them home about once a week for dinner hosted by my aunt and uncle.  My uncle had a beautiful singing voice of his own, but I don't know if they made the guys sing with him for their supper. In just a blink of an eye, those cousins were no longer dining with my cousins because now Alabama was taking on the country music world. But just like Victor said, they never forgot their friends.  When I was in college and that aunt succumbed to cancer, at her funeral, there was a wreath of flowers from Jeff Cook. 
IN MEMORIAM
After his own nearly decade-long battle with Parkinson's disease, Jeff Cook passed away on November 7th, 2022.  His mantra during those last years was the title of a song he had written earlier in his career, "No Bad Days."  He and his beloved wife, Lisa, created the Jeff and Lisa Cook Foundation to help others living with Parkinson's and their caretakers.  He stopped touring with the band in 2018, but insisted that they keep performing because he didn't want the music to stop or the party to end.