Take a Self-Guided Driving Tour to African American Historic Sites
Take a Self-Guided Driving Tour to African American Historic Sites
The Grand Strand has a number of significant African American museums and historic sites, several of which are former plantations.  They provide tours and convey a wealth of information regarding the Black history of this area.  In addition to these exceptional locations, there are lesser-known sites that are worth a look either en route to the other better known destinations or could be part of a self-guided driving tour that stretches from North Myrtle Beach to Georgetown. 

Atlantic Beach Town Hall, 717 30th Avenue South, Atlantic Beach, SC  29582
A historical marker near the Atlantic Beach Town Hall briefly tells the story of the oceanfront community affectionately known as The Black Pearl.  It began in the 1930s when local African American entrepreneurs envisioned a resort for Black patrons during a time of segregation that prevented them from enjoying other area beaches.  For nearly forty years, restaurants, clubs, motels, even a small amusement park thrived within the four streets that stretch from Highway 17 to the beach.  More commercial and residential lots exist on the highway's other side over to the Intracoastal Waterway.  It officially became a town in 1966, just when the restrictions of segregation were being lifted and its popularity waned.  That allure, at its peak, made it one of the most popular African American resorts on the East Coast, from Virginia to Florida. And not just with singles and families, but Black military personnel who came from bases in both Carolinas and, locally, either lived in motels or tents when they couldn't stay on base due again to segregation. Today, Atlantic Beach remains one of the very few predominantly Black-owned and governed municipalities in the country.
Located in the Myrtle Beach Convention Center, 2101 N Oak St, Myrtle Beach, SC 29577
Each February, a service is held to induct two new members, one living and the other deceased, into the South Carolina Hall of Fame.  Its purpose is to recognize and honor both contemporary and past citizens who have made outstanding contributions to South Carolina's heritage and progress.  In the atrium of the Myrtle Beach Convention Center, there is a display of portraits of many of the inductees.  More recent additions can be accessed digitally through a kiosk in the middle of the display.  The honorees depicted include African American citizens such as educator, Mary McLeod Bethune, musician, Dizzy Gillespie, and astronaut, Ronald McNair.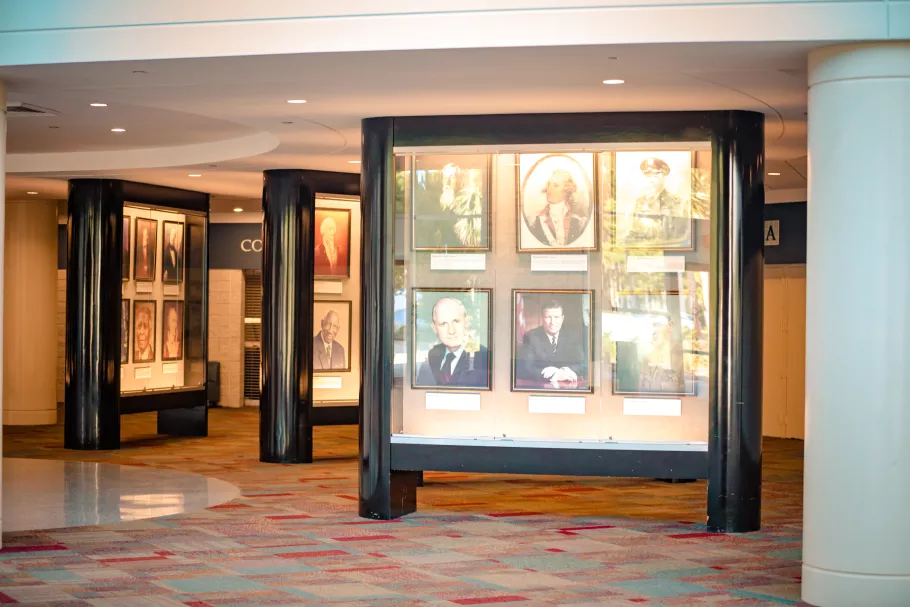 It is accessed from the side adjacent to the Myrtle Beach Health Department, 700 21st Ave N, Myrtle Beach, SC 29577
The Oak Street Cemetery has been located in a lot that is nestled by what is now the Myrtle Beach Convention Center but has been there for more than 30 years before the convention center was first built. It was established in the 1930s and, in 1992, was deeded to the City of Myrtle Beach whose Neighborhood Services Department oversees it. It is a largely African American cemetery that gets its name from the fact that those buried there are from families who lived on Oak Street which runs in front of the convention center.  Many of the graves are from the 1960s and 70s and include veterans from both world wars, Korea and Vietnam.  The City's goal is to bring the memory of this place to the forefront and honor some of our earliest residents.  In the summer of 2022, the City replaced the surrounding fencing, added landscaping and straightened and secured headstones.  Ground-penetrating radar used in 2010 revealed that there were 243 graves there; 128 are marked and 115 are identified as KUG because those buried in them are only "Known Unto God."
312-1 South Willow Drive, Surfside Beach, SC 29575
Prior to the dominance of rice cultivation, indigo, a plant used for its blue dye capabilities, was the first major cash crop in this area.  The Ark Plantation grew indigo in the early 1700s with Great Britain being the commodity's chief buyer, using it primarily to color their military uniforms.  However, when you go to war with your best customer, they tend to stop buying from you, and indigo was rarely grown again.  Rice took its place.  The Surfside Beach Historical Society had historical markers placed where enslaved Africans once worked on Ark Plantation.  In addition, the markers reference the traditions of these Gullah Geechee people.  Other markers denoting where those workers were buried are located at the corner of 6th Avenue and Willow Drive.  There are at least 60 burial sites there in addition to the many unmarked graves.
3741 US-17 Business, Murrells Inlet, SC 29576
Sunnyside is a beautiful, private, event venue that you can't even see from the road because of the trees, but it would be an oversight to not mention it as it was where the author, Julia Mood Peterkin, lived when she was inspired to write her Pulitzer Prize winning novel, Scarlet Sister Mary.  It and her other novels are set at what she calls Blue Brook Plantation.  In reality, it was Brookgreen Plantation, now part of Brookgreen Gardens, that she and her husband owned in the early 1920s.  The stories take place after the Civil War and give unprecedented insight into what life for African Americans was like in this region during Reconstruction.  W.E.B. Du Bois once said of Peterkin that she "is a Southern white woman, but she has the eye and ear to see beauty and know truth."
The ruins of the mid-century modern motel can be seen from Ocean Highway (Highway 17) at Old Beach Road, Pawleys Island, SC 29585
In the 1930s, Lillian Golden Pyatt, a single, African American, woman during the Great Depression fulfilled her vision to create the Magnolia Beach Club on what is now the southern tip of Litchfield Beach.  She partnered with a local couple, The McKenzies, who owned the property between hers on the beach which she had inherited, and the road, in order to have access to her club.  The McKenzies also ran the development while Lillian returned to New York to earn the capital to build and run the club and oceanfront accommodations.  It was a great success, featuring some of the most popular musicians of the day, and attracting a Black clientele from up and down the Seaboard who had few resorts to choose from during segregation.  What remains today is the McKenzie's motel they built near the road a few years after Hurricane Hazel washed away the Magnolia Beach Club in 1954. 
506 Myrtle Ave, Pawleys Island, SC 29585
What is now a striking, private bed and breakfast, The Pelican Inn, along the beach in historic Pawleys Island was once a vacation home for a local plantation owner.  It was made by the most acclaimed builder in this area of his time, Renty Tucker, who was also an enslaved African.  His talent was so superior that he was sent to England to study and brought those newly honed skills back to create enviable architecture at various plantations where he was hired out to create.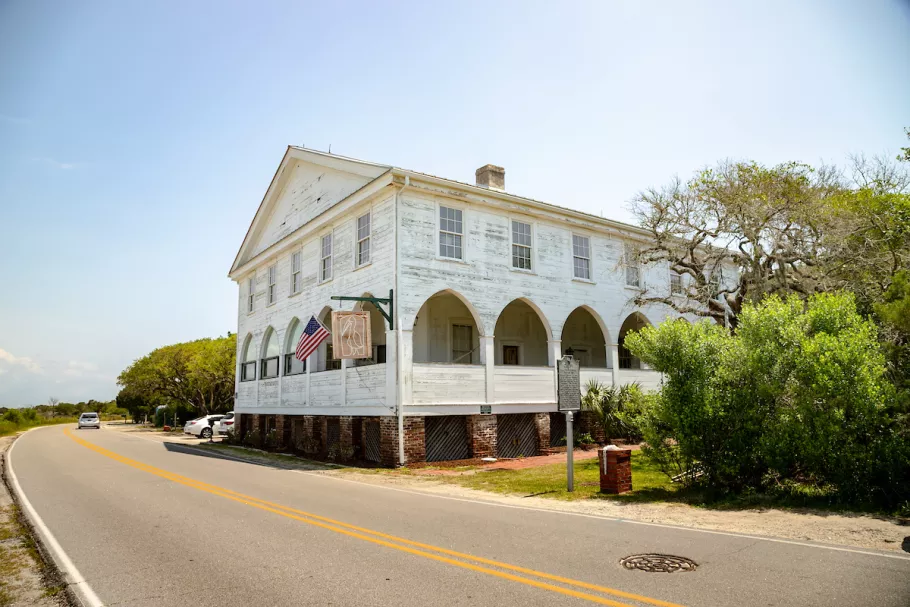 300 Broad St, Georgetown, SC 29440
Renty Tucker's even more notable building was Saint Mary's Chapel, constructed for the use of the enslaved Africans on Hagley Plantation that no longer exists.  Excavation at the former Hagley location of African burial sites has been initiated to properly reinter the remains of the families who toiled and died there. The stained glass windows from that chapel can now be seen behind the pulpit at Prince George Winyah Parish Church.  And, on the hour, the bell of Saint Mary's is rung in the church's tower.  Later in life, as a free man, Tucker was employed as the sexton of this church.  Upon his death a notable funeral covered by the local media was held there for him. 
921 Prince St, Georgetown, SC 29440
Joseph Hayne Rainey was the first African American member of Congress.  A native of Georgetown, he was born into slavery but had his freedom purchased by his father who was a barber.  Following in that profession, Rainey did well in Georgetown, Charleston and in Bermuda after escaping there with his wife, a fashion designer, during the Civil War. He later returned home to Georgetown to serve his constituents in the United States House of Representatives.