On Location: Myrtle Beach, South Carolina
On Location: Myrtle Beach, South Carolina
Today, we are traveling to Myrtle Beach, one of the 14 beautiful communities of the Grand Strand, as we explore down the 60 miles of coastline that make up our area. Where do we start with all there is to see, do and eat in Myrtle Beach? Well, keep on reading as we highlight our favorite things to do, adventures, and restaurants in Myrtle Beach.
The SkyWheel is an icon of the Myrtle Beach skyline, as it is located right on the Boardwalk and can be seen from almost any spot on the beach. The SkyWheel is 37 stories high and offers rides in air-conditioned gondolas where you will be able to see one of the best views of the Atlantic Ocean and Myrtle Beach.
You must start the day with the most important meal – breakfast. Head over to Croissants Bistro & Bakery, a French bistro inspired restaurant where you will find buttery pastries and other breakfast dishes all made fresh. Or check out Johnny D's Waffles and Bakery, a diner style restaurant with famous waffles, eggs benedict, and omelets. They both have delicious menu items sure to please everyone in your family.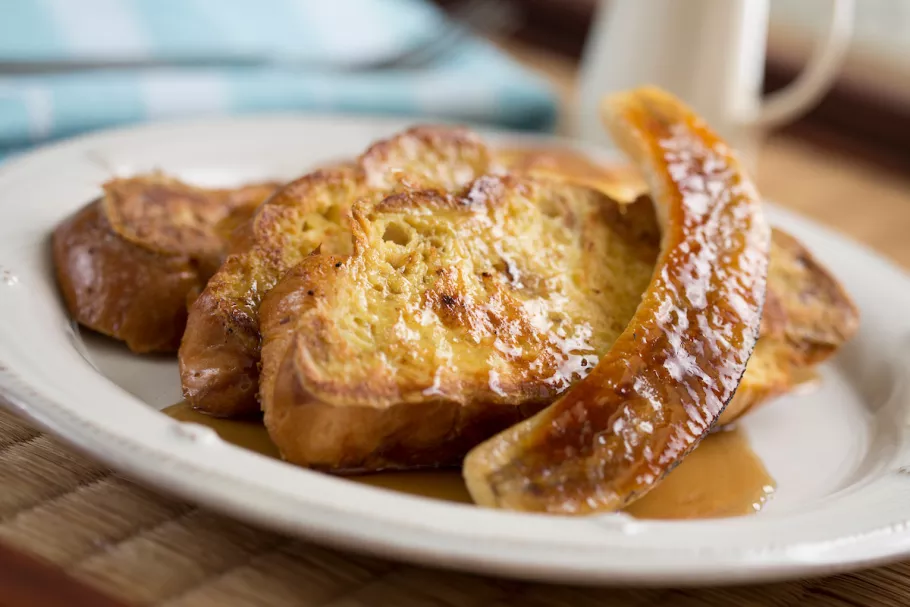 An undeniable must-see is the Gay Dolphin Gift Shop, located on the Boardwalk. A fixture of both Myrtle Beach past and present, visitors have been finding their favorite souvenirs for over 70 years at the Gay Dolphin. Find your name on their iconic blue license plates or pick out a t-shirt to wear back home!
While you are at the Boardwalk, visit The Funplex, an amusement park right off Ocean Boulevard. The Funplex offers 7 different rides for all ages, ranging from mild to adventurous, and has a beverage bar and food options that are not only tasty, but unique and fun. The Funplex also just opened a new ride, Mach Fun, the tallest flying jet ride in North America.  
For outstanding views of the Atlantic Ocean, eat lunch or dinner at Riptydz Oceanfront Grille and Rooftop Bar. Riptydz has both indoor seating and a rooftop that offers unobstructed views and a menu with options from burgers to seafood to specialty mac and cheese.
Our next stop is Broadway at the Beach , a shopping, entertainment, and dining complex only a few blocks from the ocean. Located in Broadway at the Beach, the Simpsons in 4D is the perfect family friendly entertainment spot with themed snacks and drinks at the Kwik-E-Mart. The Hollywood Wax Museum , also located at Broadway at the Beach, is home to your famous stars – wax museum style of course! The Hollywood Wax Museum also offers a mirror maze and zombie experience that will keep the entire family amused for hours.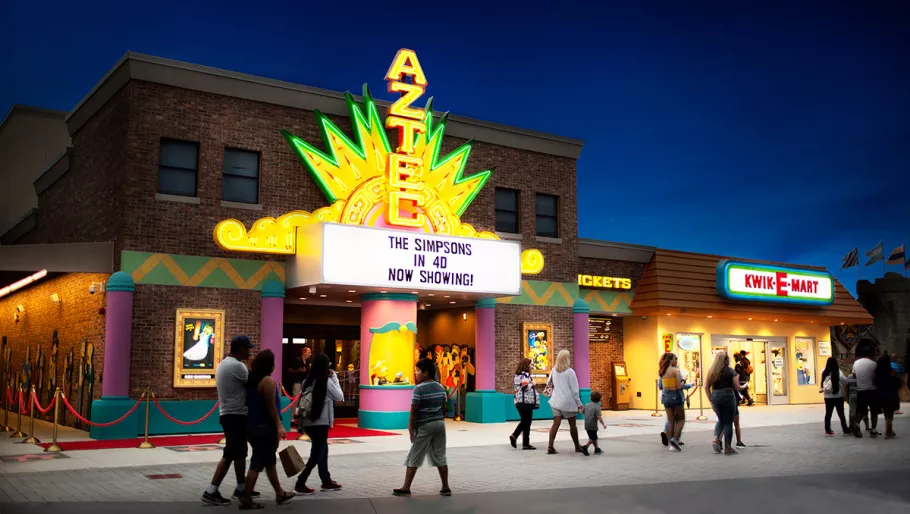 Ripley's Aquarium, also located at Broadway at the Beach, is an enchanting two-story aquarium filled with all types of aquatic life. If you love penguins as much as we do, you have to try the Penguin Encounter, where you can learn about and pet a penguin. Ripley's also has a glass tunnel so you can walk underneath the "water" and see the fish and sharks from above.
If you are looking for fine dining or date night location, Hook & Barrel is owned and operated by award-winning chef, Heidi Vukov, and is famous for excellence in fresh, sustainable cooking. Sea Captain's House is another renowned restaurant in Myrtle Beach, where its traditional coastal dishes like she crab soup and fresh fish have stood the test of time for over 50 years.
And of course, there is always the beach! For the vacationers who like to stay active, there are watersports galore, such as jet skiing, parasailing, and banana boating. Check out the watersports page on our website for more information.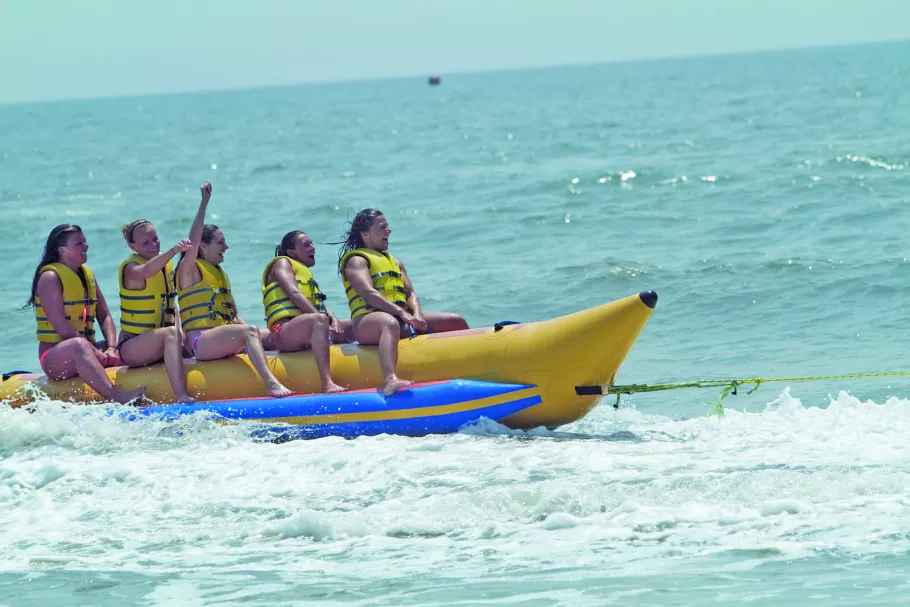 Did you know that the first state park in South Carolina is located in Myrtle Beach? The Myrtle Beach State Park is located right on the beach and spans one entire mile. The park provides secluded campsites, a nature trail, a fishing pier, and educational opportunities to learn about the oceanfront maritime forest.
Next, head over to The Market Common, a beautifully-designed village shopping and dining center, located near the Myrtle Beach International Airport. From retail shops and local boutiques to a relaxing movie theatre and restaurants, The Market Common is when you can shop-til-you-drop and relax all at the same time, all in one place.
Myrtle Beach also hosts two famous festivals, among others in the area. The Sun Fun Festival, which marks the start of the summer season in Myrtle Beach, began in 1951 and is both nostalgic and fun for all ages. The second is the Carolina Country Music Festival, or CCMF, featuring several famous country music stars during a 3-day long festival in mid-June. Thousands of people join us in Myrtle Beach for CCMF - you should be one of them!
If you are interested in learning more about the history of Myrtle Beach, and the entire Grand Strand, visit our Area History page.
Now, all you have left to do is plan your next beach vacation and find an oceanfront room at the perfect resort or hotel in Myrtle Beach! Many accommodations in the area are featuring deals, so that your family can experience all the fun in Myrtle Beach at an affordable price. Check out our hotel deals page for this information. We can't wait to welcome you at The Beach!