Dinner Shows in Myrtle Beach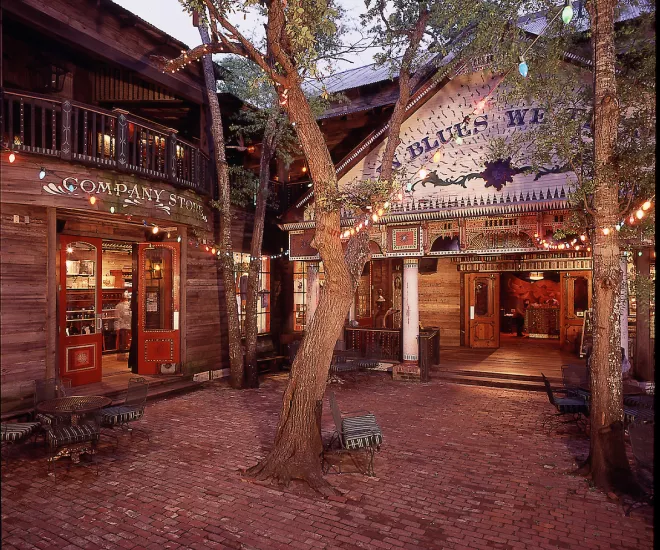 Myrtle Beach Dinner Shows
What could be better than having dinner out? Pairing it with a show, of course! Myrtle Beach may not be the bright lights of Vegas, but we still host a lineup of killer dinner shows in theatres that will give Vegas a run for their money (and you won't have to spend as much).
Here are the dinner show theatres we recommend, where you need to reserve your tickets, save your appetite, and sit on the edge of your seat the entire show:
Murder Mystery Dinner Theatre at House of Blues
4640 Hwy 17 S, North Myrtle Beach
Sit down in front of a three-course, Southern-inspired meal, while an interactive "who dunnnit?" murder-comedy plays out before you at House of Blues' new Murder Mystery Dinner Theatre at Barefoot Landing. Everyone is a suspect, and the guest who solves the crime may be awarded. The show starts at 7 p.m. sharp, like a knife.
            Note: House of Blues also hosts a Gospel Brunch every Sunday from 9 a.m. to 1 p.m. No, it's not dinner, but their Southern, soulful all-you-can-eat brunch and breakfast served up with a backdrop of live gospel music will have you singing Hallelujah!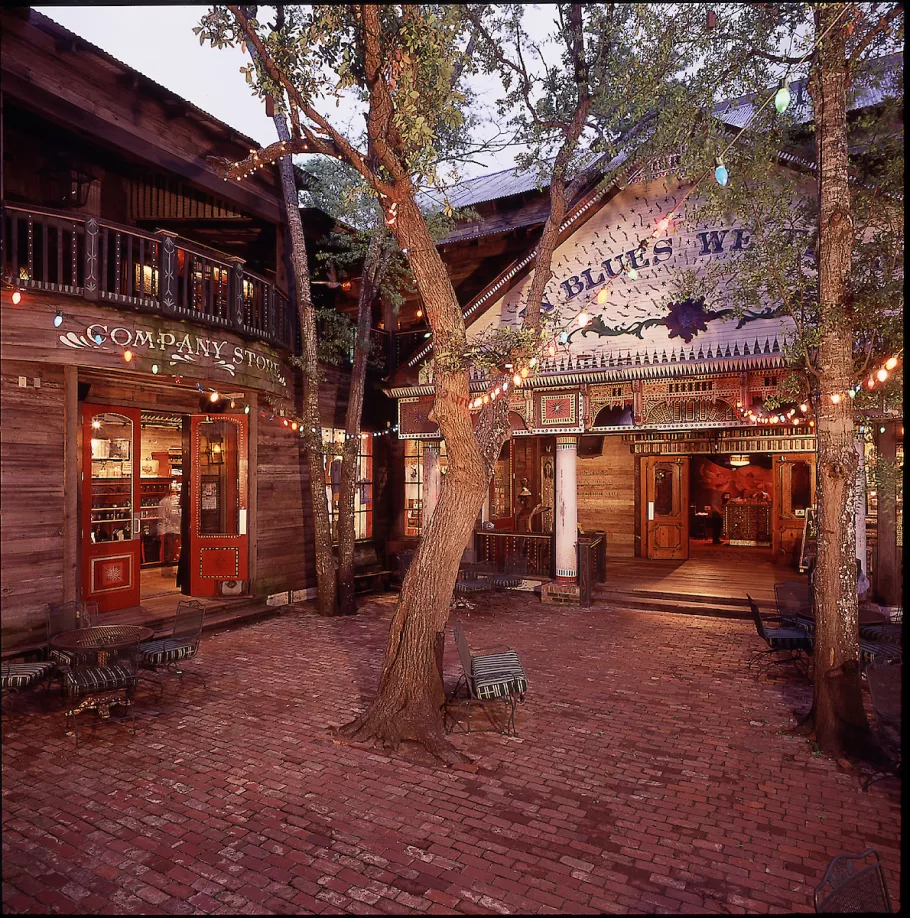 Riga-Tony's Murder Mystery Dinner Show
1329 North Kings Highway, Myrtle Beach
Here at Riga-Tony's, you'll come hungry and leave full of a delicious dinner of traditional lasagane Napoletana … and a taste for murder. The venue's experience includes a few comical crimes performed that guests will have to solve. The dinner entrée is preceded by a fresh salad and closed with a creamy Italian dessert (vegetarian and gluten-free entrees are also available).
Murder At The Cotton Club: a Whodunnit Murder Mystery Dinner Show at Asher Theatre
3237 Waccamaw Blvd., Myrtle Beach
Guests at this murder mystery dinner show will be transported to the Cotton Club, an iconic music club in New York known to once host the legendary Duke Ellington, Louis Armstrong and more from the 1920s to 1940s. You'll relive the thrill of this time through live music and entertainment on stage, while you enjoy a two-course catered dinner, but the night takes a turn for the worst because one of the entertainers is murdered! The audience will then turn into detectives, interacting with the costumed cast to solve clues, determine who the suspect is, and bring the murderer to justice. Someone may even win a prize for solving the mystery!
During the action-packed experience, Asher's concession stand is open, serving beer, red and white wines, soda, water, popcorn, and candy.
Medieval Times Dinner & Tournament
2904 Fantasy Way, Myrtle Beach
M'lords and ladies, you are invited to step foot into this 11th century Medieval castle and further into its massive arena, where you will witness knights performing on majestic horses, jousting, and competing for the queen's favor. The plot line, the action, the special effects, and the four-course feast (that you eat with your hands to stay with the time!) will blow you away!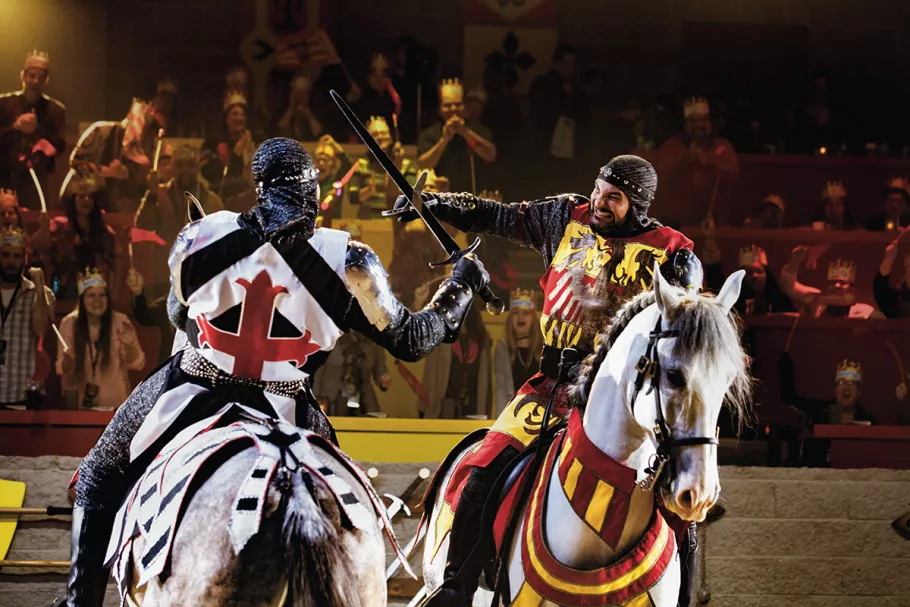 Pirates Voyage Dinner & Show
8907 N. Kings Highway, Myrtle Beach
Arrrghh you ready for some high-flying action? Come aboard or you may walk the plank at Pirates Voyage, home of an indoor hideaway lagoon arena built around two full-sized pirate ships led by Blackbeard and Calico Jack. Audience members of all ages will love the intense action by mermaids, aerialists, and pirates by air and by sea. And, again, the kids can eat the fabulous four-course feast with their hands while they watch it all unfold with their mouths open.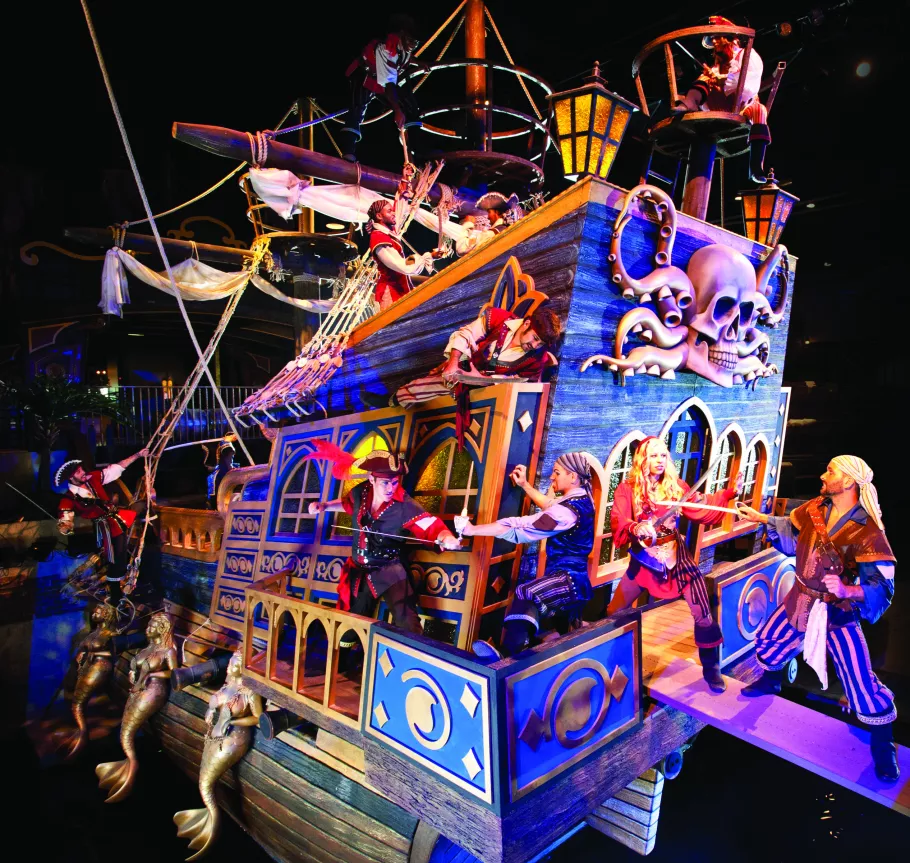 Polynesian Luau & Fire Dinner Show at St John's Inn
6803 N. Ocean Blvd., Myrtle Beach
Get fired up for this authentic Polynesian luau and fire dinner show performed at St. John's Inn within Caravelle Resort by a Samoan family that stems from the Polynesian village of Nu'uuli on the island of Tutuila in American Samoa. Witness native dance, warrior chants, live music, beautiful hula dancing, fire poi, and Samoan fire dancer stunts combine for one unforgettable night. On top of that, you'll be treated to a delicious Oahu luau-style buffet dinner, featuring pulled pork (kalua pig), tilapia, and dessert. A live band  will play in the background while you eat and a cash bar will be available, with menu items including a Mai Tai and coconut rum.