Celebrate Thanksgiving in Myrtle Beach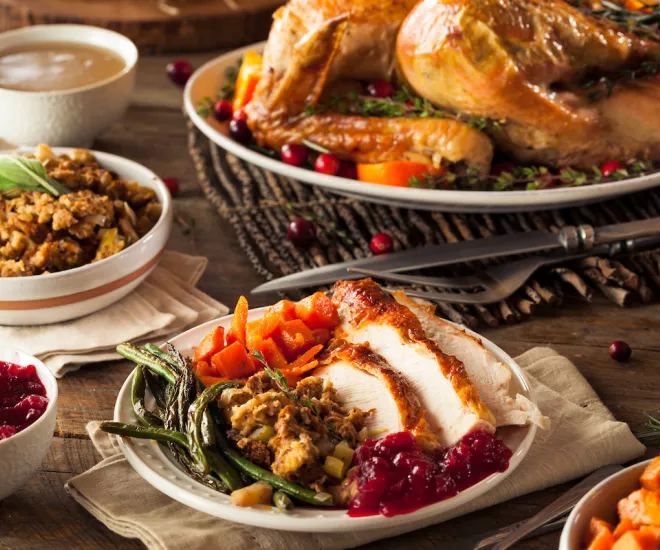 Celebrate Thanksgiving in Myrtle Beach
The long Thanksgiving holiday weekend is the perfect time of year for a family reunion or vacation in your favorite place, The Beach! We take southern hospitality and entertaining seriously around the Myrtle Beach area, and there is plenty going on around turkey day this year. Below we've included a round-up of events happening Thanksgiving week in Myrtle Beach that will put you in both the turkey day and holiday spirit, along with a list of just some (because there are countless!) restaurants offering special Thanksgiving menus and buffets. There is no shame in skipping the kitchen this Thanksgiving—especially when so many fantastic Myrtle Beach area restaurants offer great dining out options! 
Thanksgiving Weekend Events
Surfside Pier, Surfside Drive and Ocean Boulevard, Surfside Beach
November 24, 2022
8:30 to 12:00 pm
The 12th Annual Surfside Rotary Turkey Trot is one of the area's largest annual races. The race benefits the Surfside Beach Rotary Club. Participants can register to run a 10K, 5K or 1-mile race. And kids run for free in the one-file fun run!
Valor Park at The Market Common, 1150 Farrow Parkway, Myrtle Beach
November 24, 2022
8 to 10:30 am
It starts and finishes at the beautiful Valor Park at The Market Common. Money raised will be donated to a local non-profit, Help 4 Kids. Free tot trot for kids. Participants can register to run an 8K, 5K or 1-mile race. 
Barefoot Landing at Crooked Hammock Brewery
November 24, 2022
8:30 am
Enjoy a Turkey Day Trot at Barefoot Landing where runners, walkers, and strollers are welcome! Participants will receive a high quality tshirt, race medal, and post-race goodies. 
Intracoastal Waterway from Little River to Dock Holidays Marina
November 26, 2022
5 to 7 pm
Each year on the Saturday after Thanksgiving, the curtain rises on this spectacular maritime Christmas boat parade. Gather your family and watch the parade as it passes various viewing areas along the waterway from Little River to Dock Holidays Marina. For more information, visit ChristmasRegatta.com.
Kingston Resort
November 25-26, 2022
Enjoy a Dolly Parton themed holiday weekend at Kingston Resort with a dinner and show with award-winning Karen as Dolly tribute artist, speciality suite packages, spa retreats, holiday activities and more! 
Downtown Myrtle Beach & Boardwalk
November 17 - December 23, 2022
Lights Display, 6-9pm everyday ; Family Fun Zone & Events, 6-9pm Thursday-Sunday
Come celebrate the joy of the holidays for the second year of Winter Wonderland at The Beach - it's back and better than ever! This year, the light display will line the Boardwalk, so you can walk through the lights to the sounds of holiday music and ocean waves! There will also be a Family Fun Zone with holiday-themed inflatables and more activities for the kids, as well as performances, holiday markets, movie screenings, and more! Find more information at winterwonderlandatthebeach.com. 
Thanksgiving Day Dining Specials
1181 Celebrity Circle, Myrtle Beach, SC
Come on out for Thanksgiving Day at The Hangout at Broadway at the Beach for a delicious. family-style meal and fun for your entire crew. Please make reservations in advance on their website. 
9922 N. Kings Highway, Myrtle Beach
Chestnut Hill is hosting a Thanksgiving Day buffet from 11 am to 7 pm with a mix of traditional favorites along with treats from the sea. Call for reservations, 843-449-3984.
9706 N. Kings Hwy., Myrtle Beach
Enjoy Thoroughbreds Chophouse annual Thanksgiving Day buffet from 11 am to 7 pm. Call 843-497-2636 to reserve your family's table today.
4924 Hwy 17 S, North Myrtle Beach
Whether you call them your family, your friends, your tribe or your date, everyone's welcome around the table at The Hammock for a family-style feast. Make your reservations today!
1401 29th Avenue North, Myrtle Beach
Captain George's will be open from 11:30 to 9 pm with a special Thanksgiving Day buffet menu featuring a variety of seafood favorites, including crab legs, shrimp, salmon and Oysters Rockefeller. Turkey and ham will also be served along with sides such as gravy, stuffing, cranberry sauce, and mac and cheese. Call 843-916-2278.
4269 Luck Avenue, Little River
The Brentwood will be offering their Thanksgiving Day Dinner served family-style with all the turkey day favorites on the menu. Please to call to make reservations, 843-249-2601
1202 Celebrity Circle, Myrtle Beach
Enjoy a special Thanksgiving menu of downhome favorites. No reservation required. Call 843-945-1072 for menu.
1536 Waccamaw Dr., Garden City
This oceanfront spot known for its seafood is open from 11 am to 8 pm on Thanksgiving Day for its annual holiday buffet dinner. Reservations are required. Call 843-651-8808.
3993 U.S. 17 Business, Murrells Inlet
Join us for Thanksgiving at Wahoo's from 11 am to 4 pm Thanksgiving Day. Check out the seafood and traditional Thanksgiving buffet menu. Call 843-651-5800 today to reserve your table.
405 28th Ave. N., Myrtle Beach
11 a.m. to 7 p.m.
Skip the turkey and feast on USDA Prime beef this Thanksgiving at New York Prime. The restaurant is open 5 to 10 pm Thanksgiving Day. Call for reservations, 843-448-8081.
1601 S. Kings Hwy., Myrtle Beach
11 a.m. to 4 p.m.
Who needs a traditional meal when you're at The Beach? If you're too busy enjoying the sun and sand to weigh yourself down with turkey and fixins', Hungry Howie's has you covered. With their tasty pizza and flavored crusts, they are open for pickup or delivery on Thanksgiving Day and 365 days per year. Call 843-444-2000 to place an order.
For more dining options on Thanksgiving that we may have not included in this round up, visit our event calendar!
Another thing worth mentioning is the amazing lineup of Black Friday shopping opportunities. Browse our Black Friday listings or check out our blog on Holiday Shopping around the Grand Strand!