Canadian-American Days Celebrations Celebrates 60th Year in Myrtle Beach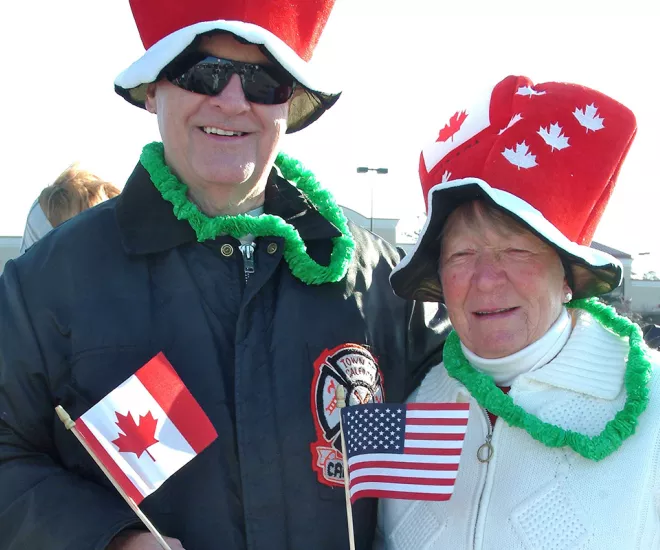 Canadian-American Days Celebrations Celebrates 60th Year in Myrtle Beach
The 60th Annual Canadian-American Days Celebration (or Can-Am Days) will soon be underway here in Myrtle Beach, South Carolina. The nine-day celebration officially begins Saturday, March 14, and will continue through Sunday, March 22. During that time, the Myrtle Beach area will be welcoming Canadian and American visitors with a lineup of fun events, concerts and more all along the Grand Strand. One of the best things about this celebration every year is that most of the events are free and open to the public, including the popular concerts by the Burlington Teen Tour Band. 
Like so many of our visitors, Can-Am Days has a long history with the Myrtle Beach area. The Myrtle Beach Area Chamber of Commerce introduced Canada Days in the 1960s to attract Canadian families during their spring school break. The name was changed to Canadian-American Days in 1963, and it's regarded as the first international festival organized in South Carolina. Can-Am Days can draw as many as 100,000 Canadian visitors and snowbirds to the Myrtle Beach area during a non-peak travel time… so it goes without saying that we really do love our neighbors to the north! 
Here is a look at just a few of the events happening during Canadian-American Days this year.
Monday, March 16 - Friday, March 20 from 8:30 a.m -10 a.m.
Continental breakfast will be served in the lobby of the Myrtle Beach Area Chamber of Commerce located at 1200 N. Oak Street, Myrtle Beach, 29577.
Monday, March 16 at 8:30 a.m.
Burlington Teen Tour Band will perform at the Myrtle Beach Area Chamber of Commerce. The band will perform free concerts throughout the week in various locations. Schedule and more details to come.
Tuesday, March 17 - Friday, March 20
Enjoy Historic Downtown Conway during Can-Am Week. Start your day at the Conway Visitor Center at 428 Main Street. Find all the information you need at the Visitor Center to explore the unique Riverwalk, visit the Horry County Museum, ride the waters of the Waccamaw River or discover Conway's quaint shops and delicious eateries. For more information on any of the Conway Can-Am week activities, call the Conway Visitor Center at (843)248-1700 or visit www.ConwayAlive.com. Some activities offered include:
• Live Oak Walking Tour each day at 11 a.m. The tour is one hour and $6 per person.
• Waccamaw Outfitters offers tours of the river each day from 10 a.m. - 3 p.m. River tours leave each hour on the hour and the fee is $10 for a one hour tour.
• Conway Downtown Alive will offer a historic walking tour of Downtown Conway each day at 1 p.m. Tours depart the Conway Visitor Center at 428 Main Street. The tour is approximately 75 minutes and the fee is $6 a person. 
• The Horry County Museum in Conway is open each day from 9 a.m. to 5 p.m. Admission is free. 
In addition to organized activities for our Canadian visitors, there are tons of deals and discounts to be found at both accommodations and attractions. For more info on those, check here.