Best Golf Courses for Beginners in Myrtle Beach
It can be challenging and intimidating to play an 18-hole golf course when you are a beginner golfer. You arrive on the site, you look at the big club house, the huge pine trees, the narrow fairways, and undulating greens. And above all, you watch the other golfers who look like Tour pros, well dressed in their golf attire, equipped with Titleist, Callaway or Taylor Made golf bags just to name a few, and you say to yourself: "What am I doing here?" Don't worry, we all been through that feeling of being out of place the first few times, but be persistent, you won't regret it.
First and foremost, as an ex-pro and golf teacher, let me give a few tips on how to approach the game. I recommend for each beginner to invest their money in a few lessons by a qualified PGA Professional.  Instead of going straight to the golf store and buy an expensive set of clubs, keep that money, and invest on golf lessons, to at least, learn the fundamentals like grip on the golf club, posture, and alignment. After a couple of lessons (3-5), try a smaller course to start your journey, like a par 3 course and go practice, hit some balls. There are a few great practice facilities and Par 3 golf courses in Myrtle Beach like Cane Patch, Tupelo Bay Golf and Harbour View Complex. You will certainly enjoy your time there, without any pressure of performing.
After that, when you feel ready to hit the real big courses, there is no better place than Myrtle Beach with it's 90 championship golf courses. And among those golf courses, some are beginners friendly. A course for beginners is known as a course with a lower slope rating. Read my blog on slope and ratings to understand how it works. In general, the lower the slope the easier the golf course. Example, a course with a slope of 110 will be less difficult than a course with a slope of 140. Easier golf courses usually offer wider fairways, less sand traps and water hazards in general.
Here is a list of golf courses that I've played who are beginner friendly, with beautiful layouts, great conditions of play at an always fair price.
Beachwood
A local and one of my favorites. Always immaculately groomed from tee to green, Beachwood has earned its reputation as being one of North Myrtle Beach's best golf course on the Grand Strand and offers one of the best customer services. Including a large all-grass driving range and two large practice putting greens.
Located along the border of North and South Carolina this golf course offers spacious fairways and elevation changes that present a multitude of challenges as they open onto large, manicured greens.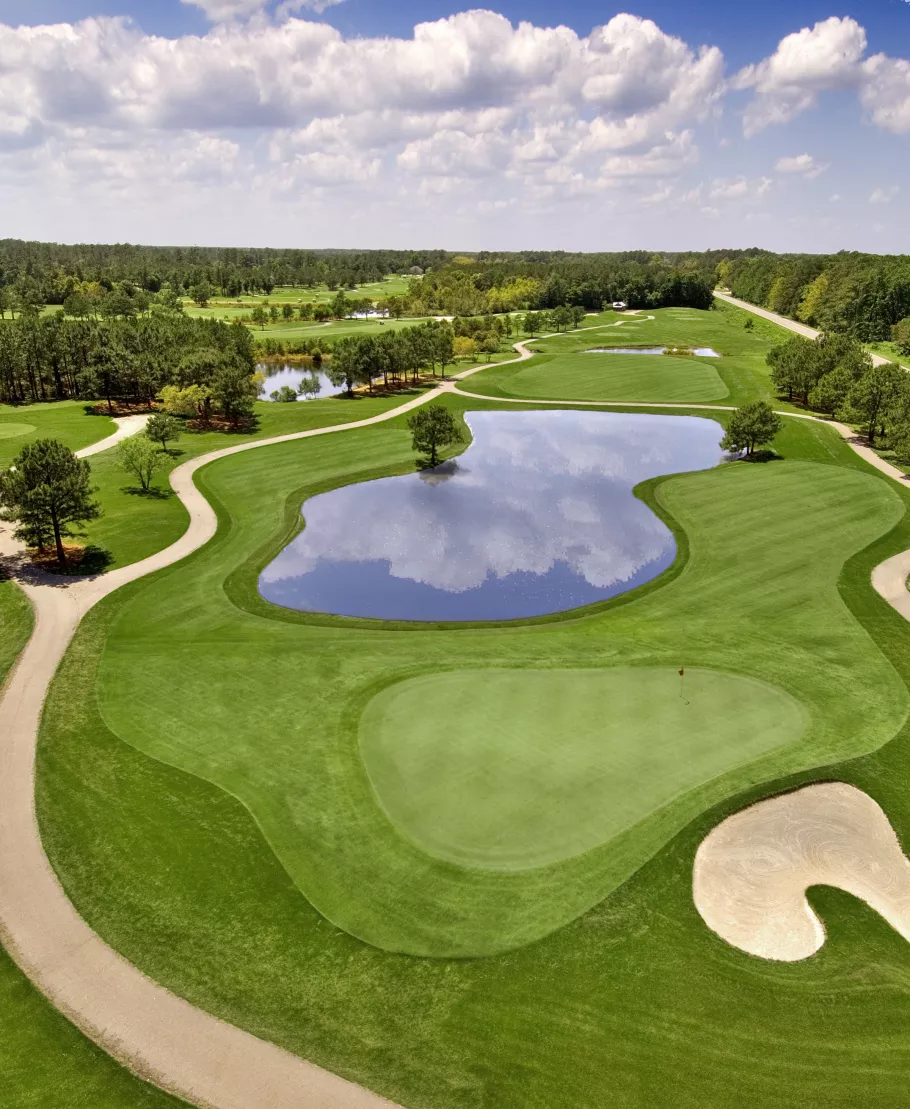 Designed by golf legend Arnold Palmer, this 54-hole facility will impress you. The West and the South golf courses are shorter and friendlier for beginners than the King's North course which was on the prestigious list of America's 100 Greatest Public Courses and Golf Digest's places to play. Don't forget to get a picture of you beside the statue of Arnold Palmer.
Litchfield Country Club commitment to golfers remains unchanged over the years. Delivering a classic design, outstanding conditions, and customer service that makes everyone feel like a member for a day. I've played Litchfield only one time, but it is on my to do list for my next visit.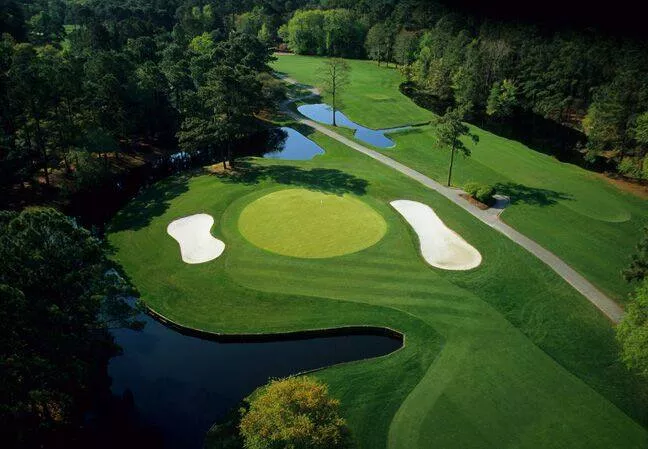 Located just minutes from North Myrtle Beach, this Grand Strand's hidden gem winds through a Carolina Pine Forest, allowing for a peaceful round with none of the neighborhood distractions. This is a perfect golf course if your objective for the day is to hit a few fairways but beware of the water hazards while remaining friendly to all ages and skill sets.
These are only a few that you can find, but there are plenty more golf courses to explore. 
There are currently no golf courses in Myrtle Beach that require you to be playing at a certain standard. You will feel accepted and welcomed on every course. Again, you're there to enjoy yourself! Set yourself certain goals to achieve during the round, like hit a couple of tee shots in the fairway, strike a few iron shots into the air, reach one green on one shot on a par 3 or sink a couple of putts. And please, leave the scorecard in your bag for the first few games, don't count your strokes yet, there will be enough time for that later in your golf career.
Golf is a sport of a lifetime that you can enjoy with friends, family, strangers or by yourself. Try to enjoy the facilities, the company, and the natural surroundings. I know by experience that golfers often think about technique on the course, especially after a lesson, instead of playing the shot ahead of them, it's natural for a beginner, and for some experienced golfers too. But with practice and experience you will get there and enjoy the best sport in the world in a wonderful place…. The Beach, Myrtle Beach, the paradise for golfers!