20 Multigenerational Things To Do in Myrtle Beach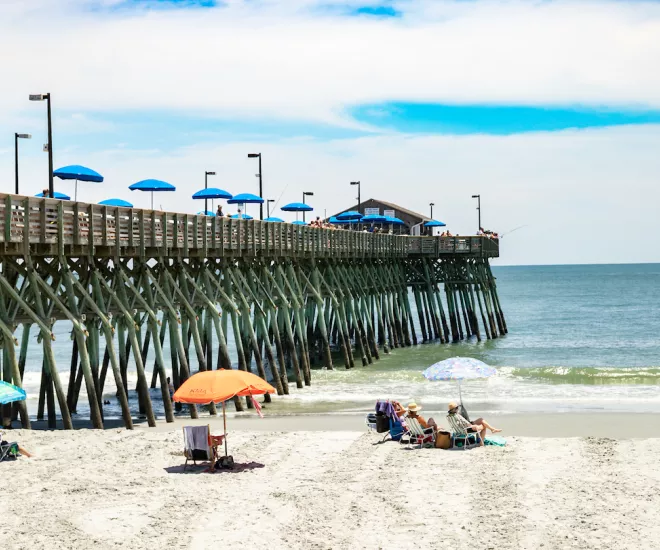 Myrtle Beach, one of the most visited vacation spots on South Carolina's Atlantic coast, is commonly referred to as the Grand Strand. The area has a 60-mile long stretch of beaches, golf courses, boardwalks, restaurants and amusement parks! As a local, multi-generational family living in the area, we never have to go far from home to find a great day full of fun because there are an endless number of things to do when you come to Myrtle Beach with your family. Here are some of my family's favorites:
The Beach remains the number one reason why people visit our area - but the locals love it too! Early-morning beach walks, late night strolls, and all day sunning and swimming along the beaches offer some of the best relaxing vacation spots along the east coast. 
I can't think of a better way to spend an afternoon then on the beach with my grandchildren creating memories and sandcastles!
The waters off the Grand Strand are fished for dozens of species of game fish by commercial fisherman, and fishing charters who return home with a freezer full of fish. All-day charters head to the Gulf Stream three hours offshore for Tuna, Wahoo, and Mahi-Mahi. Half day charters can bring home Flounder, Mackerel, and Grouper. The many fishing charter boat captains throughout the area know how to find and help you catch fish. They will even clean them for you!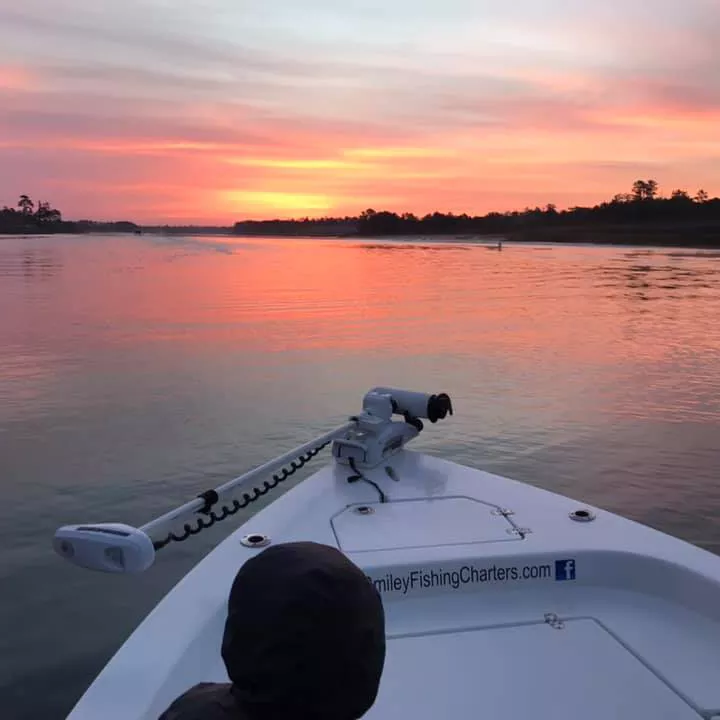 Rentals are abundant all along the Myrtle Beach area. The Intracoastal waterway, rivers or the ocean all offer riders open waters to explore. Whatever kind of rider you are, the choices are endless. You can experience the wildlife and relaxation of the marsh, creeks, and rivers of the South Carolina Lowcountry, or get an adrenaline-filled rush of navigating the breakers in the ocean surf. Self guided rentals and guided tours and excursions are available, affordable to rent and easy for beginners.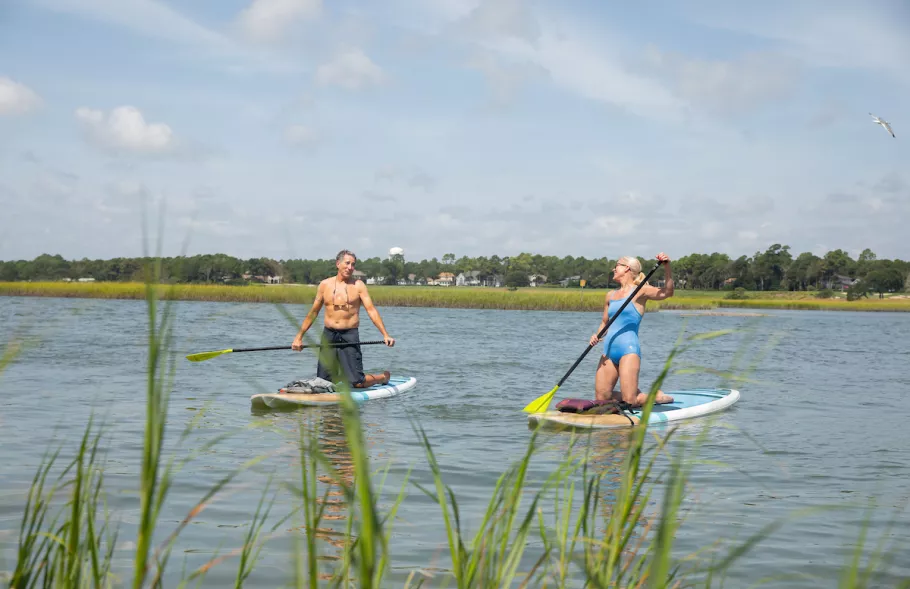 The Myrtle Beach area, with its favorable weather and gentle landscape, is home to over 80 golf courses suited to a range of skill levels. The well manicured courses up and down the coast attract golfers from around the country.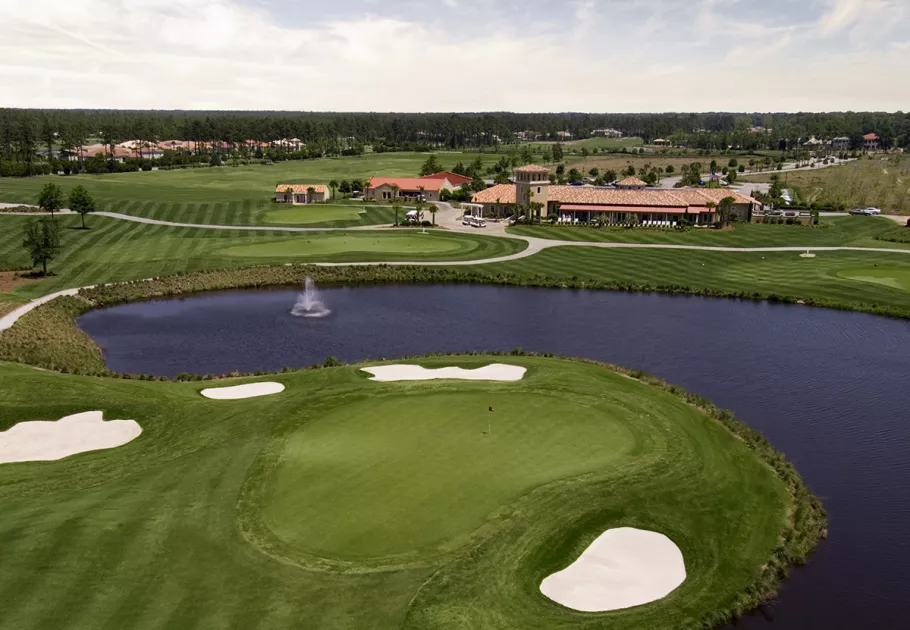 Miniature golf courses line the Myrtle Beach area with a wide variety of themes; pirate adventures, jungle safaris, castaway islands, and even prehistoric golf with dinosaurs on every hole. Not surprisingly, Myrtle Beach is also host to the Masters of Mini Golf tournament each year. My family LOVES mini-golf! We create our own tournaments when we play. I'm embarrassed to say I'm usually the loser.
Nothing says "summer" quite like a visit to an iconic seaside boardwalk. Because of the great weather, Myrtle Beach's boardwalk runs all year long. My family loves "walking the boards", grabbing a quick lunch and roaming in and out of the shops. Along the Boardwalk you will find great food, great drinks, a beautiful ocean view and lots of fun and games!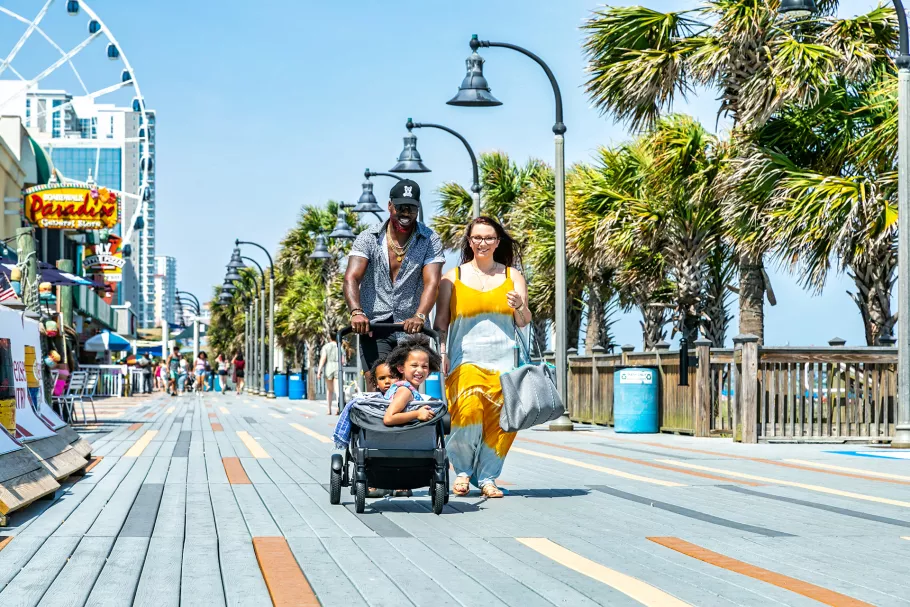 What a view! The SkyWheel consists of 42 glass enclosed gondolas with temperature control for the hot summer sun or heat for the winter months. Each car can hold up to six riders. A normal ride is about ten minutes long (and boy what a view!) or go for the VIP ride in a leather seated gondola car that lasts twice as long.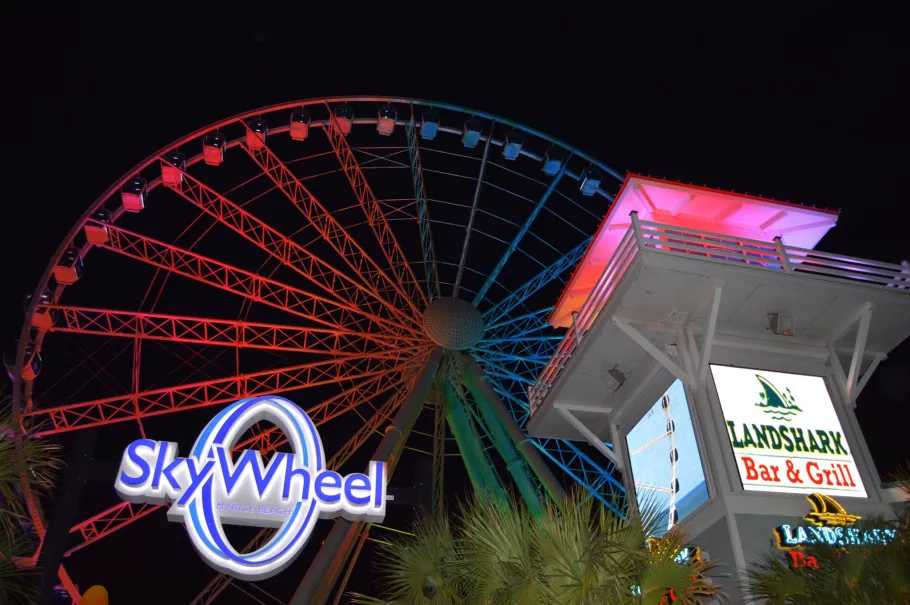 Upscale dining and shopping all nestled together in a picturesque spot right outside the city limits. The Market Common is a popular spot with locals and visitors. Dining outdoors in the warm weather, free outdoor entertainment, walking the dog, segway rentals, running trails, bakeries, movies – all in one place! There is so much to do at Market Common - shopping, eating, entertainment - it is truly a spot loved by locals and visitors. My family loves to go to the movies here because we can walk out of the theater, have an ice cream and get in some shopping all in the same place!
This is one of our favorite spots to visit! My grandson always loves the rides and my granddaughter can't get enough of all the shops. Broadway at the Beach offers a mix of shopping, dining and entertainment right in the heart of Myrtle Beach. Specialty shops, eateries, speed-boat rides, mini-golf, and ziplines - Broadway at the Beach has something for everyone in our family. The family friendly activities are the best! 
Barefoot Landing is a shopping, dining and entertainment complex located in North Myrtle Beach. Both the Alabama Theatre and the House of Blues are located at Barefoot Landing. SummerFest is hosted each year with weekly fireworks, outdoor performers, family entertainment and more!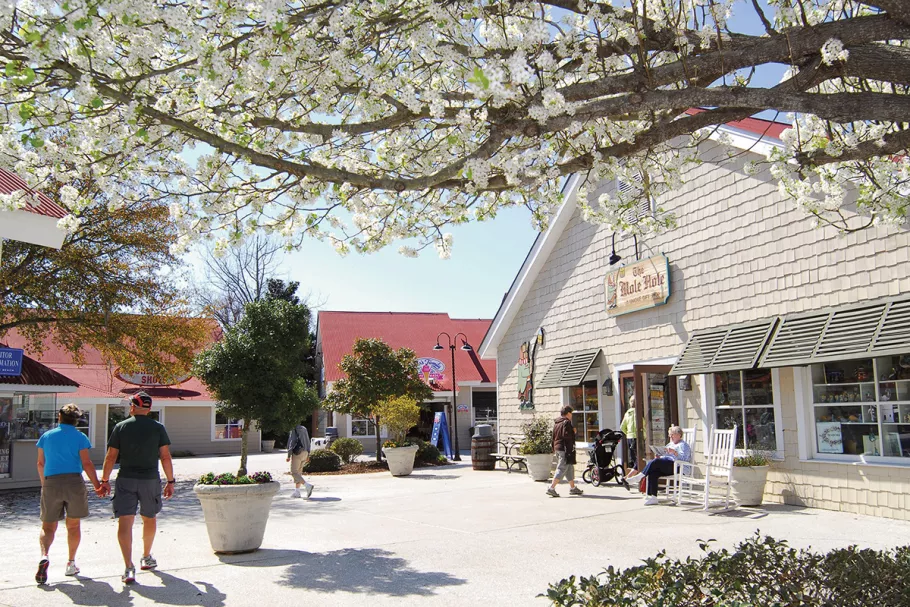 What started as a simple creekside boardwalk in a little fishing village, the Murrells Inlet MarshWalk is now one of the most visited destinations for food, drinks and live entertainment. Family friendly, full of good food and good times, the Murrells Inlet MarshWalk is just a short 20 minutes south of the heart of Myrtle Beach.
Living in Murrells Inlet, we tend to spend lots of time at the MarshWalk. Our favorite thing to do? Have lunch outside on the patio of one of the many eateries and watch the antics of the goats that live on Goat Island! It is definitely something everyone should see! If you visit in the late fall (November), there is nothing more entertaining than to watch the goats being herded up to be taken off the island to a warmer location for the winter. We never miss it!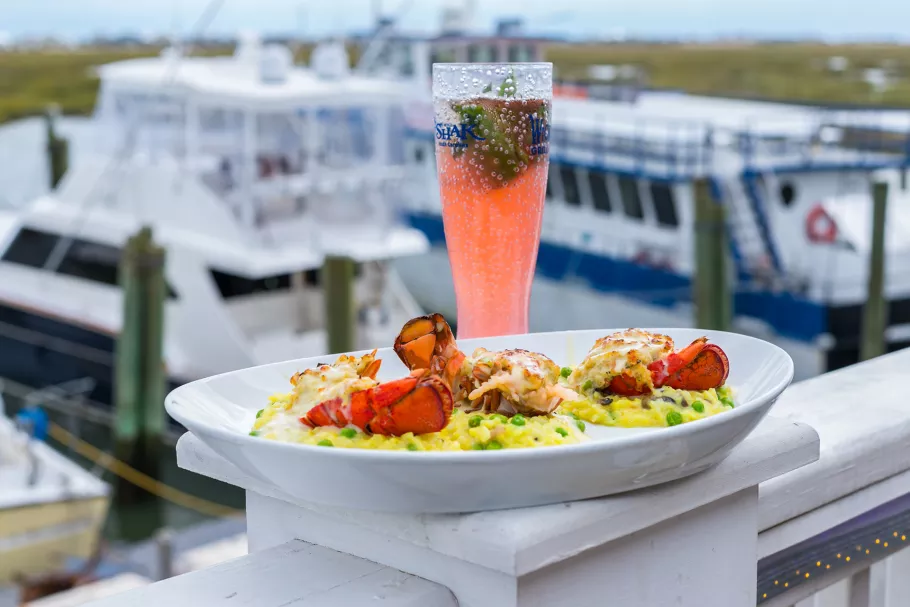 Hammock Shops Village
The Hammock Shop Village located south of Myrtle Beach in Pawleys Island offers a unique shopping and dining experience. The Hammock Shops feature winding brick paths through cottage-style stores. Southern charm and hospitality at it's finest!
The Track in Myrtle Beach offers go-karts for the adults as well as Wild Woody & Mighty Myrtle Rookie Karts and Kiddie Karts! Blaster Boats, Kids Country and an arcade round out your time at the races. There is an 8 year age difference between my grandchildren so The Track is a favorite for our family. There are activities for the 13 year old and the 5 year old (as well as the rest of us!) all in one place!
I made it to the Beach! 
A rainy day at the beach doesn't have to be a wasted day at the beach! At "I MADE IT AT THE BEACH" make-it and take-it studio, you design it, you make it and then you take it home!  T-shirts, flip flops, garden flags, hoodies, hats, signs and more. There are over 20 different projects to choose from.  
Dino Park
Located at Broadway at the Beach, Dino Park will have the kids talking endlessly about dinosaurs! What kid doesn't like dinosaurs? 
The Alabama Theatre and the Carolina Opry both offer great, family-friendly entertainment. The Alabama Theatre entertains locals and tourists with the greatest variety show in the area. The Carolina Opry offers some of the best live entertainment in the area. Then, the Charles Bach Wonders show located at Broadway at the Beach is an amazing magic show that includes interaction with the audience members and will leave you totally amazed!
Pirates Voyage Dinner Show will have everyone in the family wanting to be a pirate! Legends in Concert - Some of the best tribute entertainers call Myrtle Beach home. Did you miss seeing your favorite artist while they were in their prime? Don't worry – Elvis and the Blues Brothers are performing here! The shows are full of action and many made more enjoyable through audience participation. 
Polynesian Fire Luau is a buffet dinner show located at the St. John's Inn on No. Ocean Blvd. What could be more fun than live music and a show that highlights songs and dances of several Polynesian cultures? A performance by a World Champion Samoan Fire Knife Team!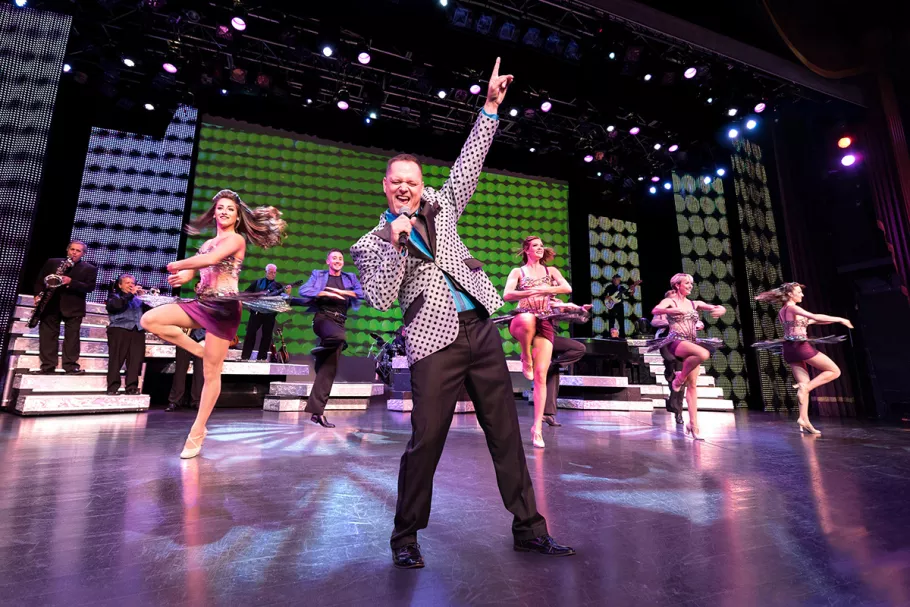 Get Up Close with the Alligators
Alligator Adventure located adjacent to Barefoot Landing in North Myrtle Beach, Alligator Adventure is one of the largest facilities for reptile life in the world. We like to visit here often since they sometimes offer a "buy one day - get two days" pass. 
Ripley's Aquarium located at Broadway at the Beach is the perfect way to spend a day exploring the underwater world! Our favorite part of the aquarium is getting up close and personal with the penguins!
No matter what you decide to do when visiting Myrtle Beach, one thing for sure is that you will never run out of things to do!
Brookgreen Gardens is a sculpture garden and wildlife preserve, located just south of Myrtle Beach.  These gardens sit on what were once old rice plantations and they are part of a larger 6,000-acre (2,428 hectares) nature preserve run under the guidance of the South Carolina Department of Natural Resources. The gardens display more than 500 sculptured pieces of work interspersed throughout. 
The zoo presents wildlife exhibits of South Carolinian animals as well as other creatures like birds of prey. The most noteworthy feature of the site is their History Adventure Tour, where guests can board a 48-foot pontoon boat for a tour of the swamps to watch alligators in their elements, or a trek on a rugged four-wheeler through the back-country that houses the historic Antebellum Plantations.
Grandma Tip: If you are looking for the perfect spot to get some amazing family photos - Brookgreen Gardens is that place! Whether you want open space, beautiful gardens, sculptures, or fountains as your backdrop - you will definitely find the perfect spot. We have done several "photo shoots" of the kids here.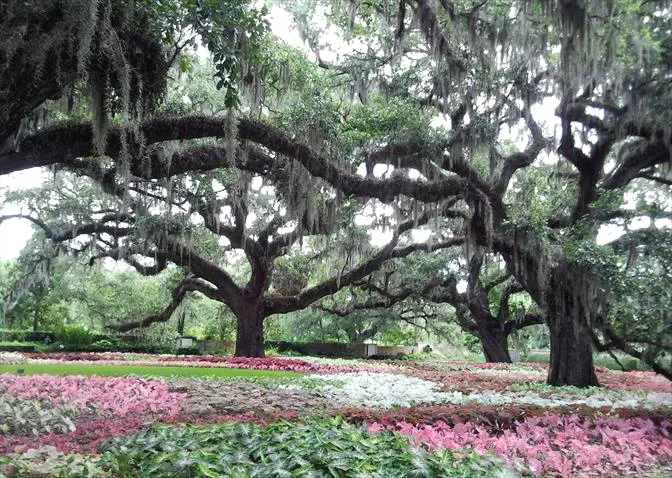 Cruises depart year round from Little River, just minutes from Myrtle Beach. Two ships - the SHIP I and SHIP II - offer Las Vegas style gaming, meal options, live table games and lots of slots! All guests must be 21 or older to cruise. There are afternoon and evening sailings available.