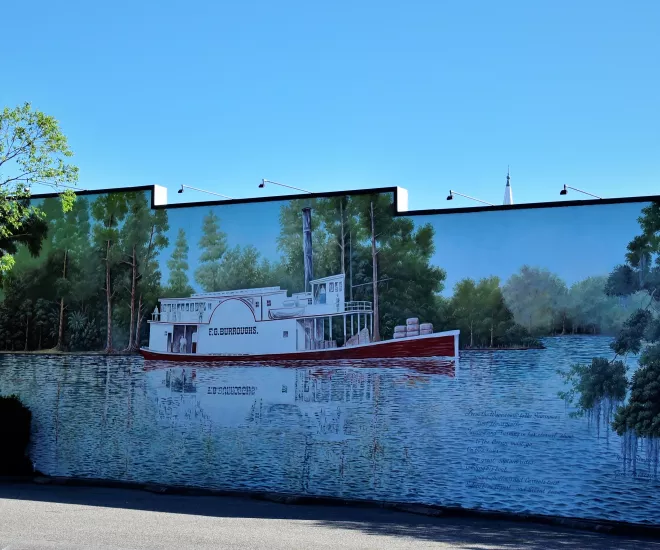 Spanning 60 miles of coastline, The Myrtle Beach Arts & Gallery Trail features more than 100 locations including museums, galleries, public art pieces and more.
But with so many outstanding art spots featured, figuring out where to start can be overwhelming. That's why we've put together a guide to the best stops along the trail, which can be used to help guide you as you explore.
The trail is organized into four parts: North, Central, West and South, with each leg of the journey spanning several of our 14 unique beach communities.
Here's a look some of the best stops in the western part of the Grand Strand, which includes Coastal Carolina University, Downtown Conway, Aynor and Horry County:
F.G. Burroughs Steamship Mural
Main Street and Third Avenue, Conway
One of the gems of historic Conway, this mural pays homage to the area's past depicting the F.G. Burroughs, built in 1898 as part of the Waccamaw Line of Steamers, which once carried much of the area's commerce. Originally painted in 1983 by Jim Frisco, the massive painting nearly fell into disrepair and was lost forever until funds were raised to have local artist Tommy Simpson revitalize it in 2015. These days, Conway's original mural sits as just one of many great works of art scattered throughout the downtown area.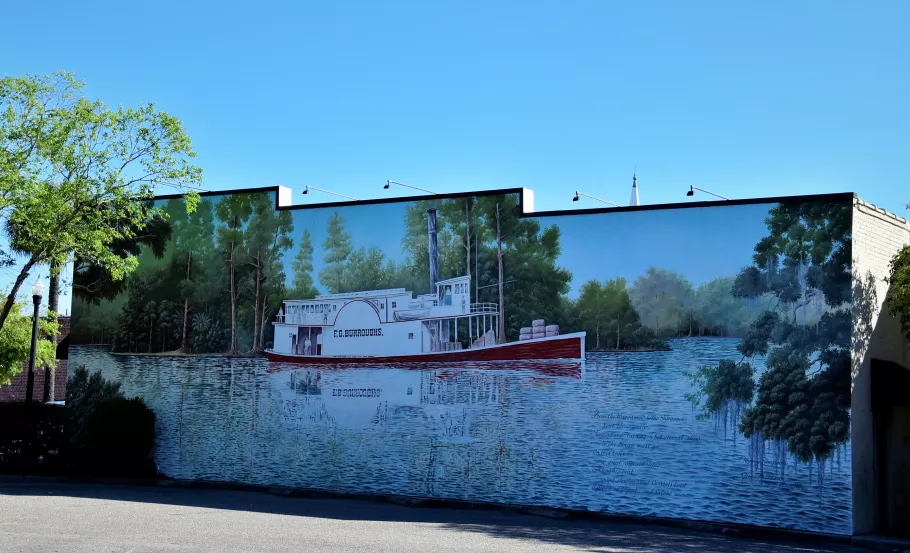 Teal Alley
1020 Third Avenue, Conway
For more than 60 years, the school now known as Coastal Carolina University has been part of the Conway community, but in 2021 the city and the college made their bond official in the form of an entire alley devoted to honoring the teal and bronze of the Chanticleers. This spectacle of school spirit features large-scale murals featuring the school's mascot, its founding date (1954) and it's battle cry "Chants Up!" There's even an interactive element with a CCU megaphone that's perfectly Instagrammable.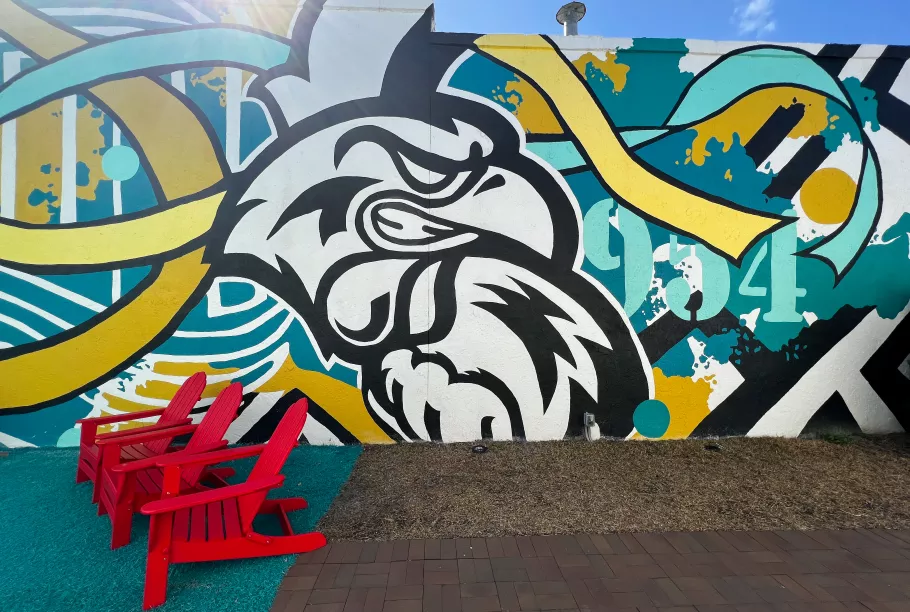 Located just east of downtown Conway along U.S. 501, the home of the Chanticleers is also home to a ton of great art. A quick tour around campus you'll find landmarks such as the Graham Bell Tower, the bronze monument to the school's mascot — Chauncey the Chanticleer — and the artfully-crafted Brooks Stadium, which features bright teal turf on its football field. Dive deeper into the school's arts programs and you'll find miniature cube galleries featuring student exhibits, stunning murals painted by the Edwards College of Humanities and Fine Arts and a rotating selection of work at the Rebecca Randall Bryan Art Gallery.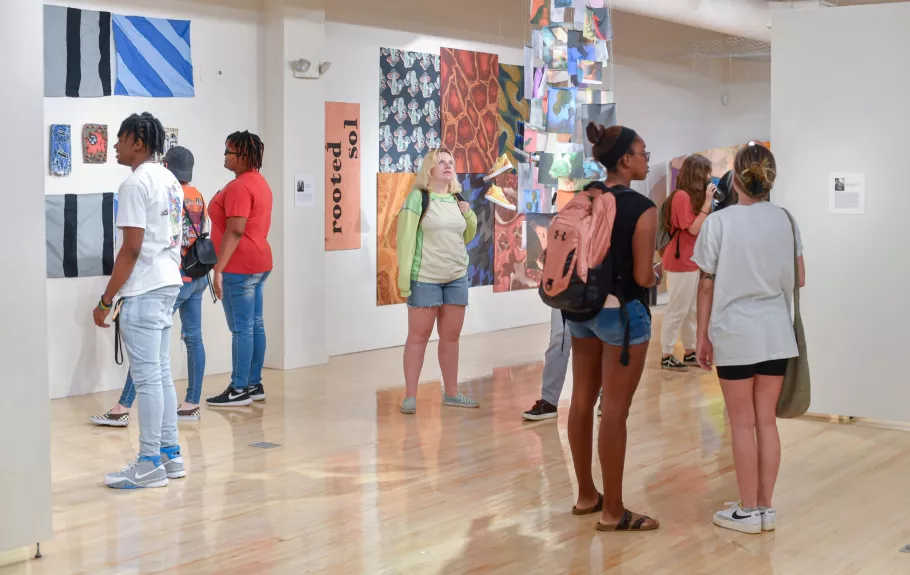 The Trestle Bakery & Cafe
322 Main St, Conway
Yes, we know you're here for the art, but honestly this place probably could have made it on this list based on the strength of its food alone. Featuring some of the area's most artfully-crafted pastries including cakes, pies, donuts, The Trestle is a great place for a sweet snack, breakfast or lunch, when you're touring downtown Conway. It also features a cool throwback mural in its alley/patio area. This work by local mural master Tommy Simpson shows a scene of a Huckleberry Finn-like young man and his dog fishing while drinking a bottle of Pepsi-Cola and the motto "Born in the Carolinas" on it, paying homage to the popular soda's creation in nearby New Bern, N.C., in 1898.
Conway Critters
The 15-inch bronze animals will lead visitors on a trip around Downtown Conway, giving children something to do while their parents shop. The critters will start at the Visitor Center, now known as Fifth and Main, the First United Methodist Church's graveyard, Kingston Park at the corner of Main Street and Fourth Avenue, the City Hall clock and fountain with the three final ones placed around the city's riverfront area. The eight critters, the brainchild of Conway City Councilwoman Jean Timbes, were crafted by three Coastal Carolina University students – Erin Ryan, Chris Kunk and Brittany Clark -- under the direction of Coastal Carolina University assistant professor of art Alexandra Knox.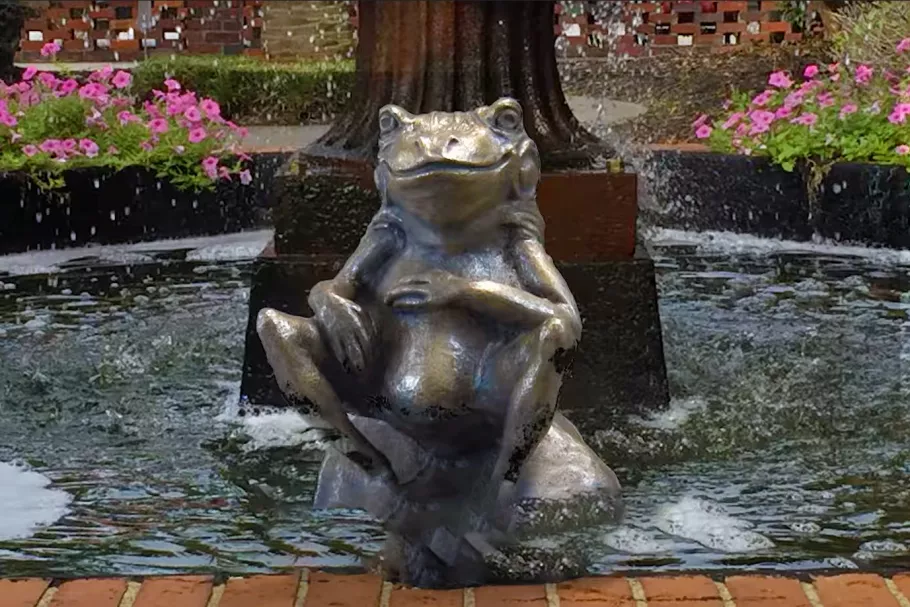 Kingston Park
Located at the corner of 4th Avenue & Main Street, this downtown Conway green space is a perfect place to sit, relax and take a load off after walking all over downtown exploring artwork. It's beautifully landscaped, with an artful arch and lovely fountain, and it's also home to one of the cute Conway Critters mentioned above (we won't spoil the surprise). The centerpiece of this area is a grand mural depicted in black and white, which pays homage to the area's railroad history. It shows the crew of the Wilmington, Chabourne & Conway Railroad Engine No. 62 — aka the Shoo-Fly Express — which ran from Chadbourn, N.C., to Conway in the late 1880s.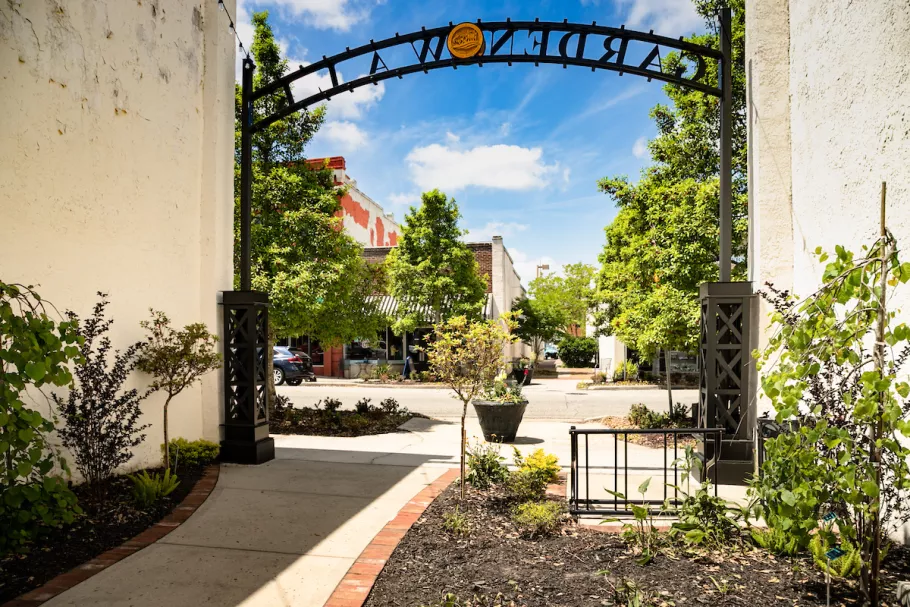 Downtown Aynor
Situated off the beaten path and away from the hustle and bustle of The Beach is the quaint "Little Golden Town" of Aynor. A perfect quick stop on your way into or out of town, this western Horry County retreat features two notable pieces of art that make it worth the trip. First, there's the Aynor Train mural which depicts a locomotive and pays homage to the area's tobacco-producing history. First dedicated in 1984, this large-scale painting was revitalized in 2018 to ensure it remains vibrant for years to come. Just across the street you'll also find Ned's Sandwich Shop, a true hidden gem of a lunch spot with an oversized mural devoted to its locally-famous Ned Burger.
Drifter's Wood
1705 S.C. 544, Conway
One of the area's newest gallery options, Drifter's Wood Art Decor Studio is a space devoted to artwork, decor, jewelry and more, created from driftwood gathered from the area's waterways and beaches. What began as a hobby for owner Jeff Gibson in 2016 has become a passion and a place for local artists to showcase their work. Stop by this small, yet plentiful shop to explore a collection of more than 5,000 pieces of quality driftwood and unique wooden creations.