Southern Arts Trail Guide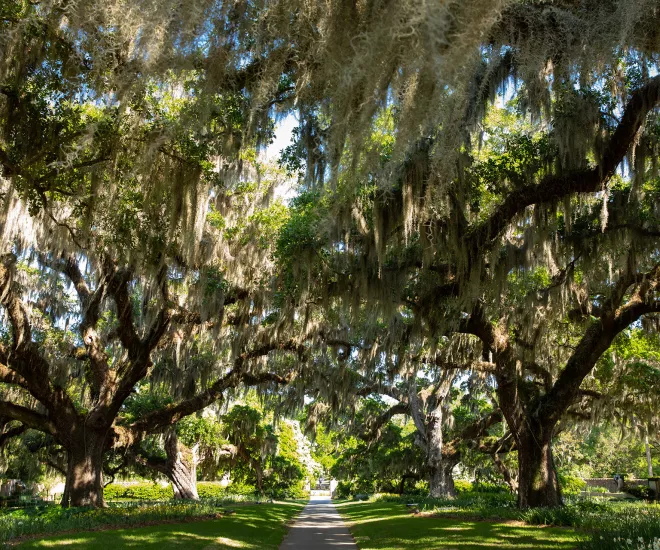 Spanning 60 miles of coastline, The Myrtle Beach Arts & Gallery Trail features more than 100 locations including museums, galleries, public art pieces and more.
But with so many outstanding art spots featured, figuring out where to start can be overwhelming. That's why we've put together a guide to the best stops along the trail, which can be used to help guide you as you explore.
The trail is organized into four parts: North, Central, West and South, with each leg of the journey spanning several of our 14 unique beach communities.
Here's a look some of the best stops in the southern part of the Grand Strand, which includes Surfside Beach, Murrells Inlet, Litchfield Beach, Pawleys Island and Georgetown:
Voted one of the top 10 Best Public Gardens in the U.S. by TripAdvisor, Brookgreen is the area's most significant and well-known art attraction. A unique melding of art, nature, and history, Brookgreen Gardens is a "must see" stop on any art lover's journey. Its collection of sculptures contains over 2,000 works by 430 artists, one of the largest collections of its type in the world. There's also several galleries on site, a children's play area, a zoo and tons of great events happening throughout the year.
Murrells Inlet MarshWalk
The MarshWalk, located in the heart of the historic fishing village of Murrells Inlet is a half-mile wooden boardwalk along a natural saltwater estuary. Known to many as one of the area's best places for waterfront dining and live music, it's also a great spot to find local art. There's so much to explore across the 0.5-mile boardwalk including large-scale murals, unique wood art, silly statues and colorful public art pieces. They've even got an island full of goats. Don't ask us why. Just go see it for yourself.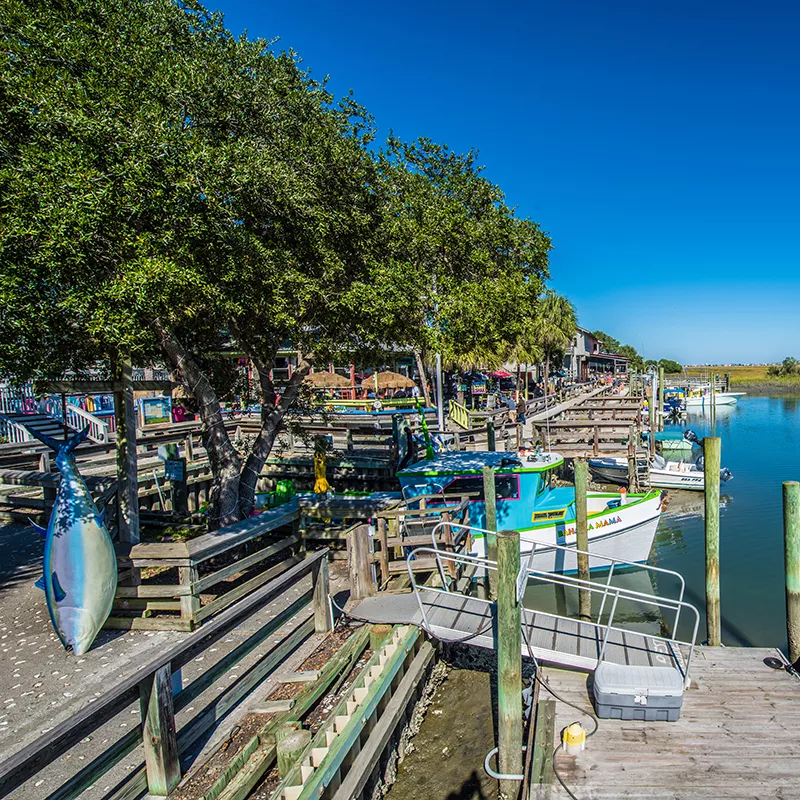 Pawleys Island
An absolute gem of the south end, Pawleys Island is so filled with art it's nearly impossible to pick a single spot to highlight. Luckily, you don't have to choose, as many of the galleries located here are in close proximity and it's easy to make a day out of touring them all including Cheryl Newby Gallery, Gray Man Gallery, Island Art Gallery and the Art Box Studio. There's also tons of artful places to shop in the area including the Hammock Shops Village and the Island Shops at Downtown Pawleys. Top your day off with a meal at spots live Pawleys Island Tavern, Chive Blossom Cafe or Bistro 217, which each combine great food and artsy, eclectic atmosphere.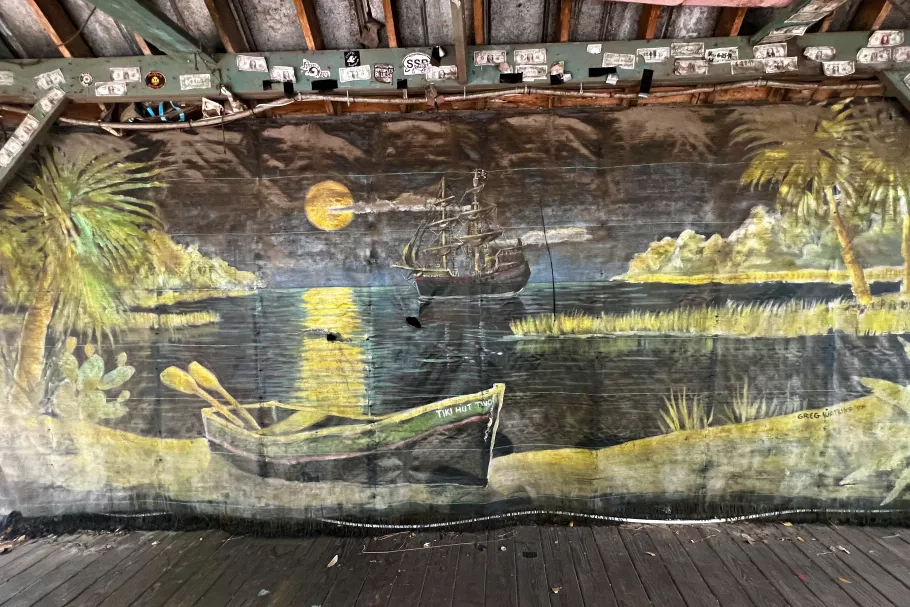 South of Pawleys Island in downtown Georgetown, The Rice Museum tells the story of 18th and 19th century South Carolina rice plantations through a variety of historic exhibits. The museum's Prevost Gallery also hosts a variety of local and regional artwork throughout the year and also sells rugs, jewelry, Lowcountry music, gifts and more. Located along a stretch which also includes the Georgetown Art Gallery, S.C. Maritime Museum and Georgetown Harborwalk, historic downtown Georgetown is a great day trip for any art lover at The Beach.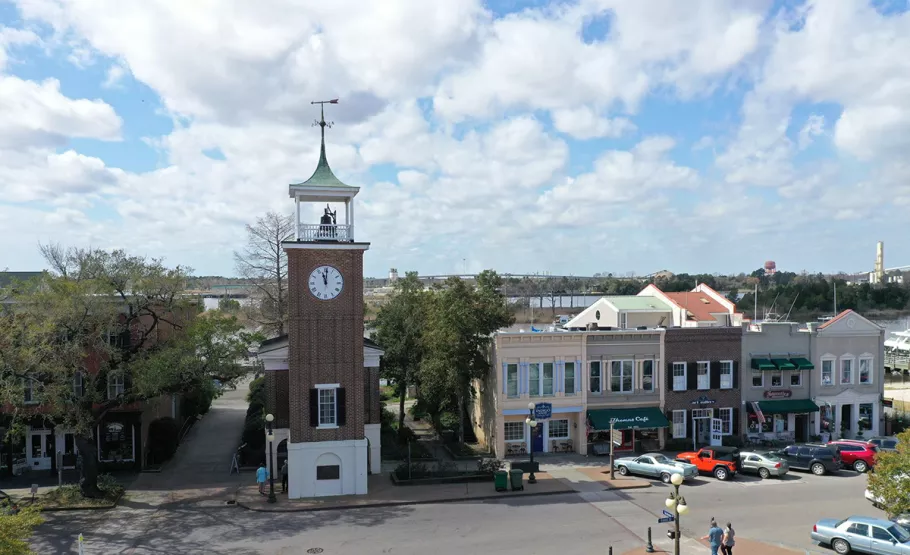 One of the area's longest-running establishments of any type, the original Hot and Hot Fish Club in Murrells Inlet was founded in 1792 by planters of the All Saint Parish. Originally a social club dedicated to epicurean pursuits, the current iteration includes a fine seafood restaurant and a Gazebo bar dedicated to serving up cold drinks and live music. Adorning the Gazebo wall you'll find a cool mural and nearby at Morse Landing Park there's an artful Lost at Sea Memorial worth checking out. But the true beauty of this location is more than just the artwork — it's the gorgeous views of the salt marsh which rival any on the entire Grand Strand.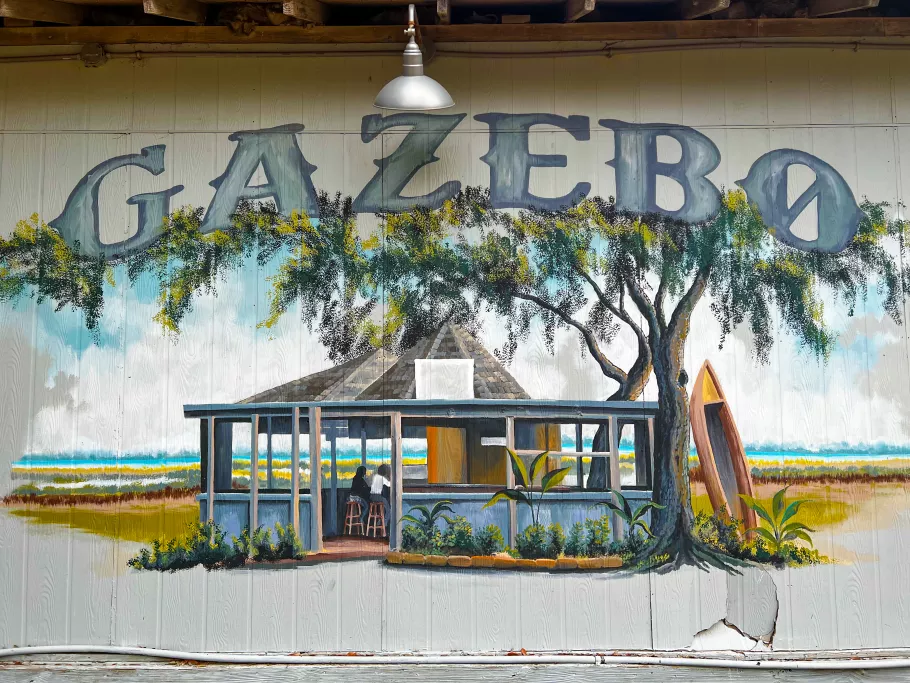 Located in Litchfield Beach, Perrone's serves up "world cuisine with a Mediterranean focus" in an atmosphere that combines the feel of an art gallery with that of a fine dining establishment. From the moment you walk in, you're greeted by colorful music-themed artwork on one side and dry-aging cabinets filled with steaks and local seafood on the other. As you walk through the bar area you can't help but notice a huge mural of Jazz musicians behind the fully-stocked bar, which leads you to a dining room filled with work by some of the area's best artists. Combine all this with a menu that's continuously evolving and changing and you've got one of the area's most unique, exciting and delicious dining experiences.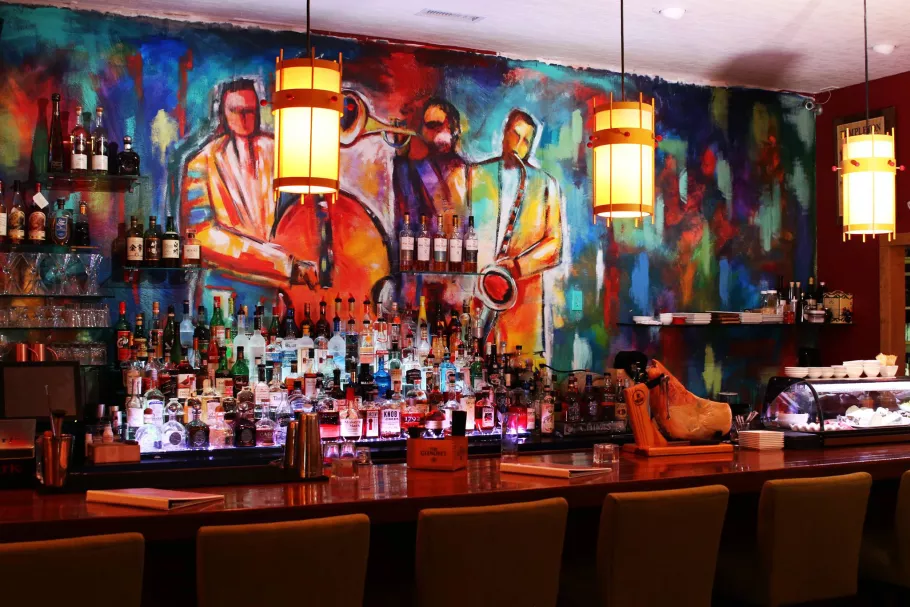 Wave Mural at Neal & Pam's
Located in the heart of Surfside Beach, just a stone's throw from the pier is the long-running tavern known as Neal & Pam's. Though this local's favorite has been in business since 1985, only recently has it become a significant piece of the south end arts scene. Completed in March 2022 by Pawleys Island-based Asher Cheyenne Robinson, the restaurant now features a massively colorful mural depicting a wave, a bicycle and a palmetto tree. It's become an instant hit with visitors and locals alike and is also featured as our first-ever Myrtle Beach Arts Trail commemorative print, which you can win as a prize by participating in the digital passport.
"Hat Lady" Mural in Surfside Beach
No trip to "The Family Beach" of Surfside is complete without a photo in front of this massive wall mural on the exterior wall of Borgata Bar & Restaurant on Surfside Drive. Painted by local muralist Tommy Simpson in 2009, the "Hat Lady" is a colorful throwback to beach days past featuring a subject with retro beach attire and sporting an old-school postcard look. (Pro Tip: If you've made it here you may also want to stop by Benjamin's Bagels next door for some tasty pastries and a glimpse at the bakery's "Bagel Beach" mural.)