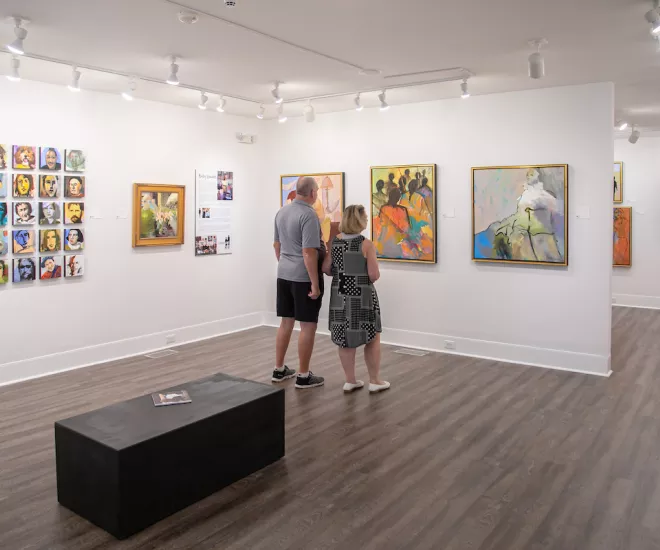 Spanning 60 miles of coastline, The Myrtle Beach Arts & Gallery Trail features more than 100 locations including museums, galleries, public art pieces and more.
But with so many outstanding art spots featured, figuring out where to start can be overwhelming. That's why we've put together a guide to the best stops along the trail, which can be used to help guide you as you explore.
The trail is organized into four parts: North, Central, West and South, with each leg of the journey spanning several of our 14 unique beach communities.
Here's a look some of the best stops in the central part of town, encapsulating all of Myrtle Beach including the boardwalk, Broadway at the Beach and downtown's new Arts & Innovation District:
3100 S. Ocean Blvd., Myrtle Beach
Since 1997, the art museum has been dedicated to becoming one of the finest visual arts museums in the Carolinas. With 11 galleries that change throughout the year, Myrtle Beach's only art museum offers exhibitions featuring paintings, textiles, sculpture, photography, ceramics, collage and more. Depending on how you'd like to explore the art museum is a great first or last stop on your journey. If you've signed up for our FREE digital passport, this is where you'll go to redeem your prizes — so it's definitely one spot on the trail you won't want to forget. (Pro Tip: Stopping here is worth 10 points on the pass, so you'll get a prize just for visiting the museum.)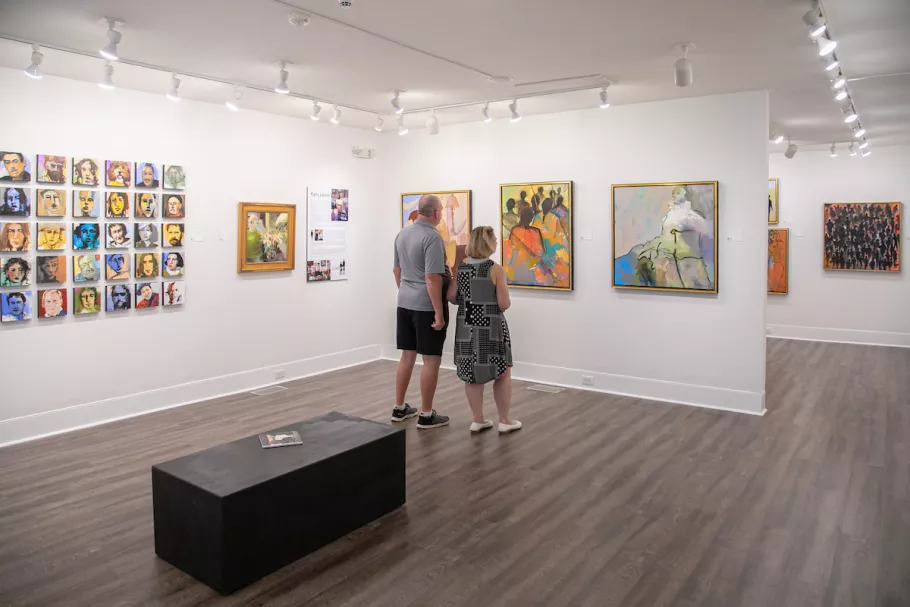 In recent years, the City of Myrtle Beach has taken great strides to revitalize the historic downtown area of Myrtle Beach now known as the Arts & Innovation District. This area now features a brewery, a co-working space and some great new restaurants, with many more improvements — including a cultural center — coming soon. These days you'll find great events including live music, family festivals and plein air painting in the area known as Nance Plaza. In addition to one of the area's newest murals, a large, colorful project paying homage to the area's heritage, you'll also find artist-led galleries such as William H. Miller Studios and Gallery Art D'Ange here.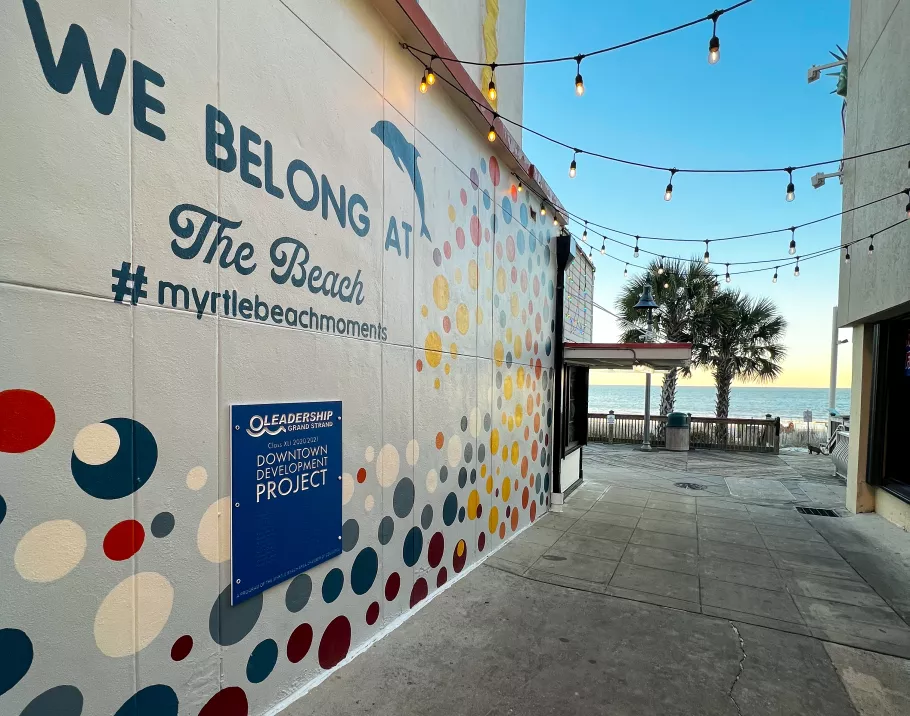 1325 Celebrity Circle, Myrtle Beach
As a Mecca of Myrtle Beach shopping, dining and nightlife, it's no surprise that Broadway at the Beach also features plenty of art. Located within this massive complex are several public art pieces including bugs, dinosaurs, sea life and a fun collection of bronze children's statues playing in the facility's plaza and fountains. If you prefer paint and canvas, you can explore Master's Edition Art Gallery featuring the works of well-known artists Mark Keathley, Abraham Hunter, Rod Chase, and Jess Wathen. Plus, there's plenty of artistic touches throughout the area including fun selfie spots, artistic hedges and interesting signage galore.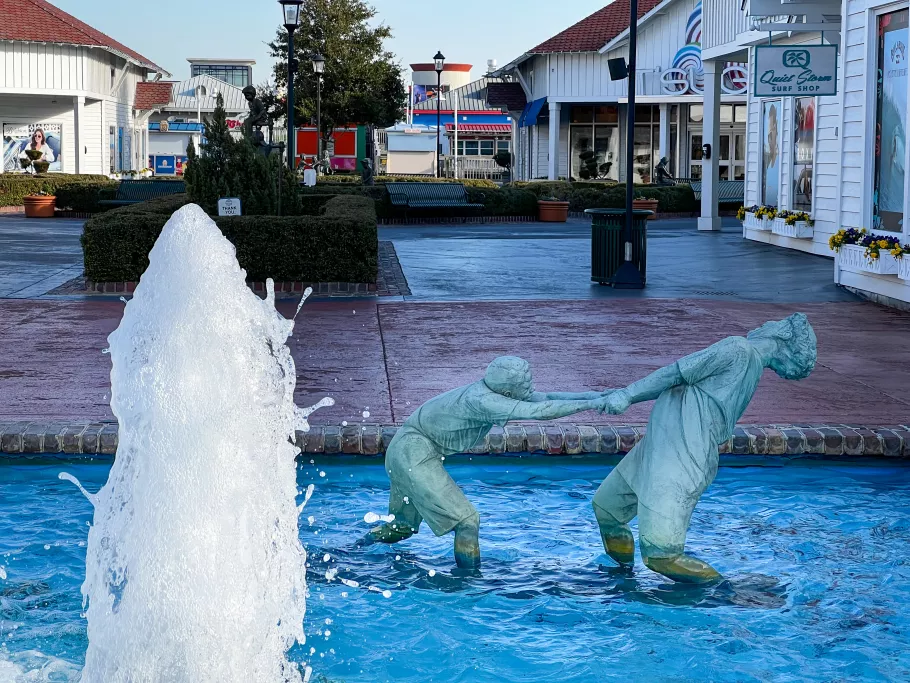 1181 Celebrity Circle, Myrtle Beach
Also located at Broadway at the Beach, but fully deserving of its own spot is one of the newest additions to the area, the Hangout. This enormous family fun restaurant and bar is full of artistic flair from top to bottom. Inside you'll find interesting touches such as windows lined with colorful Matchbox cars, walls littered with rubber ducks and lots and lots of artful aluminum lunch boxes. There's also the World's Largest Collection of Pez Dispensers — arranged into a sunny mosaic in the main lobby — one of several truly unique art pieces around the complex. There's also a pair of giant "shakas" the Hangout's signature hand gesture, an enormous metal surfer called "Shaka Man" and the Hangout Illumination Park, a whole green space full of unique public art pieces which light up at night.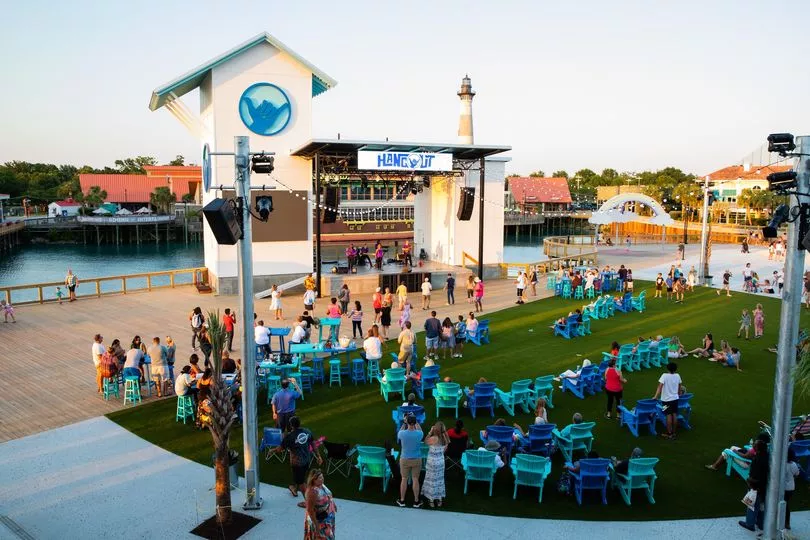 Located on the former Myrtle Beach Air Force Base, near The Market Common shopping center, Warbird Park is an area dedicated to paying homage to the area's military past. Filled with wooded paths, benches and a variety of monuments, this park  honors heroes who have served our country with features such as a Wall of Service, Circle of Heroes, POW/MIA Memorial, Korean War Monument, a 9/11 Memorial and more. There's also some great artwork such a striking metal sculpture called "Warrior" and replica aircraft including the A-10 Thunderbolt, F-100 Sabre and A-7 Corsair. This is a must-visit for anyone who's served and an enjoyable stop for art lovers of all ages.
You probably already know the boardwalk as a sport for sightseeing, shopping and restaurants full of fresh seafood and cold drinks, but you may not know this prominent promenade is also full of art. A tour of the boardwalk's best art includes stops at Art Burger Sushi Bar, a spot littered with colorful local art and artfully-crafted burgers and sushi rolls. You'll find murals on the exterior of two iconic boardwalk spots, the Oceanfront Bar & Grille and the Gay Dolphin, which have each been in business 70+ years. Top it all off with one of the gems of the entire trail, "Goddess of the Sea" a sculpture by renowned artist Kristen Visbal which resides in Plyler Park, dressing up the oceanfront area directly under the SkyWheel.
Myrtle Beach Convention Center
2101 N Oak St, Myrtle Beach
It's the center of some of The Beach's best events, and also home to one of its most impressive and longest-running pieces of art. Nearly the entire backside of the Myrtle Beach Convention Center is encompassed by an eye-catching local landmark known as the "Right Whales of the Coast Whaling Wall", a huge mural created in 1993 by the internationally-renowned artist Robert Wyland. The mural is one of a hundred that he painted as a part of his quest to capture the beauty of marine life across the globe. Featuring bottlenose dolphins, loggerhead turtles, and the Right Whale, the beloved mural was revitalized in recent years by local muralist Tommy Simpson.
3032 Nevers Street, Myrtle Beach
With more than 300 members from all over the Grand Strand, the Seacoast Artist Guild is one of the largest and most well-established arts organizations at The Beach. Featuring works from more than 70 members, the Seacoast Artists Gallery is a great place to explore what our arts scene has to offer. Located at the Market Common, this gallery features a wide swath of different artwork, media and subject matters, as well as some great arts events and programs for locals and visitors.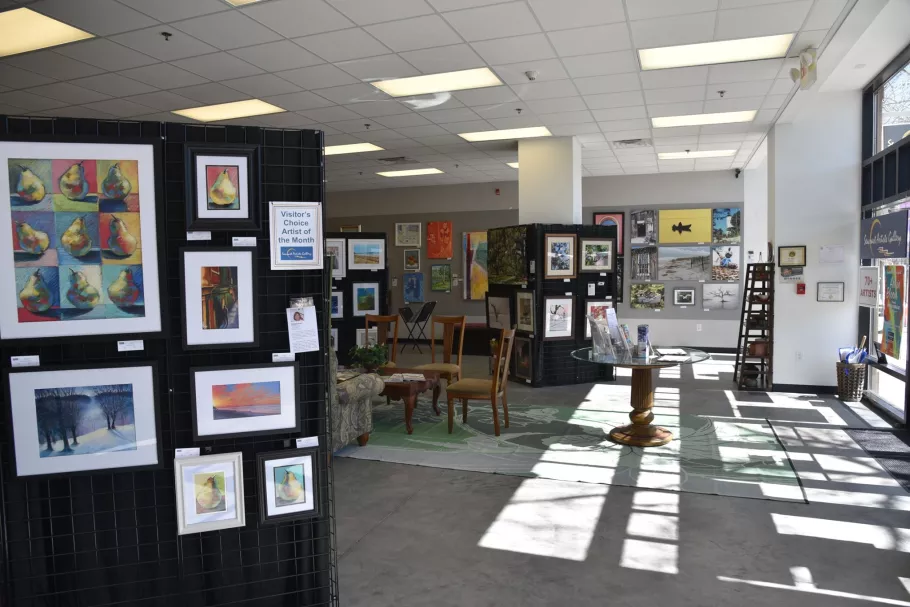 1903 North Ocean Blvd., Myrtle Beach
A fun, eclectic cafe in the heart of Myrtle Beach, Lulu's is known as much for its enormous mural as for its tasty breakfast dishes and old-school diner vibes. Encapsulating one whole exterior wall and measuring more than 60 feet in width, the mural was painted by well-known surf artist Drew Brophy — a Myrtle Beach native. This brightly-colored "can't miss" piece of public art features the Myrtle Beach skyline, a giant sun, a wave-riding surfer, a fun beach scene, a diving dolphin and more. Easily recognized by locals and visitors alike, this is also a great background for a distinctly Myrtle Beach Instagram post.
1410 N. Ocean Boulevard, Myrtle Beach
Located in the heart of downtown on the Myrtle Beach Boardwalk, The Blvd is a 55,000 sq. ft. oceanfront entertainment complex loaded with outstanding artwork across all three levels. There's two vibrant murals from renowned artist Sam Malpass, tons of ocean life and plants painted throughout the hallways and plenty of scenic views to take in. This a perfect midday stop on your art tour, as The Blvd plays home to a pair of great lunch spots Tin Roof and Banditos Cantina — an outstanding Mexican fusion restaurant that also features an awesome mural inside its entranceway.