The Best Places For Soup in Myrtle Beach
'Tis the winter season, which means it's the time of year that calls for cozying up to a cup (or bowl) of soup to ward off the colder temps.
What are the best restaurants in the Myrtle Beach area serving up soup? We have the scoop.
Sea Captain's House
There isn't a bad seat in the oceanfront Sea Captain's House, where you can stare out into the waters to see where the fresh blue crab meat lumped in your she crab soup was just swimming. They've been serving their rich and creamy she crab soup finished with a touch of sherry for the last 60 years, and, after your first taste, you'll know why it's award-winning.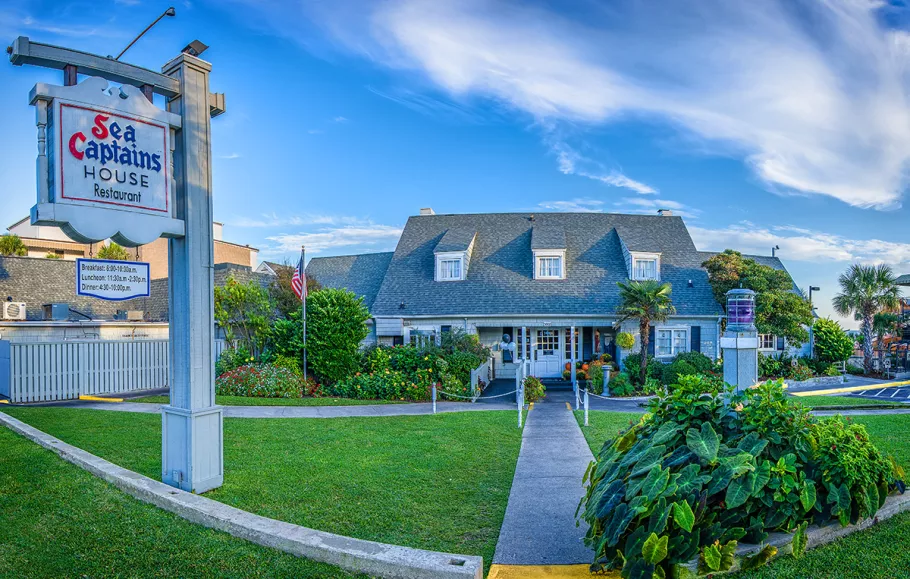 Pho Claire
This Vietnamese noodle house on the corner of the Food Lion shopping complex is one of the best places at the beach to sit down with a savory Vietnamese soup, such as their infamous Pho Deluxe: layers of thinly sliced filet mignon, meat balls, beef tripe, beef tendon, and beef brisket swimming in flavorful beef broth or their Hu Tieu Kho (rice noodles, pork, shrimp, fried garlic shallots, lettuce, bean sprouts, and green mix in chicken broth).
McAlister's Deli
We know it's a restaurant chain, with locations across the country, but that doesn't mean their soup offerings should be taken lightly. They ladle out soup to please all palates, including their creamy country potato, broccoli and cheddar, chicken tortilla, chili, and veggie chili.
Royal Ramen
If you're dying for some Ramen noodle soup, head to this spot that leads the pack like royalty. Royal Ramen serves a handful of options, including roast pork, seafood, vegetarian, tender rib, and stewed beef noodle.
Burky's Grill
Don't let this locally owned hamburger drive-thru joint fool you. They're also known for the yummy soups du jour and Cincinnati-style chili on the menu. Rotating daily soups include cream of broccoli, chicken noodle, lumberjack vegetable, and creamy clam chowder.
Co Sushi
The cool, modern Japanese restaurant in The Market Common offers a fair share of broth and wok noodle creations, such as Pho (add shrimp and a poached egg), Vietnamese Ramen, and Curry Laska in a spicy coconut broth.
Crepe Creation
Also in The Market Common district, Crepe Creation crafts homemade soups du jour, including chicken vegetable, French onion, and tomato basil.
Croissants
Well-known as one of the best places to lunch and brunch on the Grand Strand, Croissants also continues its longtime tradition of making delicious homemade soups, like French onion, tomato basil, and butternut squash .
E Noodles & Co
The south-end Asian restaurant features a lengthy list of authentic soups to warm up to, such as the Shanghai Style Wonton Soup, Tofu Miso Soup, Egg Drop Soup, the Thai-style Seafood Tom Yum Soup (hot, spicy, and sour with mushrooms, shrimp, scallops, mussels, and cilantro), the Tempura Udon Soup with Japanese wheat noodles, and more.
Bay Naturals
This popular healthy market and kitchen features a grocery store in the front stocked with hard-to-find organic foods, nutritional supplements, herbs, and more. And, in the back, they have a cool Fresh Kitchen that serves a healthy, homemade lunch and dinner menu of sandwiches, salads, and soups, including options like Hearty Lentil, New England Clam Chowder, Garlic, and more.
Quigley's Pint and Plate
Both Quigley's locations are great places to gather, sip on local craft beer, and sup on inventive Southern specialties. Their house made soups of the day are a big hit, too, like the Spicy Thai Chicken soup, Chicken and Sausage Gumbo, and Shrimp and Roasted Corn Bisque. Also not to be missed: Quigley's Southern Brewers Chili made with brown ale, marinated steak, and blackeyed peas.
Bistro 217
This chic bistro boasts an eclectic menu of seafood, steaks, and pasta dishes, available indoors or on the courtyard. Stop by for some of the locals' favorite soups, too, like Bistro's Tomato, Crab & Jalapeno Soup served with toasted white corn sticks and the Warm Bistro Potato Soup with applewood smoked bacon and green onion.