Come For The Games, Stay For The Fun In Myrtle Beach
What Makes The Myrtle Beach Area An Appealing/Unique Sporting Event Destination?
Sports event organizers are quickly discovering what 19.6 million annual visitors already find interesting in the Myrtle Beach Area. Many sports events reach record attendance along the Grand Strand, as the beautiful beaches and abundant entertainment options set the perfect background for free time and family entertainment.
Each year, new event organizers select the Myrtle Beach area as the destination for their annual events, drawing thousands of athletes and spectators to its state-of-the-art facilities. For outdoor sports such as baseball, softball, and track and field, as well as indoor events including basketball, volleyball, gymnastics and more the Myrtle Beach area is an ideal venue for competitive athletics.
Along with first-class facilities, the addition of indoor and outdoor venues in the past few years comes an array of activities including amusement parks, waterparks, shopping entertainment complexes, championship golf as well as miniature golf, 1800 restaurants and a variety of accommodations from hotels to beach houses to condos.
With a mild average temperature of 74o F, with an average of 215 sunny days each year. Any time of year — spring, summer, fall or winter — is the perfect time for a sporting event on the Grand Strand.
What Are The Major Sports Facilities In The Area?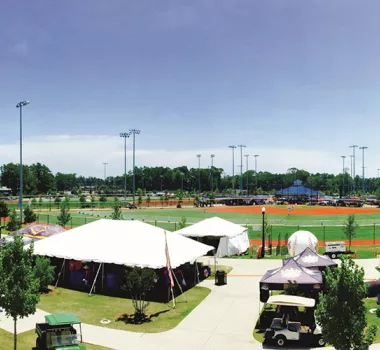 1.
Grand Park Athletic Complex
Facilities, such as the Grand Park Athletic Complex includes (9) lighted multipurpose Field Turf fields & 2 natural youth fields, Concession stands,6 lane Batting Tunnel, Complimentary Live Streaming, and Free Parking all 1 mile to the Atlantic Ocean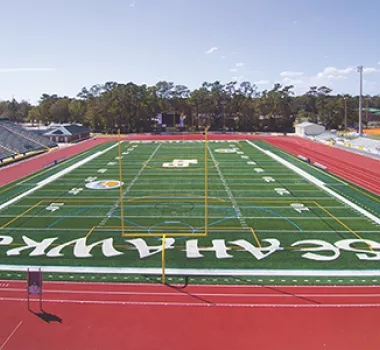 2.
Doug Shaw Memorial Stadium
Ned Donkle Field Complex & Ashley Booth Field includes 2 football fields and 7 baseballs fields along with Doug Shaw Memorial Stadium which underwent a $5.4 million renovation in 2017.
A world-class track made of a full pour polyurethane synthetic surface with embedded texture. This field venue is capable of hosting all Olympic style track & field events complete with state-of-the-art video board and "FieldTurf" infield for football and soccer. Doug Shaw Memorial Stadium is conveniently located in the heart of Myrtle Beach, just a few short blocks from the ocean.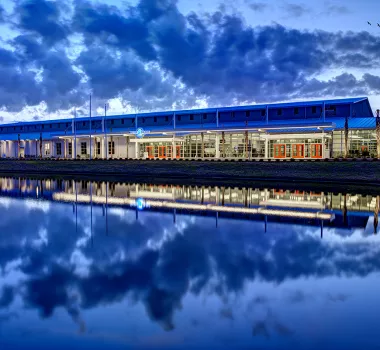 3.
John T. Rhodes Myrtle Beach Sports Center
John T. Rhodes Myrtle Beach Sports Center a 100,000-square-foot indoor sports facility that helped expand sports tourism. The $12.4 million facility now in its 5th season includes eight basketball courts, 16 volleyball courts, a café and retail area, and large multi-screen video wall. The center has 2,000 bleacher seats that can be utilized and will be configurable for numerous indoor sports. At the same complex is the Myrtle Beach Convention Center consisting of 100,000-square-feet of exhibit hall space making the facility the perfect setting for cheer, dance and other non-traditional sporting events. The Sheraton Hotel is connected to the convention center making for an onsite host hotel with 400 rooms.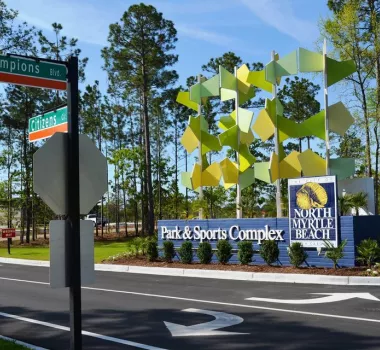 4.
North Myrtle Beach Park and Sports Complex
The North Myrtle Beach Park and Sports Complex is 163+ acre park including two first-class sports complexes. The baseball/softball complex consists of 4 fields along with 2 collegiate baseball/adult softball fields. Also included at the complex are misting fans in the dugouts, bleacher awnings, official's room, and a full-service concession stand. The soccer/lacrosse complex consists of 8 natural grassed regulation soccer/lacrosse fields (4 with lights), official's room and a full-service concession stand.
5.
Various County and City Individual Fields
There are various other county and city individual fields for use including the Single-A Myrtle Beach Pelicans TicketReurn.com Field, Ripken Experience Complex as well as Coastal Carolina University athletic facilities. The HTC Center on the campus of CCU has served as the host to the Big South Basketball Championships from 2013-2016, the 2017 ACC Women's Basketball Tournament, the ESPN Puerto Rico Tipoff in 2017, and the Myrtle Beach Invitational from 2018-2020. CCU along with Visit Myrtle Beach will host the first SC Bowl Game starting in 2020 at newly renovated and expanded Brooks Stadium.
What Types Of Sports Events Are Typically Hosted?
Athletx-Baseball Youth Nationals, Beach Ball Classic, Big Shots-Basketball National Championships, Triple Crown Baseball Tournament, National Softball Association-Winter World Series, National Travel Basketball Association-National Championships, Top Gun Sports-Winter World Series, USA Track and Field Youth Outdoor Championship, USA Track and Field Junior Olympics, Myrtle Beach Marathon and Half Marathon, World Fastpitch Connection-World Series, ACL Collegiate Cornhole Championships, US Team Handball Club Championships, 2019 NCAA Golf Regional Championships, USA Gymnastics XCEL Regional Championships, Varsity Spirit Cheer & Dance Competitions, US Pickleball Association Mid-Atlantic Regional Championships.
Why Myrtle Beach?
Many sports events reach record attendance along the Grand Strand, as the Atlantic Ocean and unlimited entertainment options set the perfect background for free time and family entertainment.
Sixty miles of beaches and waterfront along the Intracoastal Waterway. More than 100 golf courses. Outlet, malls and specialty shopping. Exciting attractions and amusement parks for all ages. Eight live entertainment theaters. Minigolf, aquariums, museums, watersport activities and more than 1,800 restaurants featuring some of the most savory Carolina Coastal Cuisine.
There are great locations for awards ceremonies where you can have entertainment, food, and activities before and after your awards - such as Ripley's Aquarium, Dave and Busters, House of Blues, Myrtle Waves Water Park evening event, or have a themed party right at your hotel.
In the Spotlight
Featured Places
Submit Sports RFP
Submit a Sports RFP and our local experts will assist you with all of your planning needs!RGP
Inspiration Guide
Get your Official Myrtle Beach Area Meetings and Groups Inspiration Guide.
Contact a Sports Specialist
Contact Sports Specialist to plan your sports event or tournament.