Visit Myrtle Beach Selects Pulse Travel Marketing as Official Agency in Canada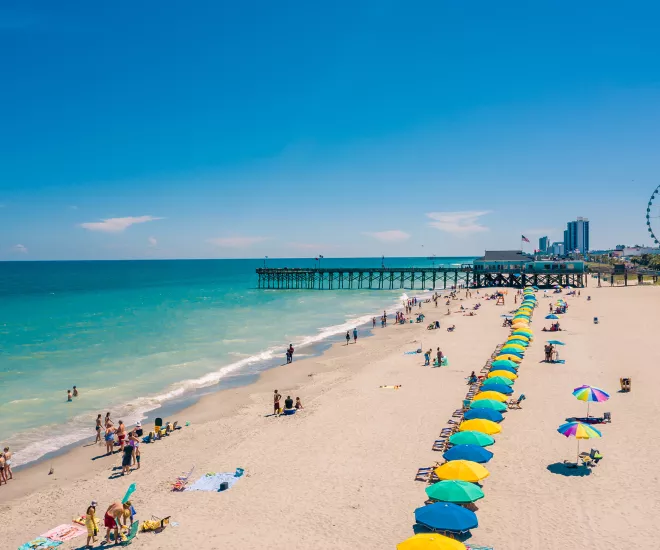 Creative ideas, strong strategies and powerful leadership will elevate Visit Myrtle Beach in the Canadian market
Toronto, ON (September 06, 2023) – Visit Myrtle Beach has named a new agency to its Canadian roster, awarding Pulse Travel Marketing as their newly appointed agency of record in Canada.
The agency was selected through an extensive RFP process and will work with the convention and visitor bureau's staff, and in state partners, to ensure the city is prominently positioned with the travel trade, consumer, and key distribution media channels in Canada. The partnership will include, but not be limited to, the development and implementation of strategic marketing programs to increase the profile for Visit Myrtle Beach in the primary markets of Ontario and Québec.

| | | |
| --- | --- | --- |
| Annika Klint | Sana Keller | Rebecca Seeds |
Pulse is taking over the account from incumbent Kimberly Hartley of Travel Solutions by Design which has been a valued and trusted partner for 14 years and whose dedication and contributions have created a solid platform for continued success. The newly appointed Visit Myrtle Beach - Canada team will be responsible for promoting tourism from Canada to the Myrtle Beach area and for working hand-in-hand with key travel trade partners and media, to create strategic campaigns that will drive demand and keep the destination top of mind.
"Pulse Travel Marketing has a great history of delivering exceptional strategies for clients in travel and tourism and stood out in the RFP process with their bold, creative thinking. Our task force selected Pulse based on their expertise and market knowledge, and their ability to continue building on our past successes to help us meet our goals in the years ahead," said Karen Riordan, Visit Myrtle Beach president & CEO.
"We are eager to take risks, push the boundaries and raise expectations in the process," said Sana Keller and Annika Klint, managing partners, Pulse Travel Marketing. "Canadians have always loved Myrtle Beach as one of the closest warm water beach destinations due to the 60 miles of pristine coastline, including six wide, beautiful beaches, loads of attractions and activities, over 90 golf courses, a range of accommodation for every price point, and over 2,000 restaurants. We have a team with a bold vision that is ready to help Visit Myrtle Beach connect and engage with their target market by working with the travel trade, tour operators, airlines, meeting planners and the media.
Pulse has named Rebecca Seeds account manager for Visit Myrtle Beach in Canada. She will lead the account from its Toronto-based office with support from Sylvie Madore in Québec and the account PR and marketing teams.
As the saying goes, Myrtle Beach area is not just any beach, but The Beach.
###
About Myrtle Beach, S.C.
Myrtle Beach isn't just a beach. It's The Beach. Popularly known as the Grand Strand, Myrtle Beach is one destination made up of 14 unique communities that stretch 60 miles along the northeast coast of South Carolina. Families, couples and those in search of a warm welcome will find more than just a day at The Beach when they come together to connect and enjoy vibrant entertainment and family attractions, including world-class golf, shopping and fresh coastal Carolina cuisine. From the moment you arrive, you'll find you belong at The Beach – Myrtle Beach, South Carolina. For additional information on tourism offerings in the Myrtle Beach area, visit www.visitmyrtlebeach.com or call (888) Myrtle-1.
About Pulse Travel Marketing
Pulse Travel Marketing provides tourism, public relations, travel marketing services and brand marketing, working in tandem with the travel trade, airlines and media to increase visitation to travel destinations worldwide. Managing Partners at Pulse Travel Marketing include Sana Keller and Annika Klint. For more information visit www.pulsecommunications.ca