Visit Myrtle Beach Announces Exciting New Attractions, Return of Signature Events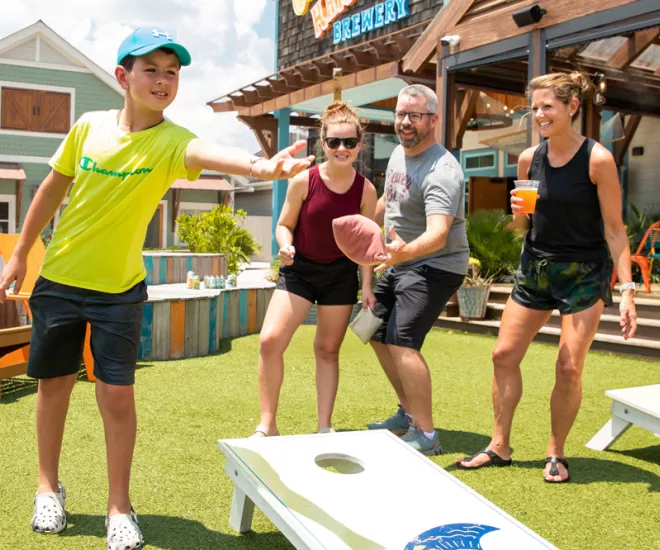 Visit Myrtle Beach Announces Exciting New Attractions, Return of Signature Events
Beloved destination welcomes visitors back to The Beach this summer
Myrtle Beach, S.C. (June 25, 2021) – As consumer confidence in travel continues to rise, Visit Myrtle Beach (SC) is welcoming visitors to its 60 miles of beautiful Atlantic coastline with a variety of new attractions and experiences, as well as the return of long-cherished events to the region.
"Travelers are eager to get back to their planned summer vacations, and we are thrilled to welcome them back to The Beach for a summer full of fun," said Karen Riordan, president and CEO of Visit Myrtle Beach. "Between brand new and updated attractions and a full slate of carefully planned (and safe) outdoor events, the Myrtle Beach area is the perfect location to jumpstart travel and create lasting memories."
The following is the latest information on new tourism developments and scheduled events in the region:
SIGNATURE EVENTS
 
Hot Summer Nights
Hot Summer Nights will return to Plyler Park this summer to offer fun, exciting attractions to visitors on the Oceanfront Boardwalk. A full Hot Summer Nights schedule will be posted soon, but visitors can plan to enjoy live entertainment and family friendly activities Monday – Saturday, from June 12 to September 4.
Conway Riverfest
Kicking off the weekend before Independence Day, this popular festival features many live entertainment acts, an artisan market, a raft race, activities and games for all ages and food. This weekend of fun is located in downtown Conway along the banks of the majestic Waccamaw River. Come for the aesthetically pleasing location and stay for the events. The Conway Riverfest will be held on June 26, 2021.
4th of July Fireworks
Head to one of the 11 firework shows in the Myrtle Beach area to celebrate the 4th of July. If you are looking for more family friendly activities to enjoy over the weekend, Myrtle Beach has plenty to offer! See this Blog post from Visit Myrtle Beach for more information and details.
NEW AND IMPROVED ATTRACTIONS
 
SkyWheel Reopening
SkyWheel Myrtle Beach recently underwent a major makeover to celebrate the iconic attraction's 10th birthday. The makeover included a new wheel structure, refurbished interiors and exteriors of its 42 gondolas, and most noteworthy, a new state-of-the-art lighting system allowing for more dynamic light shows.
Funplex Amusement Park
Conveniently located just a few steps from the beach on 14th Ave. N., the brand new, tropical-themed Funplex Myrtle Beach features seven rides, a walk-up bar, a restaurant and more. This park also boasts "Mach Fun," the tallest interactive 360° jet simulator ride on the market, and first-of-its-kind in North America.
Le Grand Cirque
Broadway at the Beach teamed up with Dublin Worldwide Productions USA to bring Le Grand Cirque 2.0 to the newly reopened Broadway Theater in Myrtle Beach. The jaw-dropping visual feast of breathtaking group acrobatics features an international cast of artists handpicked from around the world for their death-defying abilities and precision skills. Le Grand Cirque 2.0 plays from June 1 to October 3.
Grand Strand Brewing Company
The two-story building that fronts Nance Plaza is now home to Grand Strand Brewing Company. Producing a variety of handmade beers available in its taproom, the newly opened brewery also offers a small, on-site commercial kitchen where local chefs and restaurants can prepare food to pair with the craft beer selection, as well as outdoor seating and entertainment.
Crooked Hammock Brewery
Located in Barefoot Landing, Crooked Hammock Brewery brings to life an all-ages backyard escape that features craft beer, indoor/outdoor seating for more than 500 guests, firepits, hammocks, a playground for kids, bocce ball courts, corn hole, and a bar that is set over the lake. The restaurant features backyard cookout-inspired food such as burgers, oak-smoked baby back ribs, giant Bavarian pretzels, and savory sides such as jalapeno and cheddar cornbread, all in a pet-friendly environment. There is also a food truck on the premises!
Visit Myrtle Beach continues to ask visitors to pack patience and visit the destination responsibly. The latest updates on COVID-19 can be found at the Healthy Travel section on the VisitMyrtleBeach.com website.
About Myrtle Beach, S.C.
Myrtle beach isn't just a beach. It's The Beach. Popularly known as the Grand Strand, Myrtle Beach is one destination made up of 14 unique communities that stretch 60 miles along the northeast coast of South Carolina. Families, couples and those in search of a warm welcome will find more than just a day at The Beach when they come together to connect and enjoy vibrant entertainment and family attractions, including world-class golf, shopping and fresh coastal Carolina cuisine. From the moment you arrive, you'll find you belong at The Beach – Myrtle Beach, South Carolina. For additional information on tourism offerings in the Myrtle Beach area, visit www.visitmyrtlebeach.com or call (888) Myrtle-1.
For additional information on the Myrtle Beach Area, visit www.VisitMyrtleBeach.com or call 1.888.Myrtle1.
Media Contact:
Ann Marcum
Fahlgren Mortine
614.383.1634
[email protected]