MYR Works to Make Air Travel More Inclusive for Individuals with Disabilities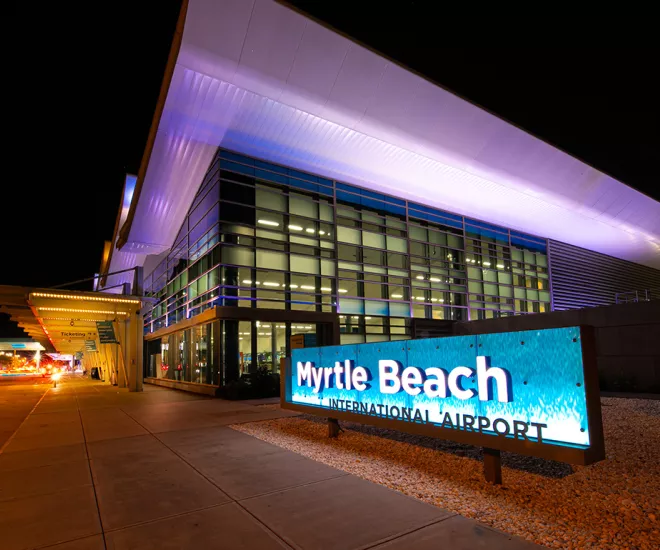 MYR Works to Make Air Travel More Inclusive for Individuals with Disabilities
By Marlane White
On Oct. 12, Myrtle Beach International Airport (MYR) showcased a Wings for All® training event. The airline boarding "rehearsal" program was created to alleviate some of the stress that individuals with intellectual and developmental disabilities and their families experience when traveling by air.
Pictured above is MBACC President and CEO Karen Riordan (Third from left) and S.C. Sen. Greg Hembree (Second from right) with representatives from Wings for All, MYR and Spirit Airlines during the Wings for All training event at MYR.
During the event, participants checked in to receive their boarding passes, passed through the TSA security checkpoint, waited in the boarding area and boarded a Spirit Airlines plane. Once on the plane, the program featured a presentation on the aircraft's features, in-flight safety protocols and take-off procedures.
The event provided airport, airline, TSA and other personnel needed training on how to better serve individuals with disabilities and their families. The training gives staff a feeling of what to expect and educates them on how to best interact with individuals with autism and/or other intellectual and developmental disabilities.
"It was an honor to participate in the Wings for All event at MYR and learn more about how our airport and our destination can better serve those with disabilities," said Karen Riordan, president and CEO of the Myrtle Beach Area Chamber of Commerce and Convention and Visitors Bureau (CVB). "The Myrtle Beach area is known worldwide for being a destination that's especially accommodating to those with intellectual and developmental disabilities and this program is one of many examples of how The Beach is for everybody."
To learn more about Wings for All, visit www.arcsc.org/wings-for-autism