"Moveable Feast with Relish" Episode in Myrtle Beach, S.C. Set to Air This Month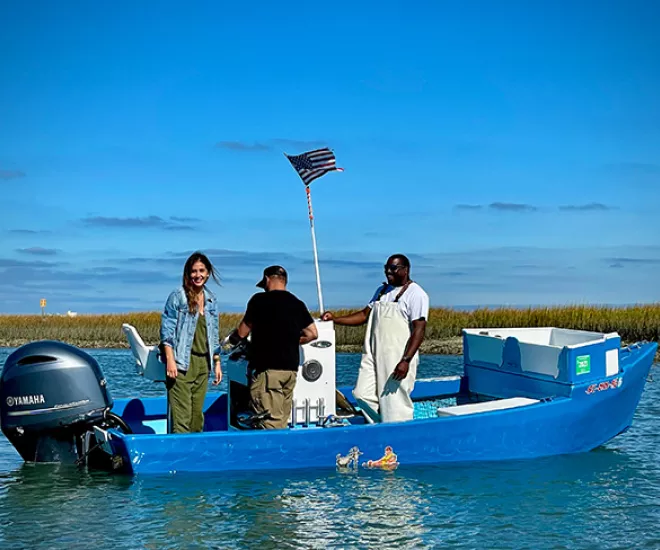 "Moveable Feast with Relish" Episode in Myrtle Beach, S.C. Set to Air This Month
Episode to Air on PBS Stations Nationwide and Features Several Grand Strand Businesses
MYRTLE BEACH, S.C., February 1, 2023 – Visit Myrtle Beach announced that the Moveable Feast with Relish episode filmed along the Grand Strand in late 2022 has begun airing on PBS stations with most air dates set for the first weekend in February. It will air on SCETV in South Carolina on Sunday, February 5, 2023. The Emmy Award-winning show, produced by GBH and Relish.com, teams up with the world's most innovative chefs, known for their use of fresh regional ingredients, to create spontaneous feasts in unique settings that inspire viewers to explore vibrant food cultures.
"Myrtle Beach is a culinary destination unlike any other with over 2,000 restaurants serving classic local favorites, fresh regional dishes, and innovative gastronomic delights," said Karen Riordan, President and CEO, Visit Myrtle Beach. "We are excited to showcase the incredible flavors of the Grand Strand and our welcoming culinary scene with Moveable Feast, which is sure to inspire viewers to take a trip to The Beach to experience the area's abundant offerings first-hand."
In the Myrtle Beach-based episode, host Alex Thomopoulos – known for her roles on other national series including Food Network's Ultimate Summer Cook-off – is joined by celebrated chefs Heidi Vukov (Hook and Barrel and Croissants) and Adam Kirby (Bistro 217 and Rustic Table) to highlight the exceptional beauty and culinary bounty that The Beach has to offer. The episode includes a visit to Microledon Farm in Conway, Seven Seas Seafood Market and a fishing trip in Murrells Inlet, before culminating in a low-country feast at the Caledonia Golf & Fish Club on Pawleys Island.
Moveable Feast with Relish is now in its ninth season with distribution by American Public Television. Local listings for the air dates and times are available through PBS.org. Episodes will also be available on PBS Passport, Relish.com, YouTubeTV, and through Amazon Prime or Prime Video on the PBS Living Channel.
Watch the promotional videos of the Myrtle Beach episode here:
- 40 seconds
- 1 min 40 seconds
- Myrtle Beach Episode Page on PBS.org
- Myrtle Beach Episode Page on MoveableFeast.Relish.com
For more information on Moveable Feast with Relish, visit moveablefeast.relish.com.
###
Editor's Note: Images from the filming of Moveable Feast with Relish in Myrtle Beach are available here. Please use the credit, "Courtesy Moveable Feast."
About Myrtle Beach, S.C.
Myrtle Beach isn't just a beach. It's The Beach. Popularly known as the Grand Strand, Myrtle Beach is one destination made up of 14 unique communities that stretch 60 miles along the northeast coast of South Carolina. Families, couples and those in search of a warm welcome will find more than just a day at The Beach when they come together to connect and enjoy vibrant entertainment and family attractions, including world-class golf, shopping and fresh coastal Carolina cuisine. From the moment you arrive, you'll find you belong at The Beach – Myrtle Beach, South Carolina. For additional information on tourism offerings in the Myrtle Beach area, go to visitmyrtlebeach.com or call (888) Myrtle-1.
Media Contact:
Kimberly Miles
Fahlgren Mortine
843-655-7902
[email protected]