Matthew McConaughey, Stand Up To Cancer and Visit Myrtle Beach Team Up for Powerful PSA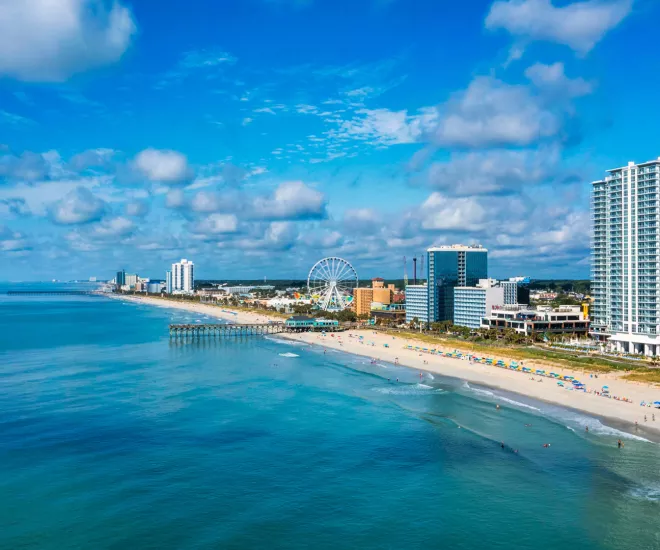 Teaming Up to Raise Awareness and Donations for Cancer Research
LOS ANGELES – Oct. 18, 2023 – Academy Award®- winning actor Matthew McConaughey has joined Stand Up To Cancer® (SU2C) and Visit Myrtle Beach for a new public service announcement (PSA) that raises awareness about the importance of funding cancer research.
The campaign features McConaughey narrating poignant memories and milestone moments for a family that frequently visits the beach. Viewers follow along as the family's daughter grows up and the father experiences a cancer diagnosis. Through their story, the PSA illustrates the one thing every person impacted by cancer craves: more time.
"It is inevitable that this disease will affect us, our friends or family at some point in our lives. SU2C innovations lead to better cancer prevention, diagnosis and treatment, which means that we can help save lives now," said Sue Schwartz, SU2C co-founder. "We are so appreciative of the support from Matthew McConaughey and Visit Myrtle Beach as we engage the public to support cancer research and the scientists who are on the front lines working to combat this terrible disease."
McConaughey has been supporting SU2C since 2014 through various awareness initiatives and the previous four biennial televised fundraising specials. After a few of his close friends and a family member were lost to cancer, McConaughey doubled down on his commitment and dedication to learning about new treatments and breakthroughs in research.
"It's helpful to know that organizations like SU2C exist and can help people find the best information and doctors available," McConaughey said. "This PSA highlights the magical moments in life but also points out that there are hard moments as well. The work that SU2C does is groundbreaking and vital to helping get people to more of those magical moments and I am honored to be working with them on this campaign."
Stretching along the northeast coast of South Carolina, the Myrtle Beach area welcomes 17 million visitors annually. Visit Myrtle Beach represents the destination comprised of 14 unique communities, where residents and visitors can enjoy 60 miles of beaches, over 90 golf courses, more than 2,000 restaurants and ample attractions.
"The collaboration between Visit Myrtle Beach and Stand Up To Cancer exemplifies our joint desire to assist families who have been affected by cancer in continuing to create memories for generations," said Karen Riordan, Visit Myrtle Beach president and CEO.
Directed by Brian Morrow and produced by Sharkpig, the PSA will be placed across print, broadcast, radio, digital and out-of-home outlets. To learn more about the PSA and how you can donate today, please visit StandUpToCancer.org.
Teaming Up to Raise Awareness and Donations for Cancer Research
Media Contact:
Fiona McRobert
Stand Up To Cancer
ID PR
ABOUT STAND UP TO CANCER
Stand Up To Cancer® (SU2C) raises funds to accelerate the pace of research to get new therapies to patients quickly and save lives now. SU2C is a 501(c)(3) charitable organization and was initially launched as a division of the Entertainment Industry Foundation. Established in 2008 by media and entertainment leaders, SU2C utilizes these communities' resources to engage the public in supporting a new, collaborative model of cancer research, to increase awareness about cancer prevention, and to highlight progress being made in the fight against the disease. As of April 2023, more than 3,000 scientists representing more than 210 institutions are involved in SU2C-funded research projects.
As SU2C's scientific partner, the American Association for Cancer Research (AACR) and a Scientific Advisory Committee, led by Nobel laureate Phillip A. Sharp, Ph.D., conduct rigorous competitive review processes to identify the best research proposals to recommend for funding, oversee grants administration, and provide expert review of research progress.
Current members of the SU2C Founders and Advisors Committee (FAC) include Katie Couric, Sherry Lansing, Kathleen Lobb, Lisa Paulsen, Rusty Robertson, Sue Schwartz, Pamela Oas Williams, and Ellen Ziffren. The late Laura Ziskin and the late Noreen Fraser are also co-founders. Russell Chew serves as SU2C's president and CEO.
For more information, visit StandUpToCancer.org, Instagram, TikTok, Twitter, Facebook, and YouTube.
About Myrtle Beach, S.C.
Myrtle Beach isn't just a beach. It's The Beach. Popularly known as the Grand Strand, Myrtle Beach is one destination made up of 14 unique communities that stretch 60 miles along the northeast coast of South Carolina. Families, couples and those in search of a warm welcome will find more than just a day at The Beach when they come together to connect and enjoy vibrant entertainment and family attractions, including world-class golf, shopping and fresh coastal Carolina cuisine. From the moment you arrive, you'll find you belong at The Beach – Myrtle Beach, South Carolina. For additional information on tourism offerings in the Myrtle Beach area, visit www.visitmyrtlebeach.com or call (888) Myrtle-1.