Testimonials
"From the point of initial contact… the CVB was very helpful and supportive with our requests…. Our conference was a huge success."
Pat Fugate, Planning Team Lead, International Association of Emergency Managers Region IV Conference
"…and the CVB delivers on their promises and strive to make meetings run seamlessly smooth, fun and rewarding - as any trip to Myrtle Beach should be!"
Amy Vega, Meeting Planner
"It is such a pleasure to work with the Myrtle Beach CVB...always on top of the needs for each and every client.…"
Valerie Tiffany, YOUR SC SOLUTIONS!
"I just wanted to say thank you for all your help and hospitality during our visit last week. It has been a pleasure to work with you."
Johnathan Ward, VPP Safety Leader, Southwire Company West GA CSC
"I wanted to thank you for everything you did to make my site of Myrtle Beach the past couple of days a great success. I truly appreciate your efforts … and for the tours that now gives me a much better perspective of not only what the city has to offer but where everything is in relation to the hotels, etc."
Tim Morrison, Conference Consultant, Rainbow Association & Meeting Planning
"I am writing to express my sincere thanks and appreciation for all of your help, hard work and support during our recently concluded Joint Service Power Expo. The patience and care you showed me meant a lot to me!" - Thank you again."
Angie DeKleine, CMP, National Defense Industrial Association
"Thank you so much for the time you took to arrange with our conference coordinator to look at multiple sites for our conference. Everyone was professional and I know will assist us to meet our needs. Thank you."
Debra Williams, President Elect, Carolinas Society of Healthcare Education and Training
"Thank you so much for taking so much time out of your day to visit the hotels for Student Life. I am so pleased with the group of hotels we will be using!"
Julie Daniels, Senior Director, HelmsBriscoe
"Our association books meetings and conferences all over the US and Canada. Last year, we brought a small group to Myrtle Beach and had a fantastic experience, so much so, that we are bringing a larger group back this November. In tough economic times, we are all looking for lower hotel rates and F&B costs; Myrtle Beach provides exceptional value for the price. Sometimes the best kept secrets are right in our own backyard."
Nancy Lane, President, Suburban Newspapers of America (and Myrtle Beach resident)
"The Myrtle Beach Area Convention Bureau was a true partner in my conference planning. All I had to do was send them my meeting specifications, and they handled the rest. They provided valuable information on venue options that met my criteria, helped me set up meetings, and even included me in a Familiarization Trip . They provide the resources of a third-party site selection company without the cost. Say goodbye to those third party planners and give Myrtle Beach a try...you will not be disappointed."
Lauree Simes, Events Coordinator, Tyler Technologies, Inc., Dayton, OH
"Your staff members who organized the materials at our reunion were pleasant and highly professional."
Sabrina Goff-Mack, Moody Family Reunion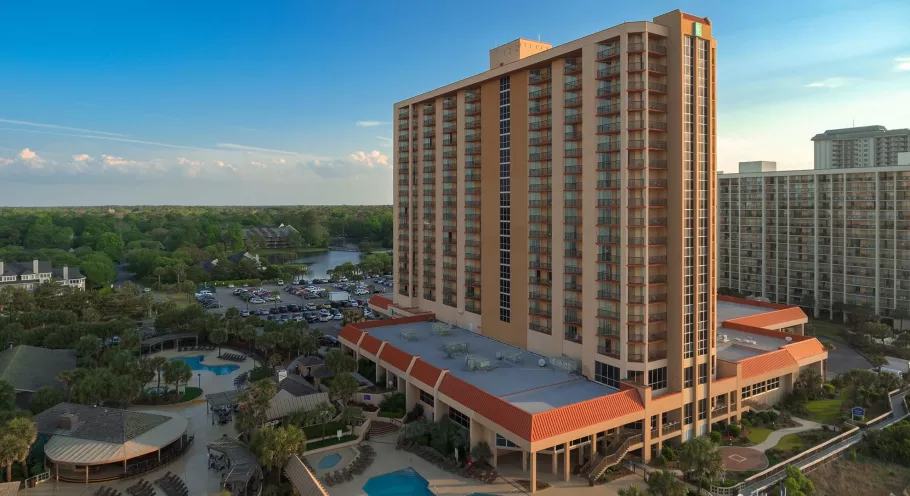 "We were just a small group but we were treated very special - the staff really helped us out at the last minute. Extremely helpful!"
Claire Adare, Next Step Religious Seminar
"I want to thank everyone. Words can't express how much we appreciate your assistance. I hope to visit Myrtle Beach next year."
Cynthia Garrett Andrews, Glenn Family Reunion
"The reason we come to the Myrtle Beach area is the family environment. It allows us to combine business and vacation."
Tal Reid, J.L. Reid Company
"It is wonderful. The area offers something for everyone. We have met there the past two years and are returning in the fall."
Carolyn Ender, Sara Lee Corporation
"The promotion of the Myrtle Beach area is great. The information provided during the planning process is a great tool in arranging the conference."
Kristie Phillips, Meadow Homes
"Our largest attendance has been in the Myrtle Beach area. That is why we are returning."
Sherry Hamilton, Southern Early Childhood Association
"Moving to Myrtle Beach has been great for our trade show. Attendance has increased and our attendees are happy to have so many attractions like restaurants, shopping, and golf to enjoy."
Donna Shealy Foster, SC Nursery & Landscape Association
Meeting Planner Guide.
The Official Myrtle Beach Area Meeting and Group Planning Guide has everything you need to start planning your next meeting, group or sports event in the Myrtle Beach area!
Contact a Meeting Specialist
Contact a Meetings & Conventions specialist to plan your next event in Myrtle Beach.
Submit Meeting RFP
Submit a Meetings RFP and we will assist in making your meeting experience the best it can be!
Convention Services
Take advantage of services we offer to meetings planned in the Myrtle Beach area.