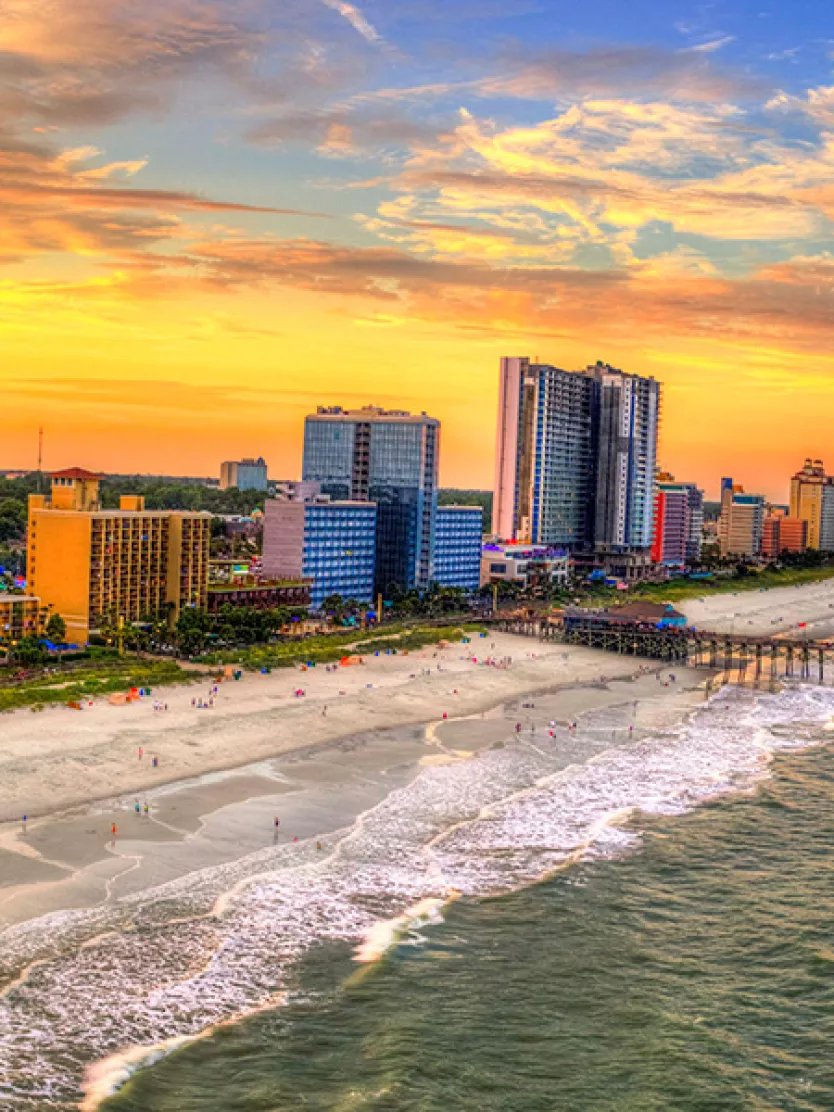 Bring Your Film to Myrtle Beach
Make your next film in beautiful & sunny Myrtle Beach, South Carolina! From hundreds of accommodation options to thousands of restaurants, there is plenty of space to be comfortable and efficient during the filming process.
About the Myrtle Beach Area
The Myrtle Beach area, popularly known as the Grand Strand, stretches from Little River to Pawleys Island, and comprises 14 communities along the South Carolina coast. Home to world-class golf, 60 miles of sandy beaches, exciting entertainment, family attractions and Southern hospitality, the Myrtle Beach area provides a wide variety of scenery options for any type of film. Also, with an average temperature of 74 degrees, and 215 sunny days each year, the weather will most likely always be in your favor.
There are approximately 425 hotels and 98,600 accommodation units in the Myrtle Beach area. From elegant golf and seaside resorts, to rustic cottages, bed & breakfasts and mom-and-pop motels, the Myrtle Beach area offers accommodations for every taste and appeals to every type of traveler. There are also several campgrounds located between Myrtle Beach and the South Strand, many of which are oceanfront or just steps away from the beach. There are also a number of beach homes and condos available for rent, thereby giving vacationing families a true home away from home.
Closest Large Cities
Raleigh, NC (145 miles)
Charlotte, NC (155 miles)
Jacksonville, FL (281 miles)
Atlanta, GA (316 miles)
Traveling to Myrtle Beach
By Plane
Myrtle Beach International Airport
Located just one mile inland from the Atlantic Ocean, the Myrtle Beach International Airport (MYR) provides easy, nonstop and connecting flights to more than 350 destinations worldwide. Airlines servicing MYR include Allegiant Airlines, Delta Air Lines, Elite Airways, Frontier, Porter Airlines, Spirit Airlines. Non-stop flights are available most of the year from Myrtle Beach to Allentown, Atlanta, Atlantic City, Baltimore, Boston, Charleston (W.V.), Charlotte, Chicago, Cincinnati, Columbus, Dallas, Detroit, Ft. Lauderdale, Ft. Wayne, Huntington, WV, Knoxville, Latrobe, Lexington, New York (LaGuardia), Newark, Niagara Falls, Philadelphia, Pittsburgh, Plattsburg, Syracuse, Toronto, Washington D.C., and Youngstown.
Charleston International Airport (104 miles)
Charlotte Douglas International Airport (183 miles)
Raleigh-Durham International Airport (114 miles)
By Car
U.S. routes 17, 501 and S.C. 9 provide direct access to the Grand Strand from Interstate Highways 95 and 20. The 28-mile S.C. 22 (Veterans Highway) offers an additional route from U.S. 501 to U.S. 17 on the north end of the Strand. Also completed is the Carolina Bays Parkway (S.C. 31), which runs from S.C. 9 to U.S. 501 and S.C. 544 and ultimately will extend to U.S. 17 south of Myrtle Beach. And in the works, a proposed Interstate 73 corridor would create more of a direct route for visitors to the Grand Strand from states throughout the upper mid-west and north east.
Contact information
South Carolina Film Production Incentives - Employee wage rebate, Supplier rebate, No state sales tax, No location fee for state properties
Film Resume
Portions of the following movies, television shows and music videos have been filmed in Myrtle Beach and the surrounding areas.
Movies
Don't Make Waves (1967)
Pied Piper Malone (1924)
Shag (1989)
Wild Hearts Can't Be Broken (1991)
Wishing Out Loud (2015)
Chain Gang (1983)
Chasers (1993)
Fall Time (1994)
Lolita (1995)
Made In Heaven (1986)
Ocean Drive Weekend (1984)
Paradise (1991)
Stateside (2002)
The Bay (2010)
The Notebook (2002)
The Nutty Professor II (1999)
The Patriot (1999)
The Strangers (2006)
Magic Mike XXL (2015)
TV Shows
Trailer Park: Welcome to Myrtle Manor (TLC)
Beach Front Bargain (HGTV)
Party Down South (CMT)
Animal Planet: King of the Jungle (2003)
Eastbound & Down (2001)
One Tree Hill (2004)
Music
19 You + Me - Dan & Shay (country)
Anything But Mine - Kenny Chesney (country)