Top Hotels Near Broadway at the Beach
If your sights are on spending your days between the beach and Broadway at the Beach, we've narrowed down your hotel search to these resorts within a five-minute drive of the family-friendly dining/shopping/entertainment destination. This list of nearby resorts have something for everyone, so find the perfect match just for you and your family!
featured
1.
Courtyard Myrtle Beach Oceanfront
featured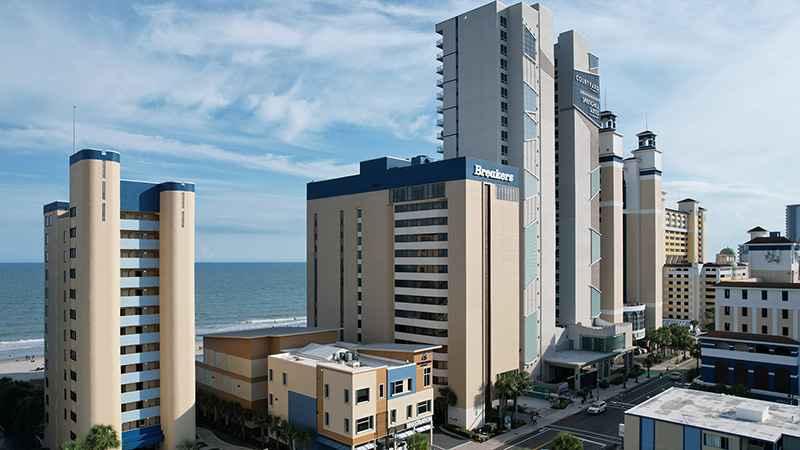 There is a whopping 19 water amenities, indoors and out, at The Breakers, including their brand-new indoor Cove Waterpark! Kids of all ages are welcome to go wild, and slip, slide, and speed down the Myrtle Mayhem, Riptide Racers, Torpedo Shoot, and Twisted Typhoon. They also host indoor and outdoor pools, an indoor lazy river, and hot tubs. When it's time to refuel, hit the Rusty Reel, the Ben & Jerry's ice cream parlor, Starbucks, and more. Then it's back to more fun in the sun with shuffleboard, cornhole, and the live pool deck dance party with DJ Ice Box from noon to 4 p.m. daily in the summer. When it's time to rest, you will love the surroundings of The Breakers' deluxe suites.
featured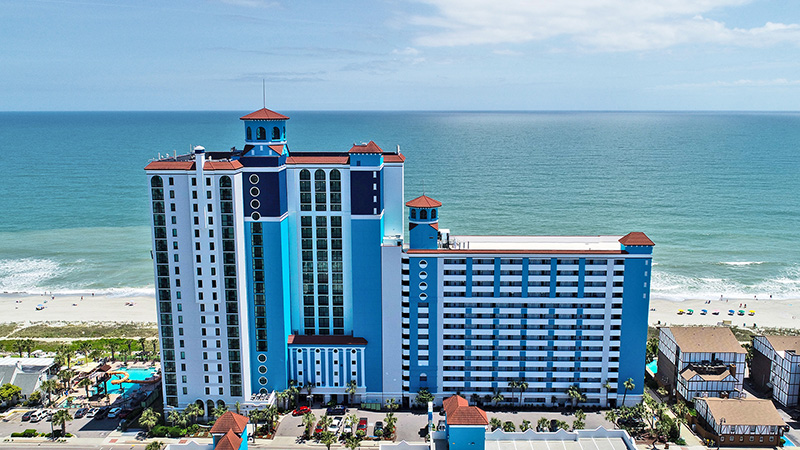 3.
Caribbean Resort & Villas
Be swept away to the Caribbean in Myrtle Beach! The oceanfront Caribbean Resort has been a mainstay on the boulevard for the last 40 years. It's because they're known to take the family fun experience to the next level with their Pirate's Plunge outdoor water feature, the 200-foot-long lazy river outside and inside, plus the game room, and onsite food options, like Starbucks, Ben & Jerrys, and an oceanfront tiki bar, as well as the award-winning Sea Captain's House restaurant right next door.
featured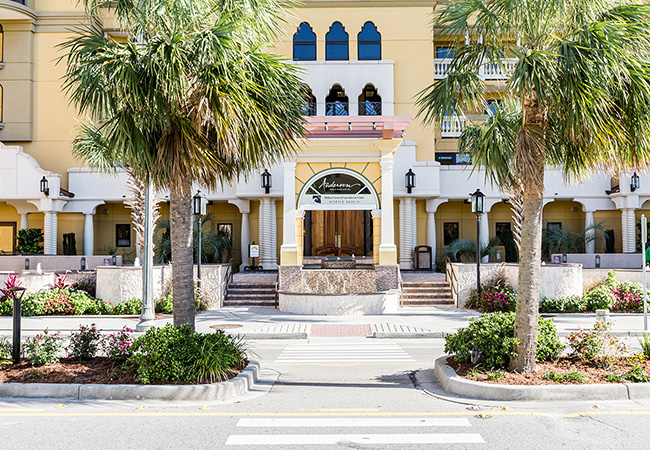 4.
Anderson Ocean Club & Spa
You'll be surrounded by luxurious amenities and services when you check in at Anderson Ocean Club: two outdoor pools, outdoor lazy river, indoor and outdoor hot tubs, and indoor pool. There's also an onsite spa for sublime relaxation, as well as dining options, unlimited mini golf across the street, personalized massage treatments, an upscale fitness center, and an onsite coffee shop. Posh oceanfront accommodations range from a one-bedroom suite to a three-bedroom penthouse.
The oceanfront Holiday Inn at the Pavilion is conveniently located in the center of it all (including Broadway at the Beach) on the Myrtle Beach Boardwalk – and just steps from the SkyWheel. Oceanfront amenities include the indoor and outdoor pools, indoor lazy river, and Oceans Coffee Café, which pours two free cups of coffee for you daily, and the Tropical Paradise Beach Bar. Spacious suites and efficiencies boast unbeatable views.
featured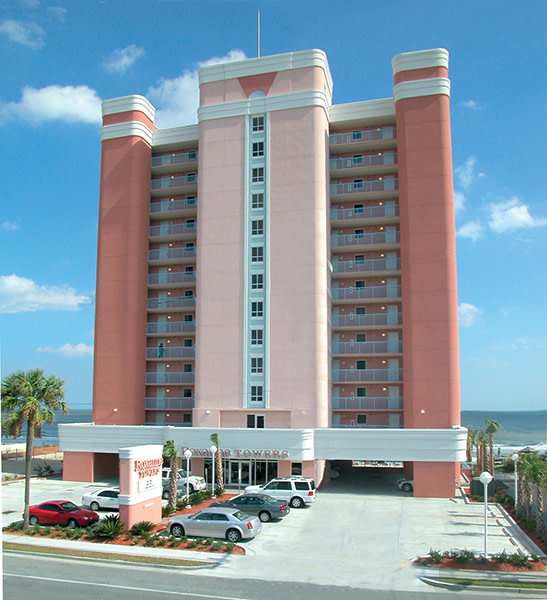 Towering above the sands of Myrtle Beach is the Roxanne Towers in the heart of Myrtle Beach. Stay in any of their beautiful oceanfront condos complete with private balconies just steps from the Myrtle Beach Boardwalk. And relax and unwind at the resort's amenities, including two pools (one enclosed), a lazy river, and a spa jacuzzi.
featured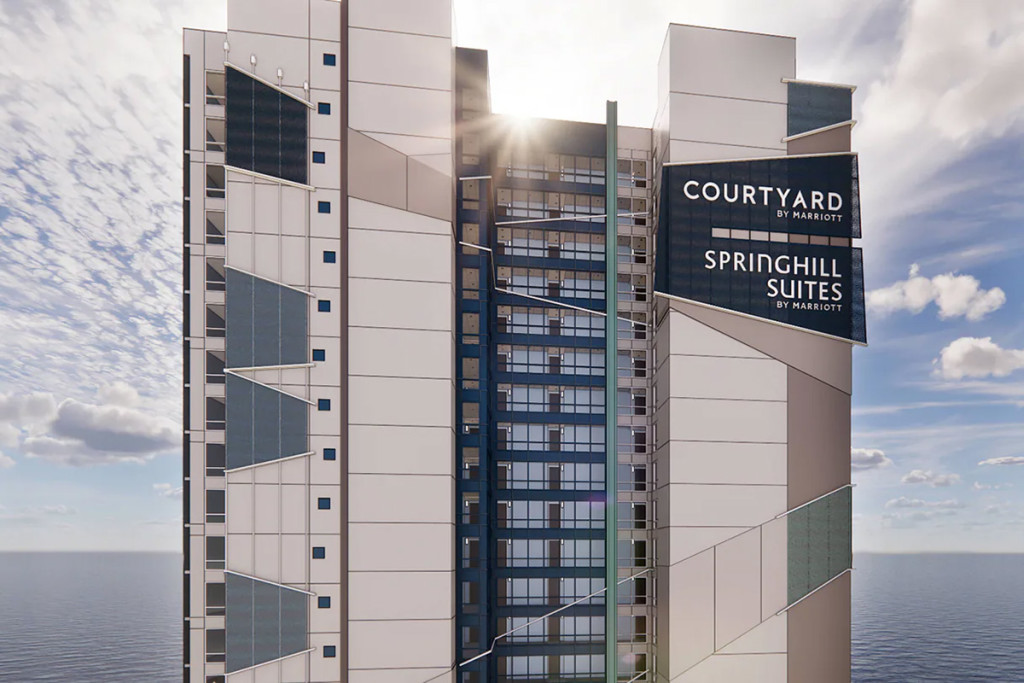 7.
SpringHill Suites Myrtle Beach Oceanfront
This brand-new hotel is making quite the presence on the beachfront and Myrtle Beach skyline. Located in the center of all the action, including nearby Broadway at the Beach, SpringHill Suites features resort-inspired amenities, such as an outdoor pool with a sun deck and an indoor and outdoor lazy river. Wake up in any of their luxe suites and make your way to their lobby, where free hot breakfast and coffee is served each morning.
featured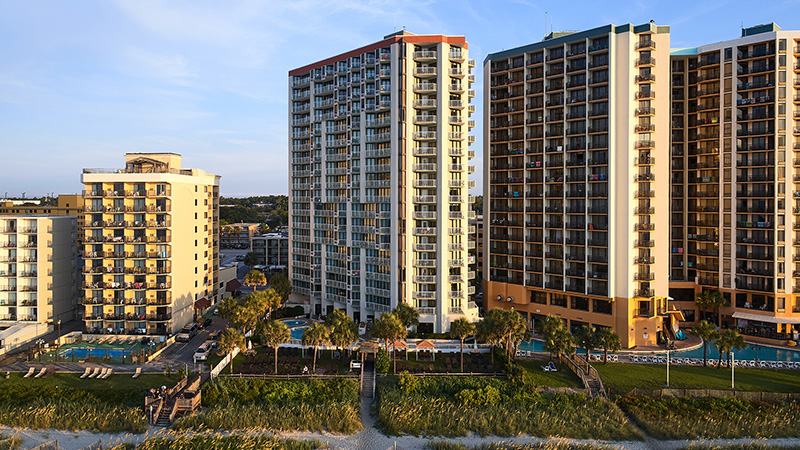 This boutique resort goes big with their long list of amenities: an oceanfront pool deck, a tanning lawn, an oceanfront fire pit, free hot daily breakfast, The Market Restaurant, bar and lounge, and The Strand Bar. And you'll love relaxing in any of the Strand's oceanfront rooms or efficiencies.
featured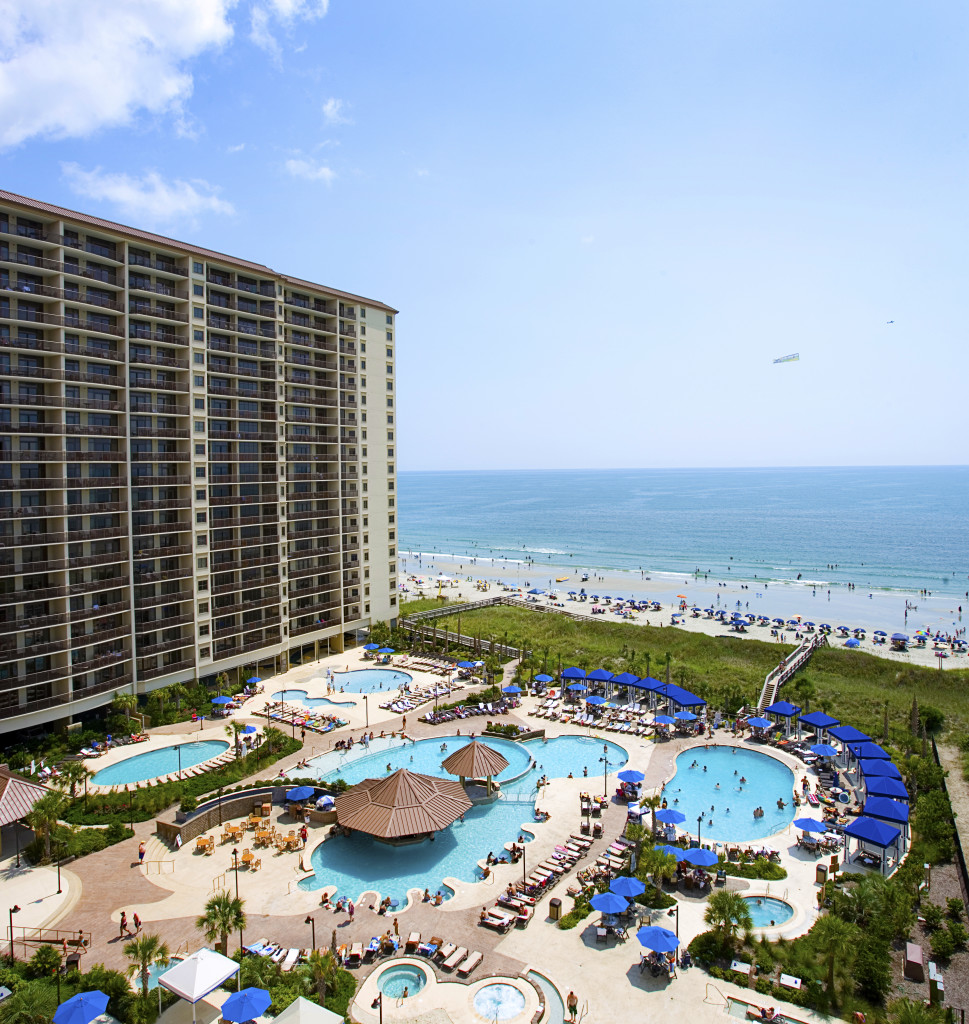 These top vacation rental agencies rent out hundreds of unique vacation homes and condos, from one-room condos to large beach homes, with perks like pools and pet-friendly options available. Just decide on the options and upgrades you think will be perfect for your getaway, such as spacious living areas, private pools, and proximity to Broadway at the Beach!