Sushi became popular in the United States in the 1960s and has certainly exploded in recent decades. The Grand Strand is lined with dozens of restaurants that serve all kinds of sushi made with the freshest ingredients. They're rolling out specialty rolls, no rice options, pressed sushi, ceviche, vegetarian rolls, rolls featuring filet mignon and so much more proving that the options are endless. These Myrtle Beach sushi restaurants have come up with the most creative ways to please even the pickiest palates.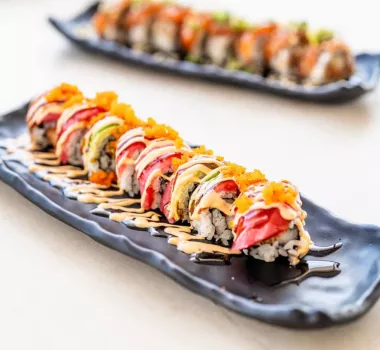 The views aren't the only thing that draws in the crowds to both waterfront Wicked Tuna locations! The delicious sushi, sashimi, nigiri, and maki may play a part in that as well. The unique sushi menu includes the Cherry Blossom with soy paper wrap, spicy tuna, avocado, shrimp tempura, spicy mayo, and a sweet glaze. Another favorite is the Maryland made with spicy tuna, cucumber, tempura shrimp, kani, blue crab mix, Maryland crab cakes, sweet glaze, spicy mayo, cream cheese, masago, and scallions.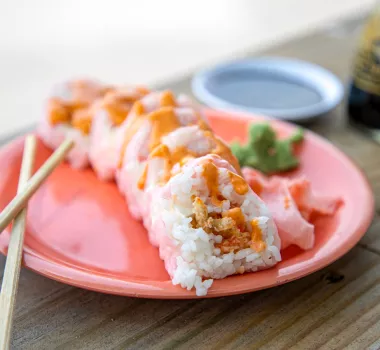 2.
Boardwalk Billy's Raw Bar & Ribs
This iconic Intracoastal Waterway restaurant offers a little bit of everything and is constantly ranked as a top sushi restaurant in the area. Grab a spot early because Boardwalk Billy's can have a wait (and for good reason) and get your chopsticks ready for some great rolls. Be sure to try the Boardwalk Billy's Roll made with a spicy tuna and avocado roll topped with salmon, spicy mayo, tobiko, scallions, and tempura flakes. The restaurant has 16 different specialty rolls!
Co Sushi has a fun, family-style dining room as well as outdoor seating at its Market Common location. Start your meal off with a sushi small plate like the Salmon Carpaccio topped with lime and lemongrass zest, truffle oil and micro greens. Then move on to more serious matters with Maki or Temaki or a specialty Makimono roll. The pressed sushi puts a new spin on the classic roll and each one is prepared with maze Gohan rice. I love the fresh salmon and avocado pressed roll topped with homemade lemon aioli.
King Kong Sushi has been rolling up its famous sushi since 2007 and has two convenient Myrtle Beach locations. They can whip up riceless maki as well as a huge selection of specialty maki, nigiri, and sashimi. My favorite roll is the No Name which is packed with shrimp tempura and Kani and then topped with fresh tuna, avocado, spicy mayo, and eel sauce. They even offer a few rolls with chicken or Korean-style beef for meat lovers.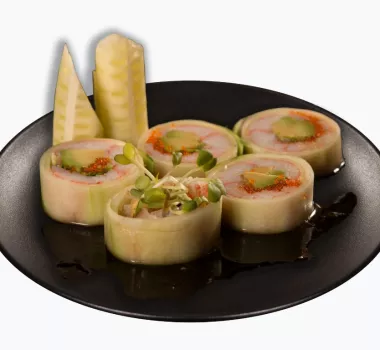 5.
Soho Steaks Seafood Sushi
Feast on some of the freshest sushi on the beach at Soho's rooftop bar in central Myrtle Beach or check out their newest location along the waterway in Restaurant Row. Their extensive menu includes more than 100 options including the Soho Volcano with shrimp tempura, crabmeat, and mango topped with avocado, jalapeno, masago, sriracha, and spicy mayo! You can't go wrong with one of the sushi platters either.
This funky, oceanfront burger and sushi bar is also home to an art gallery (in case the name didn't give it away). Their creative Makimono rolls include classics like Volcano, Shrimp Tempura, Rainbow and California as well as funkier concoctions. The Bond roll is packed with spicy tuna, cream cheese, avocado and tempura flakes then topped with their torched crab salad. For a fish-less dish try American Gothic which is a sweet potato tempura roll with avocado and sesame seeds all topped with eel sauce.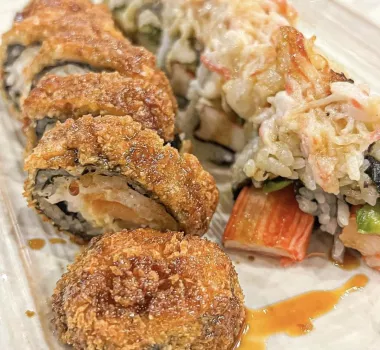 The Grumpy Monk now has three Grand Strand locations and offers guests a fantastic craft beer menu and great sushi! The two-page sushi menu is split into "Sushi Basics" and leads to more crafty rolls as you read on. The Taste of Explosion is perhaps one of the most unique dishes and comes with CAB ribeye, bacon, provolone, and jalapeno topped with filet, avocado, and spicy mayo with demi glaze, sriracha, and eel sauce. There's no shortage of fish though like in the Seafood Fiesta which includes lobster, lump crab, tuna, salmon, Walu Walu, masago, and eel sauce.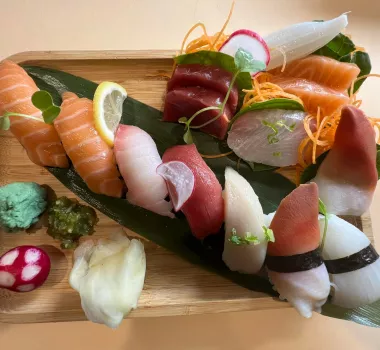 8.
Manta Steak & Seafood Sushi Bar
Manta Sushi opened its doors in early 2022 and already has rave reviews. They offer live music, local specials, Happy Hour including sushi at the bar, and beautiful displays of fresh seafood. They pride themselves on using only the freshest bluefin tuna and salmon direct from Norway. The Hashtags Roll is a standout and is served without rice using spicy tuna, avocado, cucumber, green onion, and microgreens wrapped in salmon and served in ponzu sauce.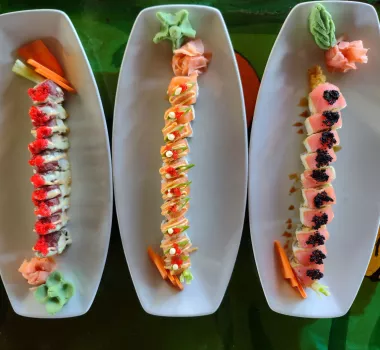 We're not sure what's more beautiful – the views of the salt marsh or the carefully crafted sushi rolls. Wahoo's Fish House is located along the Murrells Inlet MarshWalk and has a long list of delicious rolls including the Sunset Roll with shrimp tempura, baked seafood, crab, cucumber, and asparagus topped with masago and avocado and the Wahoo's Roll with spicy tuna and avocado topped with seared salmon, spicy mayo, tobiko, scallions, and tempura flakes.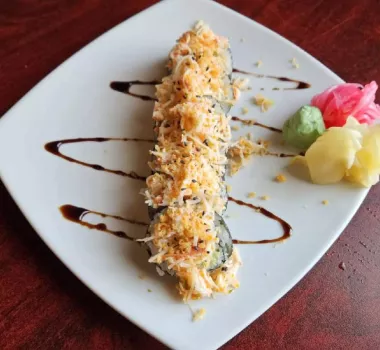 10.
Mr. Fish Restaurant, Raw Bar & Sushi
"Stay Fishy My Friends" is the theme at Mr. Fish in Myrtle Beach and they're doing just that with their "Ol' Faithful" and specialty sushi rolls. The Peter Parker Roll is made with soft shell crab, avocado, and cucumber topped with tuna, tempura onions, and spicy mayo while the Bruce Wayne Roll comes with crab, cream cheese, and tobiko topped with blackened tuna, blackberry wasabi, and eel sauce. Mr. Fish also has a long list of no rice rolls and sushi appetizers.