Seafood Guide to Myrtle Beach
There is nothing like coming to Myrtle Beach to enjoy dozens upon dozens of time-honored, award-winning seafood restaurants. For over 75 years vacationers have come to our 60-mile coastline to enjoy waterfront dining at piers, bistros, and historic seafood houses. Get ready for endless 170-item buffets with fresh-catch menus, steaks, crab legs, salad bars, raw bars, and everything in between.
Myrtle Beach is in what can be referred to as a seafood belt. Not only does our city offer some amazing seafood, but the neighboring cities such as Surfside Beach, Murrells Inlet, and North Myrtle Beach, also have a large array of options. This seafood guide covers everything near to the Myrtle Beach coast and highlights some of the best places not only to eat at, but to visit for breakfast, lunch, and dinner, in addition to some seafood markets so you can try your hand at home.  
Breakfast
Have you ever had seafood for breakfast? Or have you ever thought about a seafood restaurant serving breakfast? Well Myrtle Beach has a variety of places that do so, and they're definitely worth trying out. First on the list is the Sea Captain's House. This 1930s oceanfront home is an award-winning Southern Living "Best Seafood Restaurant" for several years in a row. Since the early 1960's Sea Captain's House is open daily, serving delicious low country-style seafood and chops. On their breakfast menu you can find breakfast options such as a delicious crab cakes benedict or a 3-stack of pancakes served with fresh blueberry puree.
Other breakfast joints include Hoskins Restaurant, Breakfast by the Sea, and Donald's Pancake House that serves up chipotle shrimp and grits, smoked salmon benedict, and specialty pancakes such as banana foster and German chocolate. Neptune Bistro and Raw Bar, a seafood restaurant that will later be mentioned, also offers a breakfast menu every day.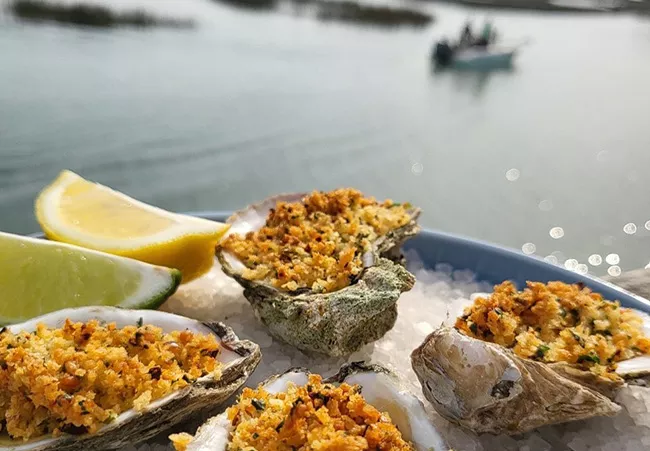 Lunch
A great area to stop for lunch is Murrells Inlet. Known as the "Seafood Capital of South Carolina", Murrells Inlet has a half-mile-long wooden boardwalk called the MarshWalk that is decorated with fabulous seafood restaurants. Your afternoon lunch can be paired with incredible views of the inlet, fishing boats, and all the activity on the docks. Drunken Jack's, Hot Fish Club, Creek Ratz, and Dead Dog Saloon are some great, casual dining places to enjoy a seafood lunch.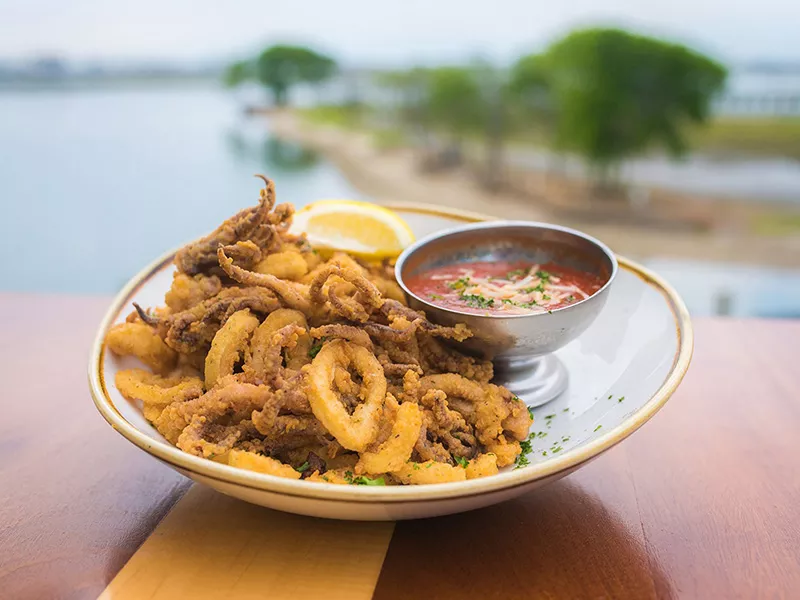 Another location perfect for an afternoon is Broadway at the Beach. Broadway, a huge outdoor area with shops, restaurants, and attractions is a great way to kill a few hours. Restaurants such as Joe's Crab Shack, Jimmy Buffett's Margaritaville, and The Key West Grille are all notable seafood places to try.
A few other spots good for a light seafood meal are Bubba's Fish Shack in Surfside Beach and LuLu's at Barefoot Landing, another outdoor shopping area where you can find many seafood restaurants offering both low country and North Carolina Calabash-style seafood, since it's so close to the state line.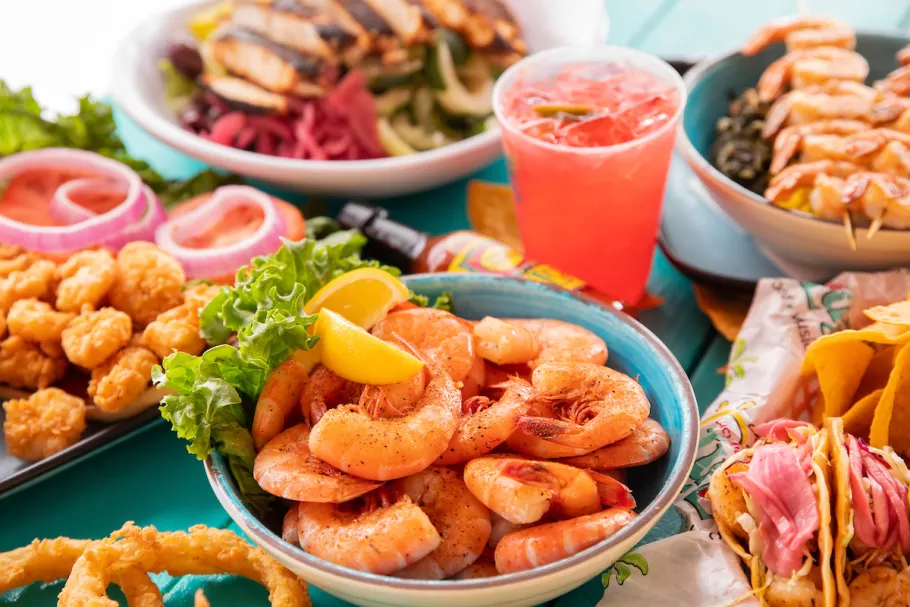 Dinner
There are many fine dining seafood restaurants to visit for a nice dinner while in Myrtle Beach. You can find everything from broiled, fried, grilled, and of course - award-winning low country seafood platters, shrimp and grits, and she-crab soup. In Murrells Inlet, our top recommended spots are Wahoo's Fish House, Wicked Tuna, Bovine's, Gulf Stream Café, and Neptune Bistro and Raw Bar.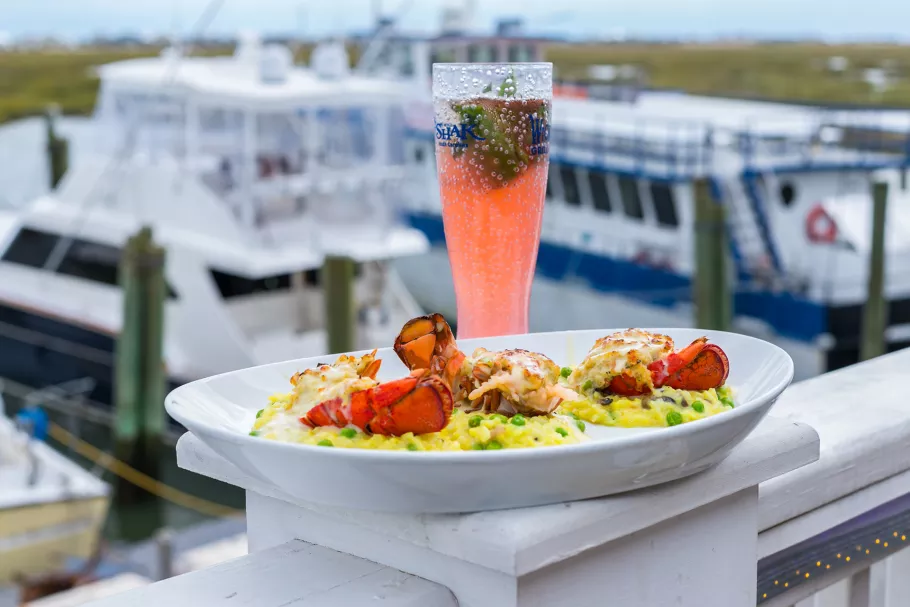 If you're searching for locations closer to the beach for a nightly stroll after your meal, try out Landry's Seafood at Broadway at the Beach, Thorny's that offers the best land and sea combination, or RipTydz located right on the Myrtle Beach Boardwalk. In addition to the award tasting seafood you'll be enjoying, some of these locations also offer live music and small events throughout the year.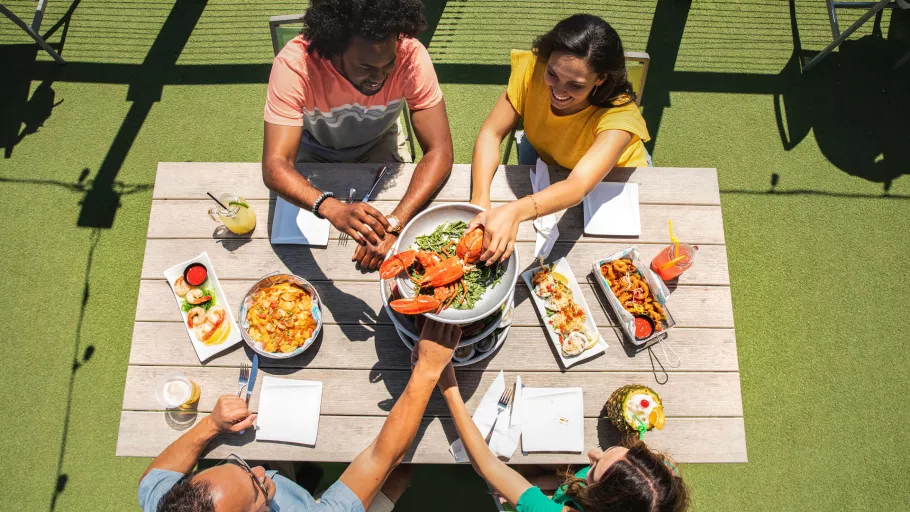 Additional seafood spots
Apart from the wonderful restaurants Myrtle Beach has to offer, there are also various buffets that real seafood lovers must try. Seafood World, Giant Crab, and The Original Benjamin's Calabash Seafood are famous ones in the area, offering everything from crab legs, jumbo shrimp, steamed oysters, seafood wontons, and much more. And don't worry, if there's someone in the family who doesn't like seafood, buffets always have a selection of classic land items like ribs, steak, and fried chicken.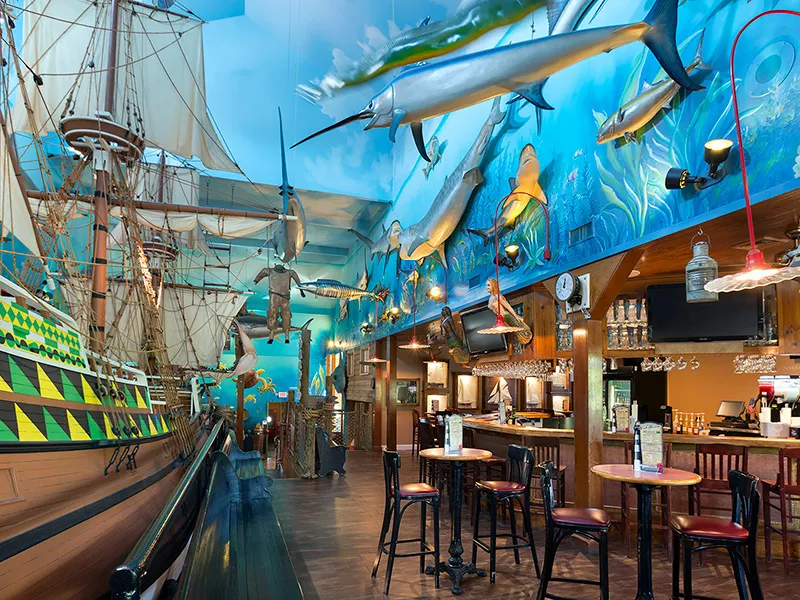 Where to Buy Seafood
If you want to give a try at making your own seafood at home, there are many fresh markets to buy whatever you're in the mood for. In Murrells Inlet there is Fresh Catch and Seven Seas Seafood selling products such as fresh tuna, mahi mahi, crab meat, extra large shrimp pieces and more.
A good place to buy in the Myrtle Beach area is Mr. Fish Seafood Market who sells lobsters, mussels, sea scallops, oysters, and a variety of fish daily. In addition to the seafood market, Mr. Fish also has a restaurant where you can try their seafood special of the day, or one of their classic menu items.
Wherever you stay in the Myrtle Beach area, you'll discover we have a full range of seafood enjoyment for all sea lovers!