Why is Myrtle Beach the Mini Golf Capital of the World?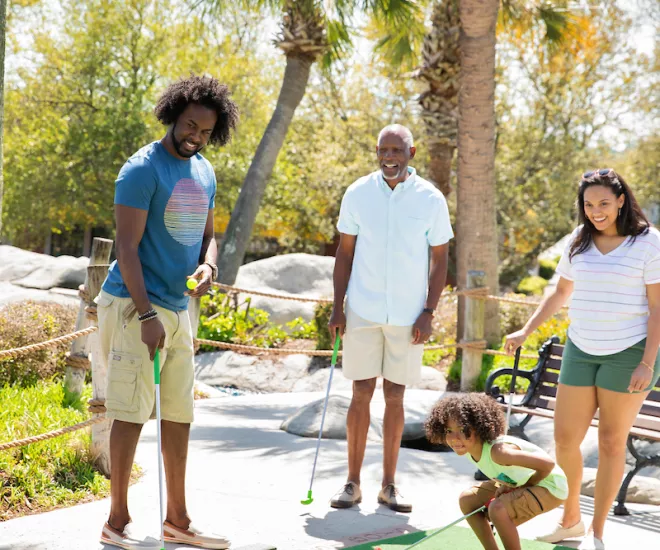 A Navy transport van barrels through a busy intersection, jumps the curb and inadvertently drives halfway up the side of a volcano.  "Cut!," yells famed director Dennis Hopper on the set of the last feature film he ever directed and the only comedy, Chasers (1994).  He came to his early fame in 1969 when he starred in the first film that he ever directed, Easy Rider. 
His colorful career had brought him twice to Wilmington, NC, for the making of Blue Velvet and Super Mario Brothers.  While there he developed an affinity for the coastal city and purchased a second home there.  That proximity may have been the catalyst for the Hollywood legend to take the helm of Chasers.  Because, you see, that volcano was not on a South Sea island, it was in North Myrtle Beach on a mini golf golf course. 
In the New York Times review of Chasers, the critic writes of the South Carolina setting that it "yields plenty of local color, which is just right for a director who enjoys staging a fight scene on a miniature golf course."  Apparently, emotions ran high between the two main characters immediately after their volcanic vehicular encounter, but all was put right between them in the end. 
When I talk about the film in my book, Myrtle Beach Movies, I share that, "The miniature golf course that was often mentioned by the critics was North Myrtle Beach's Hawaiian Rumble.  It is to miniature golf what Augusta National is to the PGA.  Named "one of the golfiest, must-see places in America" by Golf Magazine, Hawaiian Rumble has been featured on The Travel Channel and NBC's Today Show. The course's centerpiece is a [forty-foot] volcano that erupts flames about every twenty minutes.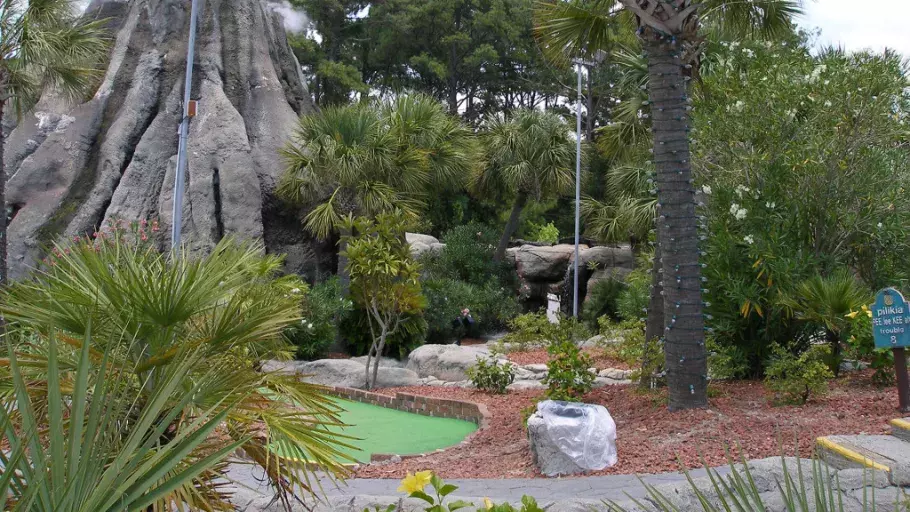 Bob Detwiler is both the owner of Hawaiian Rumble and the President of the United States Pro Mini Golf Association (USPMGA) which hosts the annual Masters tournament of that organization annually at Hawaiian Rumble.  According to Detwiler, mini-golf brings in approximately $25 million in revenue to the Grand Strand annually with the Masters tournament being responsible for about $2 million worth of that income each year. 
The USPMGA organizes tournaments throughout the country on a regular basis and is the only US member of the WMSF, the World Minigolf Sports Federation, with its thirty member nations. America's best players who compete in the World Championships come from the USPMGA tour. The USPMGA's Team USA Training Center is headquartered in North Myrtle Beach.  Since the turn of the century, the WMSF has been a Provisional member of the General Association of the International Sports Federation (GAISF).  That affiliation goes a long way in one day making mini golf an Olympic sport. 
Not much is written about the beginnings of this leisure activity with Olympic rings in its crosshairs.  Its birthplace seems to be the same as golf itself, St. Andrews, Scotland. In the 1860s, a Ladies Putting Club was constructed there, and the fad spread to and throughout the Continent.  It crossed the Atlantic and was fully embraced in this country by the late 1920s.  It was said that there were at least 25,000 miniature golf courses nationwide by August of 1930. Apparently the Great Depression quashed its expansion, but its popularity was revived later on with new kinds of courses with tiny windmills and castles that were popular when baby boomers were growing up. 
Technically, I missed the cutoff by a year to be classified as such, but I identify with the Boomer Generation.  What I don't identify with is the type of courses I just described. I grew up in Myrtle Beach, the Mini Golf Capital of the World.  Our courses aren't relegated to just one altitude or theme.  If you aren't transported to another world that you generally have had to climb a multitude of steps to traverse during your game, then you need to find any number of other courses just up or down the road (i.e. Kings Highway aka Highway 17 Business) that will offer you that experience. 
I didn't realize that someone could be a mini golf snob, but I suppose I am. I really never gave any thought to the lack of miniature golf courses or the lack of their appeal when I did see them when I would travel.  Mini golf was something you did at home (Myrtle Beach). I've never put my foot on an actual golf course, but my dad took me to Divine's Sporting Goods—the precursor to the big box sports suppliers and golf superstores of today—when I was little to get a putter that was just my size.  We went putt putting just that often. Then, in Dad's last decade, when his body was still strong but his memories were fading, we bonded over countless rounds of miniature golf with our annual passes to a collection of the area's best courses. 
Most, if not all, of those were designed by the Myrtle Beach native Sports Illustrated deemed the Father of Modern Miniature Golf, James "Poddy" Bryan.  He was the grandson of one of first leaders of the Myrtle Beach Farms Company now known as  Burroughs and Chapin who is the development and management company behind every major tourist attraction in Myrtle Beach in the twentieth century and still has a high profile in that industry today. 
Part of that empire included lots of mini golf golf courses. They were relatively economical to build, and they appealed to multiple generations of the families who vacationed and lived here.  Of all of the amusements that were available to my family growing up, mini golf was our go-to choice. 
What I am only realizing now is that I grew up in what I'm coining as I write this, the Golden Age of Myrtle Beach's Mini Golf:  The Era of Poddy Bryan.  I met him once when my dad introduced me to him when we stopped by a course that he was just about to complete in the 1970s. Even as a child, I considered myself a fan of his work.  I recall being very excited to try out his latest creation. My recollection of him was that he was humble and hardworking.  I had no idea that in addition to the approximately twenty courses he would ultimately create in Myrtle Beach that he would add about 230 more nationwide. 
His crowning glory was his last design in Myrtle Beach, Mt. Atlanticus, which is built adjacent to and incorporated with the former Chapin Department Store which Mr. Chapin himself handpicked Poddy's grandfather to run when it started in 1927.  There are two 18-hole courses with a putting green five stories high.  According to Poddy's daughter, just before completion, he spent the night in a sleeping bag under a tiki hut at the top of Mt. Atlanticus during a minor hurricane to prove the safety of his design.  Has there been a more conscientious contractor in the history of miniature golf design?  I dare say not. 
What does the future hold for the future of putt putt golf in Myrtle Beach?  Well, in early 2023, it was announced that Tiger Woods is investing in a chain of restaurants that will eventually have a location at our Broadway at the Beach near the popular attraction, The Hangout. PopStroke, founded in 2018, is a self-described "technology-infused golf-entertainment concept featuring professionally designed putting courses and exceptional food and beverage." It will be a mini-golf and outdoor dining experience that will feature a 10,000 square foot building, outdoor playground and a 36-hole miniature golf course designed by Tiger Woods himself. 
Myrtle Beach now has over 30 mini golf courses in all shapes, themes and sizes. Check out the courses for yourself in this article!