Walking Trails Throughout the Grand Strand
Walking Trails Throughout the Grand Strand
Fresh air, clear skies, and a trip into the wetlands, forest, or beach is just what the day is calling. This article will outline the many walking and biking trails for our adventurous group.
A moderate park for nature lovers. This six-mile loop trail near Myrtle Beach takes two hours and six minutes to complete. The trail is great for mountain biking, trail running, and walking. If you are a dog lover like this writer, your pup may come along but must be always leashed. This trail is kid-friendly and offers river & forest views.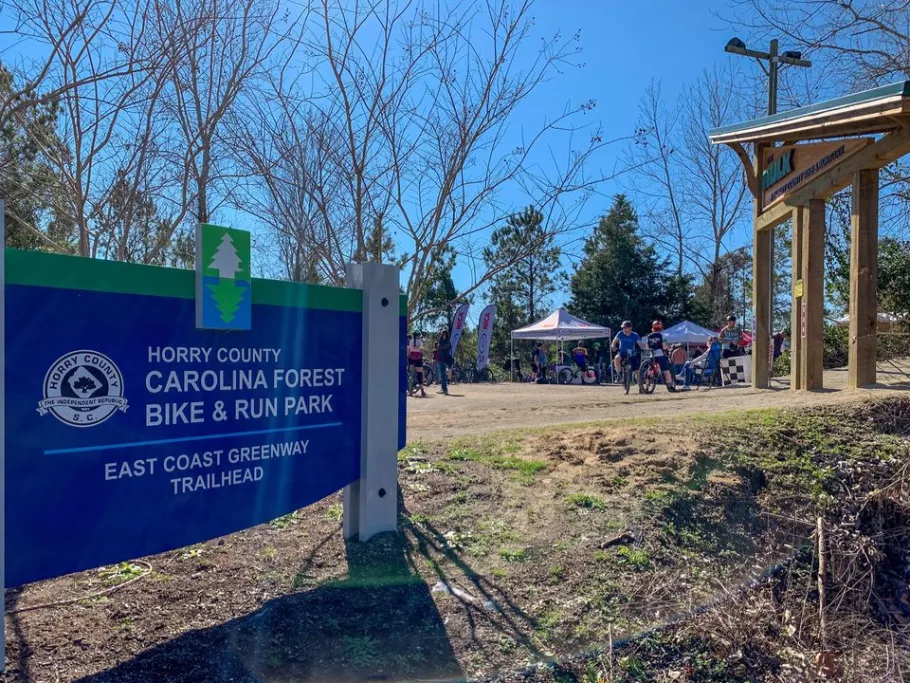 While some trails are year-round trails this trail is at its best during April through October. This trial is considered easy. Fido loves to go on walking trails, but as most of the rules apply, Fido must be always on a leash. The average walking time for these loops is about fifty-two minutes. If you are an avid bird watcher, you may want to bring binoculars to view the wide variety here. Some of the birds seen have been painted buntings and Peregrine falcons. The trails are popular for hiking, walking, birding, and trail running. This trail is kid-friendly.  
This trail is considered moderate by frequent visitors. As the name suggests, the trail begins and ends at the Myrtle Beach State Park Pier to the end of Myrtle Beach Boardwalk and back. Unfortunately, Fido will have to sit out on this adventure as dogs are not allowed. This is a kid-friendly excursion and a great trail for walking, trail running, road biking, birding, and viewing wildlife. To complete the entire trail will take three hours and a half. If you want to find peace and quiet or solitude it is recommended to visit at various times of the day. The very best time to visit this trail is between October and May.
A beautiful area with a trail to boot! This route is a well-traveled and well-known path, it is listed as an easy route and takes about two hours to complete. This trail is great for all things including walking, jogging, trail running, and road biking. While on this trail you may or may not encounter others. This spot is kid-friendly, and dogs are welcome but must be on a leash. Some views here will include a lake, wildlife (locals and animals!), and forest but is considered a city walk.
12.6 miles out and back this trail is near Myrtle Beach, is considered by locals to be easy, and takes almost four and a half hours to complete. When you pass over on International Blvd, you will notice this is one of the hottest trails in the area the lot is always packed full of people and the best time to enjoy the space without a lot of people is during the day while others are at work! This trail is great for hiking, walking, trail running, and road biking. This is a kid-friendly and Fido-friendly trail, but Fido must be always leashed.
Myrtle Beach Path
This path is seven point one miles up and back and takes about two hours and twenty-eight minutes to complete. The trail is great for road biking, walking, trail running, and strolling. This is a city walk, which always requires dogs on a leash. This is a city walk, which comes out to be a paved city sidewalk that does not go to the beach but stops at Hwy.17.
This kid-friendly walking trail is one point four miles long and can be completed in almost thirty minutes, the trail is considered easy. The trail shows off some of the local wildflowers and wildlife. If you are lucky, you might be able to see some birds here too. This path does not allow Fido to come. Brookgreen Gardens charges a fee to use this loop, check with the website for more details.
Walking this trail will offer some bird watching, views no one else will see, with a mix of wildlife and wildflowers. This two-point eight-mile loop trail in Murrells Inlet is one of the finest available. Set as an easy trail is great for some solitude, as well as bringing Fido along for the walk. This loop trail is also kid-friendly and well-marked. Visiting this trail at different times of the day will show all the different types of birds, and wildlife.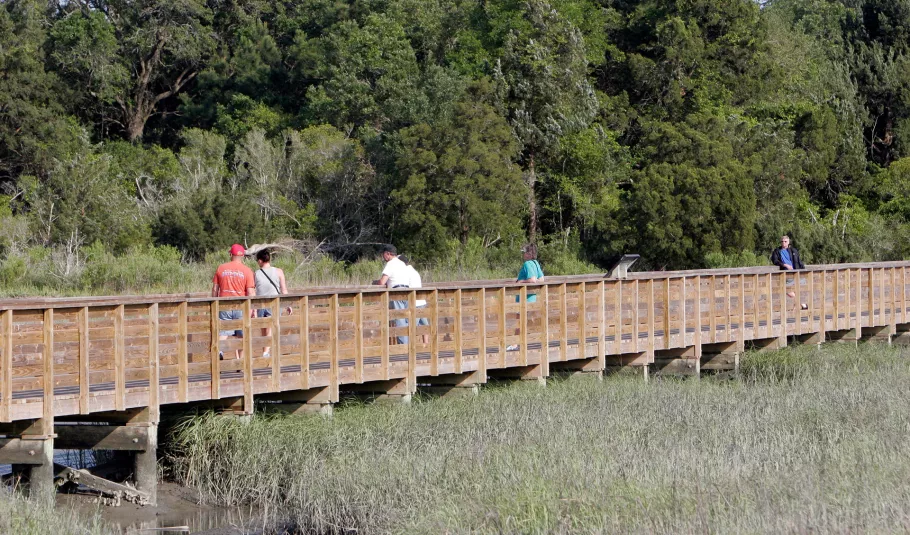 NMB Nature Trail
Head out on this five-mile loop trail near North Myrtle Beach, locals say it's an easy path that is marked as counterclockwise travel, the trail offers a spur that is one point two-five miles and marked in both directions. The trail is wide and mostly hard-surfaced with some beach soft sand and wood chips. This route is not kid-friendly and Fido should sit out of this adventure. The trail is great for hiking, bird watching, and seeing wildlife, in some areas it may be overgrown and is in a forest setting.
Fido is welcome to join you and the kids on this two-point-three-mile loop trail near Little River. The approximate time to complete this loop is fifty minutes. This popular trail is good for fishing, hiking, running, walking, birding, and mountain biking. Some of the area is partially paved, with beach and river access. The gardens here offer accessibility options for individuals at the North end of the trail. The trail surface is a wooden boardwalk with railings or a natural surface including sand, rocks, and roots. Each area is exceeding the ADA recommendation at six feet wide. Motorized equipment or all-terrain tires are recommended for this trail. Most of the trail is listed as being gentle with a five percent or less grade.
Located within the Waccamaw National Wildlife Refuge this two-point-seven-mile loop trail is near Conway. Locals established the trail as fairly easy, while the national listing for this loop trail does not say dogs are allowed, others have brought Fido along for the trip and kept them on a leash at all times. There are no bathrooms available on this trail. The trail is kid-friendly, and great for walking, running, bird watching, and hiking, and offers views of wildlife (including alligators) views of the area and the river. The best time to visit this trail is between April and October. The trail takes about an hour to complete depending on ability.
Start out on this wonderful river walk that is about a mile long and close to North Myrtle Beach. The loop trail offers riverscapes, wildlife viewing, and views of the area. This trial is great for kids, bird watching, hiking, and walking and takes about twenty-five minutes to complete.
Kindred Spirit Mailbox via Sunset beach
Life is about experiences, and this is a great one! The three-point-eight-mile trail is near Sunset Beach in North Carolina. Locals consider this one an easy trail. On average it takes about an hour and twenty minutes to complete. The trail has many uses including trail running and walking. This trail is open year-round, is kid-friendly but does not offer any shade.