Top Myrtle Beach Area Playgrounds
Top Myrtle Beach Area Playgrounds
When traveling with children, parents quickly learn the value of a good playground. And thankfully we have tons to choose from in the Myrtle Beach area. From oceanfront playgrounds to shaded hidden gems to multi-acre park experiences, here is a list of some of our favorite area playgrounds:

Savannah's Playground
3600-3640 Emmens Ave, Myrtle Beach, SC
This multi-acre playground is an enabling playground featuring all ADA-approved playground equipment and structures designed to provide children of all abilities the opportunity for social interaction. We love both the mission statement of the park and the super fun layout. It includes swing sets overlooking a pond, an early childhood playground, school-age playground, interactive playground, harmony music park, challenge ropes, ziplining and more. It's also perfectly located at The Market Common, with other nearby parks and playgrounds and EdVenture Myrtle Beach, an interactive children's museum.
Playground at Myrtle Beach State Park
4401 S Kings Hwy, Myrtle Beach, SC
While you do have to pay admission to get into the state park, a visit is well worth the entry fee of $5 for adults and $3 for children ages 6 to 15 (kids under 5 are free). The playground at the state park is just across from the Atlantic Ocean and under the shade of a thick line of wax myrtle trees. Obviously, this playground has a leg up on some others as you can walk across the parking lot to the beach or enjoy one of the many picnic areas found nearby. The pier, gift shop, and ice cream shop are within walking distance of the playground as well!
Barefoot Landing Playground
4898 Hwy 17 S, North Myrtle Beach, SC
The nature-inspired playground in the Dockside Village area of Barefoot Landing has the benefit of lots of shade from surrounding live oak trees and a regular breeze off the nearby Intracoastal Waterway. It features a custom PlayOdyssey® Treehouse Tower, nature-inspired climbers, alligator and turtle stepper, and double swoosh and slide winder slides. Its close proximity to family-friendly restaurants like Lucy Buffet's Lulu's and adjacent arcade makes it an even more worthwhile stop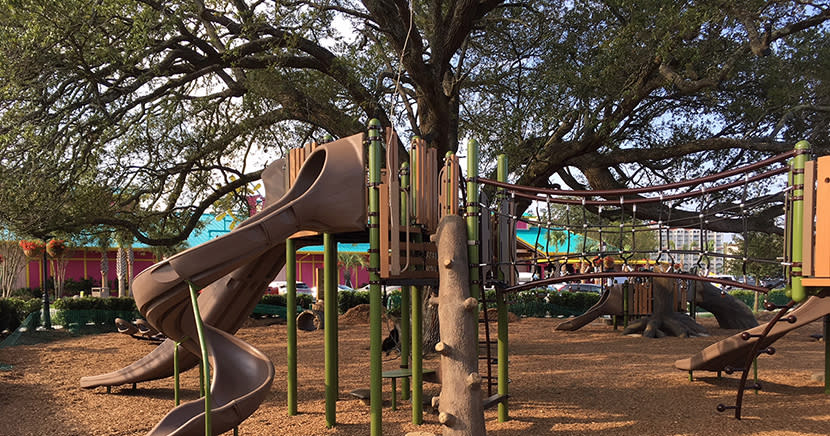 McLean Park Playground
93 Oak Dr, North Myrtle Beach, SC
This park and playground is often considered a hidden gem and utilized mostly by North Myrtle Beach locals. At just two blocks west of Ocean Boulevard, between 1st and 3rd Avenues South in NMB, this 10-acre park features a 2-acre lake, waterfront gazebo, picnic shelters, tennis courts, early childhood playground, school-age playground, fitness trail, meditation garden and more. It's easy to spot ducks, geese, and turtles around the beautiful lake, and the city hosts weekly movie nights in the summer.
North Myrtle Beach Park and Sport Complex
150 Citizens Circle, Little River, SC
Also in North Myrtle Beach, the Park and Sports Complex is home to three playgrounds, fitness and biking trails, three-acre dog park and more. We usually visit the largest playground, which features some ADA-accessible equipment, super clean restrooms, and large picnic shelter areas. This is an especially great playground for bigger kids, as the tallest structure and slide are pretty high and fun to climb. As a plus, the North Myrtle Beach Park and Sports Complex also houses Shark Cable Wakeboarding Park and Shark Aqua Park, an inflatable floating water park--so visitors could easily spend an entire day out here!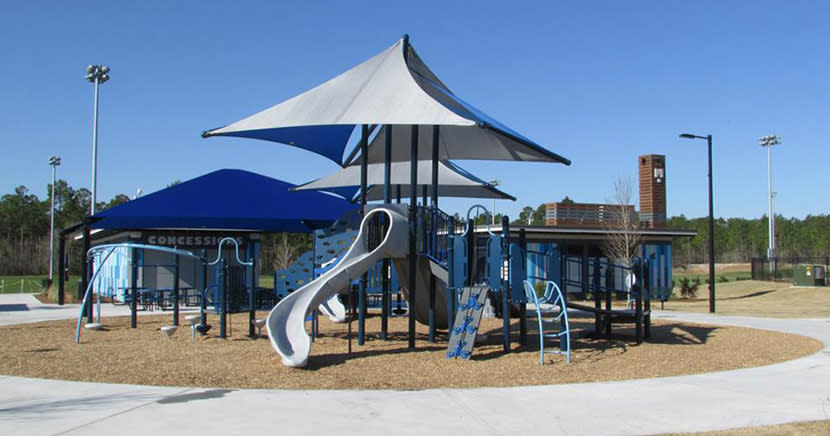 ​
Palmetto Adventure Land
Carolina Forest Boulevard, Myrtle Beach (behind the library)
This fun playground sits next to the Carolina Forest Library and Recreation Center (convenient) and was designed by students at nearby Carolina Forest and Ocean Bays Elementary Schools. The playground features two main play areas--one for early childhood and one for school-aged children--as well as a large shaded picnic shelter and music game. Palmetto Adventure Land was built completely by the community, and local children also assisted in naming the playground and providing artwork throughout. While it's utilized mostly by locals, it's still a fun stop for those who may be in the area.
All Children's Park in Surfside Beach
616 10th Ave S, Surfside Beach, SC
All Children's Park is a relatively short walk from the beach in Surfside Beach and is located conveniently next to the library. It's a barrier-free playground specially designed for the enjoyment of handicapped children and features two playgrounds, a picnic area, and restroom facilities. What we tend to like most about this playground is its location in relation to the seasonal weekly Surfside Beach Farmers Market. The Farmers Market features live music and a variety of exceptional meat, produce and homemade goods vendors, and a visit to the neighboring playground after the market makes for the perfect morning out.