Top 5 Mini Golf Courses in Myrtle Beach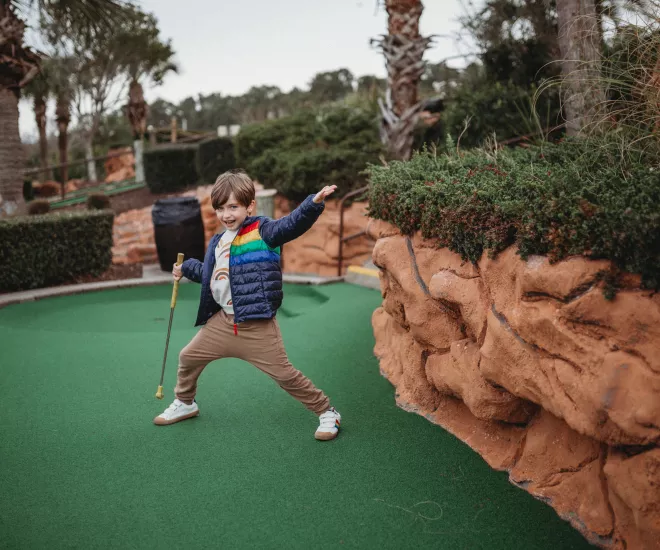 Top 5 Mini Golf Courses in Myrtle Beach
With its 100 kilometers of pristine beaches and with an average of 215 days of sunshine a year, Myrtle Beach is known as The Beach! And as you might know, it is also very popular for golfers, and it's been called the Golf Capital of the World! But did you know that it is also called the Mini Golf Capital of the World? There are over 50 mini golf courses in the Myrtle Beach area. Mini Golf has been around for over 90 years in Myrtle Beach, and the game is as popular as ever. What's great about this activity is that you don't have to be an avid golfer, talented, with a low golf handicap to enjoy it, no, the whole family can play, regardless of their skills level and age. I am a former golf pro, and my wife and children beat me regularly at mini golf and they take great pleasure in reminding me each time we play.
Mini golf is known as one of the most popular entertainment attractions and it is a proven social experience that brings people of all ages together. In addition, mini golf allows you to work on the coordination of your senses with body movements. This is mainly useful for all people of different age categories. For children, this improves their balance as well as certain coordination of the senses. But first and foremost, we play mini golf for the fun, for the adventure, and a little bit for the competition!
And how about those course design, they are not less than spectacular. It is an adventure from the first hole to the last. You don't know what awaits you along the way. Mini golf in Myrtle Beach can be classified by themes. Do you want to discover the crazy saga of the Pirates? Visit the jungle or the beautiful lagoons? Do you like dinosaurs and the prehistoric time? Explore the exceptional landscapes of Hawaii? Or simply have a truly memorable wild adventure? You will be pampered with all the mini golf choices that the Grand Strand has to offer. Choose your favorite theme and enjoy the course. The environment you will find will transport you to another world, all at a very affordable price.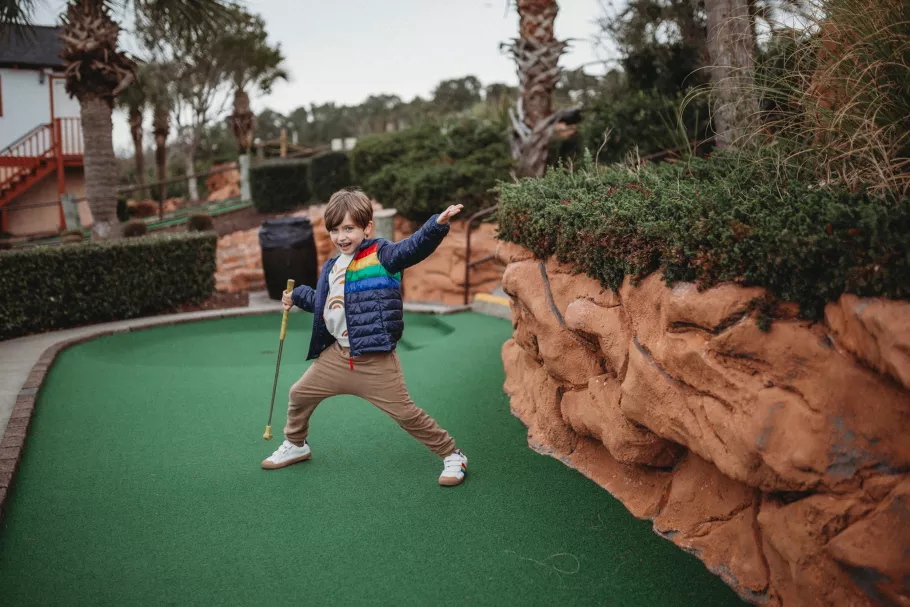 Here are my 5 favorites Giant Mini Golf, as I like to call them, that you will find in the Myrtle Beach area.
The 18-hole Hawaiian Rumble mini golf was rated number 1 in the world at one time. Centered around a Hawaiian Garden with a 40-foot Volcano in the middle of the course. Enjoy the challenge while listening to melodies from the best Hawaiian musicians.
One of the four mini golf own by Myrtle Beach Family Golf. Come explore Neverland and discover the story of Peter Pan and the one-handed pirate, Captain Hook! You will wander through a dangerous skull cave; you can help rescue Tinkerbell; and you will also embark upon Captain Hook's ship.
Cancun Lagoon Miniature Golf course takes you back to ancient Mayan times without leaving the Grand Strand! There is a 50-foot Mayan pyramid that will grab your attention from South Kings Highway. This air conditioned indoor/outside course has 27 holes of mini golf for you and your family to enjoy during rainy or very hot summer days.
Do you want to immerse yourself in the prehistoric world? This mini-golf course is home to the Horne-faced ceratopsian, the spitting dilophosaurus, the carnivorous T-Rex, and the most feared dinosaur of prehistoric times, the raptor. For your own safety, Jurassic Golf suggests staying on the tracts of green mini-golf paths with your club in hand and always be ready to shoot your ball!
Mayday Golf  
Imagine you and your friends are in a plane crash. Mayday! Mayday! You have landed on an island on the top of a rocky mountain. To pass the time until you are rescued, grab your putter, and explore the island. Climb Mayday Mountain or follow the winding path around Rescue Falls for hours of challenging putting fun!
These mini golfs are just a glimpse of what you will discover in Myrtle Beach. For more information's and a complete list of all the mini golfs in the area, check out our mini golf page. 
For you competitors out there, there is an important tournament being held each year in Myrtle Beach. The Master's Championship Tournament takes place every year in October at Hawaiian Rumble Golf in North Myrtle Beach. It's an event like no others that you don't want to miss, and it is open for everybody. 
So, go out there, choose your favorite mini golf theme (or why not try them all), grab your putter, let yourself go and live the experience to the fullest. Daytime or nighttime it doesn't matter, fun is guaranty, but the victory is not….and I can relate to that!