The Future of Myrtle Beach's Historic District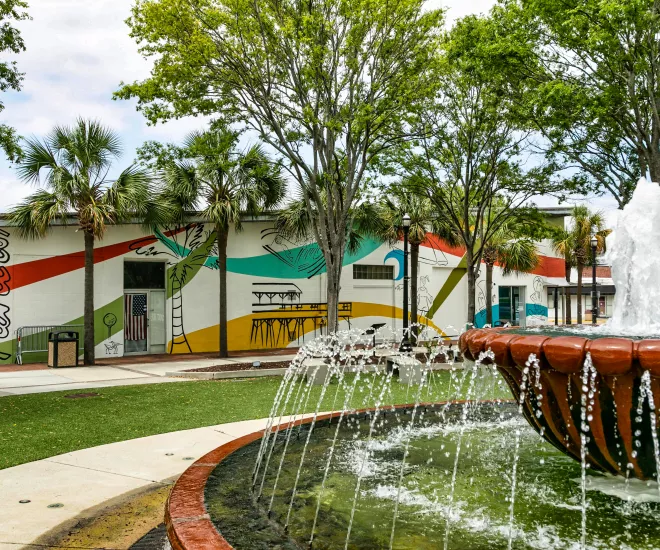 The Future of Myrtle Beach's Historic District
When the ribbon was cut for the beautifully restored Myrtle Beach Train Depot in May of 2004, I was there. My husband and I had just returned from our honeymoon making it our first public appearance as a married couple since our wedding a few weeks before. 
In the prior year, while we prepared for our nuptials, the depot was reaching the end of a years-long odyssey of preservation that began with a death-defying (or, at the very least, somewhat dangerous) act on behalf of our beloved local historian and photographer, Jack Thompson.  Those who are fans of Jack Thompson anecdotes particularly like to retell the story of how he drove into the path of two bulldozers heading straight for the depot to raze it. 
He parlayed his bravery, charm and passion into an effort that saved the landmark.  Not only did he get the property owner to halt the demolition and convince the city council to buy the property, he chaired the All Aboard Committee that raised the money to restore the building.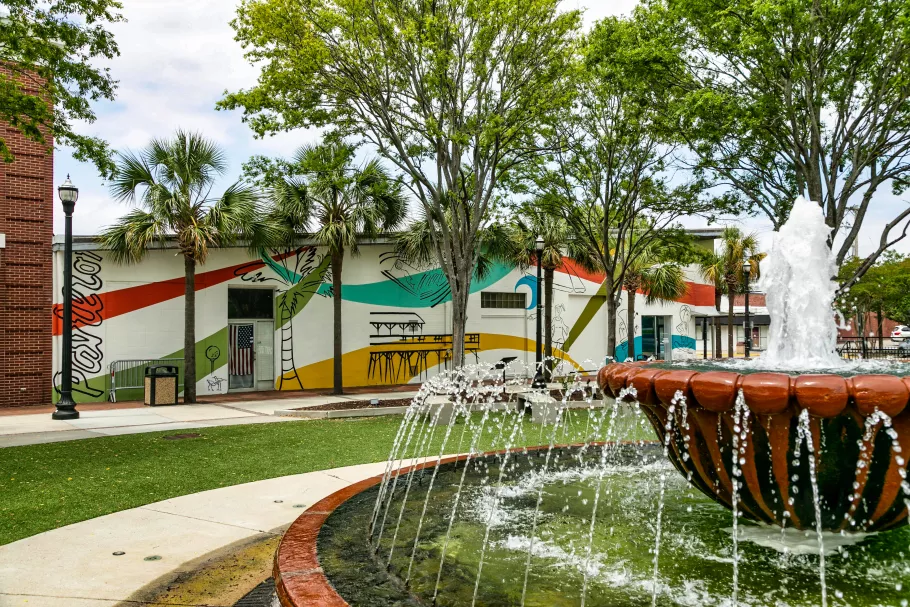 Some of the contributors to that effort are remembered in the pavers that make up the walk from the parking lot to the depot's porch.  My then fiancé and I were excited about being a part of that effort and purchased a paver.  I wanted to have it inscribed with something that would set the tone for our new marriage, an abbreviation of our motto.  Okay, I'd never been married before and didn't know that we didn't have to have a motto.  I did stop short of designing a coat of arms.  But I still like what I came up with:  Develop the Future…Preserve the Past. My husband is a commercial realtor and developer and I love historic preservation, so it seemed right.  On our paver after our names it reads Develop and Preserve. 
Apparently, Myrtle Beach shares our motto as they have begun another years-long project to develop our historic district.  Aptly, the train depot is the cornerstone of that development.  Streets that I've ridden on all of my life and have been zipping around on since I was 16 are going to be transformed.  I must admit that I will miss the "dip" at the intersection where Broadway and Oak Streets meet at 9th Avenue North.  On our otherwise flat terrain, it was our town's one little rush of excitement at 35 mph.
For about two years, we will embrace whole new traffic patterns with a couple of roundabouts included to ease traffic flow.  I will be taking my guests on a whole new route downtown but will enthusiastically do so as I will be sharing with them all of the coming innovations.  I tell our city's personnel related to the project that I'm their biggest cheerleader.  For years now, I've been pointing out the "before" buildings and lots that appear a little forgotten and readily admit that they may not be pretty now, but just you wait.  Well the wait is over and the transformation has begun. 
The project that I'm most thrilled about is a collaboration between the City of Myrtle Beach and Coastal Carolina University for a new performing arts center.  It will be housed in a space along Main Street that will be made up of three facades that were originally a cinema, a drugstore and a ladies' clothing store: the Broadway Theater, the J&J Drug Co. and Helen Mates. 
There is a great picture that hangs in the small military museum at the General Robert H. Reed Recreation Center in the Market Common District that was once the Myrtle Beach Air Force Base.  The photo is of WACs (Women's Army Corps) marching down Main Street in 1948, just as they are passing the Broadway Theater which would have been there for about a decade when that image was captured.
In a presentation given in the fall of 2020, by a local architectural firm that has been working on the renovation, the lobby of the theater will be divided into three individual spaces that will retain the character of each of the original businesses. There will be free passage from one space to the next so that they form one harmonious public area, but the identities of the three will be retained. Original plans are to repurpose casework that was discovered in the buildings for concessions and other sale items in the third of the lobby that was Helen Mates.   
A grand staircase will take patrons to the second level where they will find open lobby space with a VIP room on the far end.  Between the two, there will be an outdoor patio that will overlook Main Street and perhaps even have a partial view of the ocean.  It is from that level that the balcony seats of the plus or minus 300 seat theater are accessed.  That theater will host a variety of performances from classical music and dramas to rock concerts and movies; anything really. 
But its use doesn't stop there. Coastal Carolina University will use the arts center for their theatre curriculum.  Behind the Helen Mates Lobby, there will be a performer lounge that can be used for teaching space.  Just above there on the second floor will be a large rehearsal hall that will double as a classroom.  Many in the community have great expectations for all of the entertainment and educational opportunities that await them along what has been a nearly forgotten stretch of sidewalk that used to be the epicenter of a burgeoning Myrtle Beach.
After what some predict to be a five-year endeavor, the new epicenter of Myrtle Beach will be a little closer to our historic train depot on Broadway Street at 9th Avenue North.  Renderings revealed to the public by the city indicate plans for a new library, art museum, children's museum and more.  They will be anchored by a lovely large plaza reaching as far as 8th Avenue North. 
These advancements will join the first three phases of the historic district's creation that came to be primarily throughout the pandemic years.  What had been known for about a generation as the Super Block had its name changed in September 2019 to The Arts and Innovation District.  Then, in that October, it received its status as a historic district. That made property owners and developers eligible for tax rebates if they brought the buildings there back to their former glory.
The paperwork that was submitted in order to receive the historic designation specified that most of the buildings in the district that could be considered historic were classified as being Depression Era architecture.  The Great Depression was tough on everyone including those who lived in Myrtle Beach.  But these buildings serve as economic indicators that show, despite the financial downturn, that it was a time of commercial growth for Myrtle Beach. 
Myrtle Beach was incorporated as a town in 1938.  Many of the buildings in the district were already there.  The Broadway Theater, which I've seen called Ben's Broadway Theater in older local history sources, was built in the early to mid-Thirties.
By the Seventies, when I was a kid, it was known as the Rocking Chair Theater.  Evidently, the standard theater seating was modified so movie-goers could rock back and forth during the show. I have to guess at that because I was never old enough to be admitted.  They tended to screen R-rated films.  I remember when my big sister was old enough to go and how grown-up I thought she was when she did.  She saw The Exorcist. When I saw how scared she was when she got home, I never really had a desire to go there.  But now, in its latest reimagining, I can't wait!