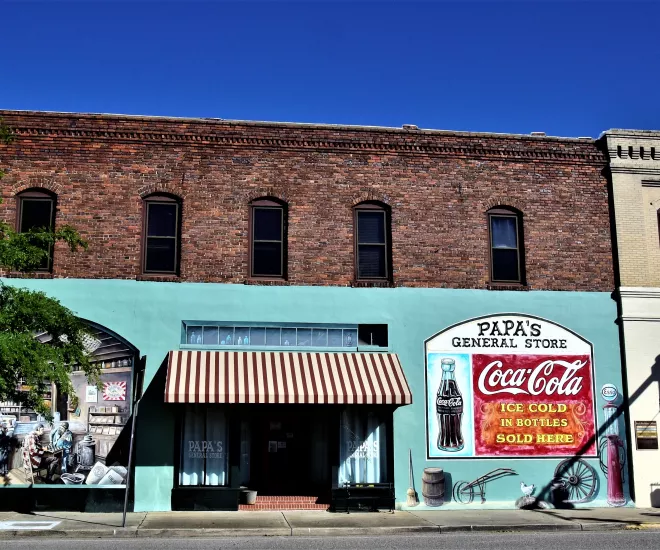 Play I Spy with My Little Eye…Can you spy all nine murals?
Most tourists heading to the beach by automobile drive through Conway. And I know that by the time you hit that last light you're pedal-to-the-metal for Ocean Drive! But what happens after three or four days of sun and sand? The thought of wandering historic streets with lovely murals and the quaint shops of a southern town starts to tug at your mind. So come on—make that 15-mile drive to Conway (it's closer than restaurant row!)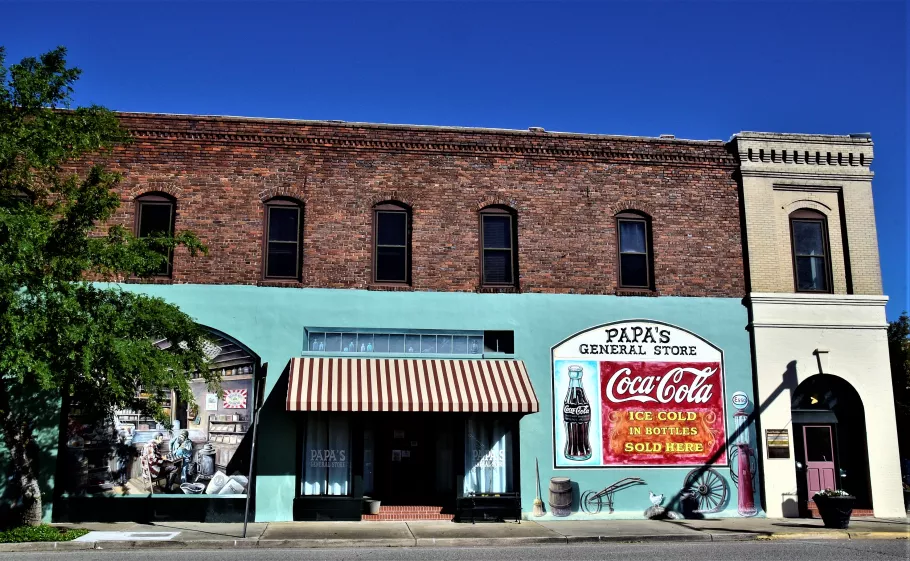 Historic Conway
Starting out in 1730 as Kingston Township (keep your eyes peeled on your walk for a park by that name), the first Province of South Carolina settlers arrived in 1735. Many of the Downtown District buildings are on the National Register of Historic Places, although much of Conway was constructed after a massive fire in the early 1900s.
Centuries-old Live Oaks line the streets, and the Waccamaw River flows along the side of town. This provides the real-life setting of your dreams of a Southern town.
Walking Up an Appetite
Walking the streets of Conway, you are certain to work up an appetite. A Mango Tango smoothie is a perfect pick-me-up while you continue walking. This banana, mango, pineapple, honey, and coconut milk concoction from Kosta Bowls makes a good breakfast. Open for the day at 9 am, you can pick up your smoothie and start off on your expedition.
The Conway Visitor's Center opens at 10 am. Start your visit there, where Susan will delight you with her knowledge of the area. You'll leave with a supply of brochures, and children can snag a Conway Critters coloring book (more on that in another article—I promise!) 
On the opposite end of town, you can purchase fresh bread, meat, a wedge of cheese, and a glass (or bottle!) of wine. Carolina Cheese and Provisions is tucked down a side street, behind the Steamboat mural. Find an empty table inside or out, and give your feet a rest. They have delicious gelato for your dessert. Lactose-free for me, the Blood Orange was divine! Save some room—trust me!
Mural Beauty
As you walk through the town, take note of the larger-than-life murals. See if you can find all nine; they really are hiding in plain sight! Ok, this one isn't technically a mural, but I'm telling you—I count the water tower. I mean, most towns just plaster their name across the tank. But little riverfront Conway has a paddle wheeler displayed 165 feet in the air, greeting you as you cross the bridge into town.
As you enter downtown, a very special mural welcomes visitors. And this one wasn't an artist's project. The entire wall was completed by city employees. Conway's Fire Chief Hendrick provided the photograph. City Administrator Emrick converted it into a graphic design and Deputy City Administrator Hyman created a 60-color paint-by-number guide. The guide was projected onto the wall at night, and the design traced in marker for the painting volunteers. City of Conway employees from all departments stopped by during their off-hours to paint. In just four weeks, the impressionist art project was unveiled! 
The oldest mural in town was created in 1983 by Jim Frisino, honoring a steamboat that traversed the Waccamaw River, bringing goods and guests to Conway. But the wall faded over the years. The mural was refreshed and restored in 2015 by local artist Tommy Simpson, so the F. G. Burroughs riverboat will be delighting visitors for many more decades. Simpson is also responsible for the creation of several other murals in Conway. Besides refreshing the steamboat, he created the steam engine in Kingston Park (I'm sensing a theme here!)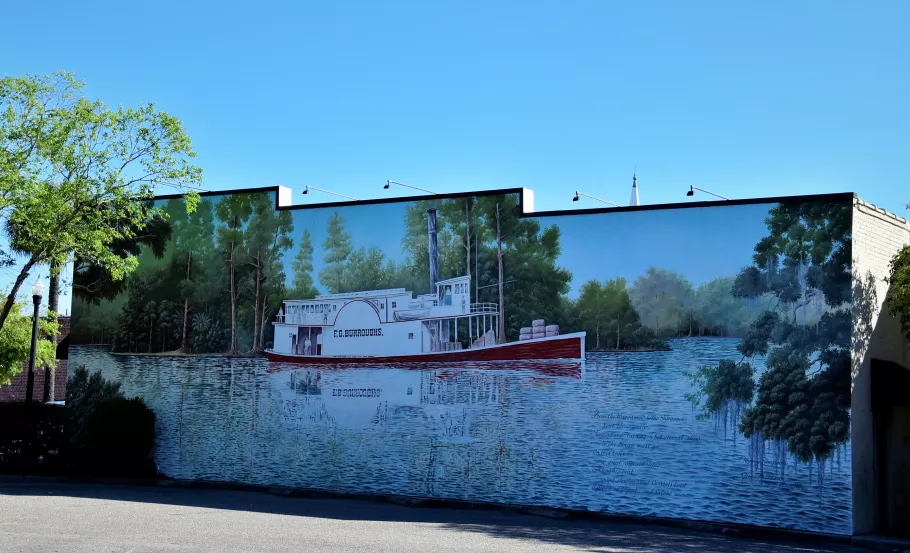 Conway's newest mural(s) are in Teal Alley. The bright designs of Coastal Carolina's Yvette Arendt, Assistant Professor of Art, are on both sides of the alley, with chairs on outdoor carpeting, music playing, and blocks and cornhole ready and waiting for players. Her students who helped with the mural painting signed the work of art. 
Other downtown murals include a train steaming right out of old Conway, a pirate (maybe that's John Teach—I'll leave that ID up to you!), scenes from a country store, and two showing collegiate scenes from nearby Coastal Carolina University. The CCU murals are painted in shades of teal and bronze and depict the university's mascot as well as their slogans.
Wind Down Your Day
Unwind at the end of your explorations with a walk along the Waccamaw River. Conway built the perfect place for you—The Riverwalk! You can walk as much of the one-mile walking trail as you want, then relax the afternoon away on a bench, swing, or rocking chair as you watch the river flowing by, dreaming of the places the river has seen, and where it will go next. Wave at the boaters passing by. You just might be waving at me. I promise to wave back!
Photos by Jo Clark