Sensory-Friendly: Ripley's Aquarium in Myrtle Beach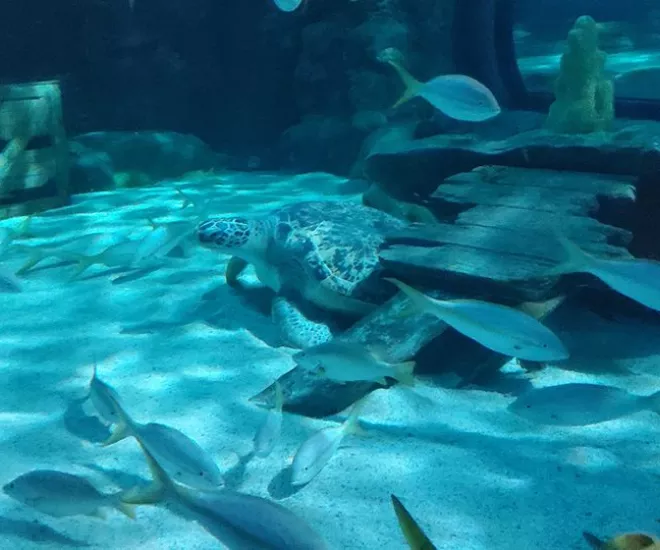 Ripley's Aquarium is one of the most autism friendly and beautiful attractions to visit. During their sensory friendly days, they raise the lights, lower the sounds and provide headphones if needed. There are plenty of spaces to stop for quiet time. One of them is right on the path of the shark tunnel so you can sit quietly and still enjoy the display! Ripley's has greatest concerns for its autism families. In accordance with Champion Autism Network's suggestions, they have a safety plan in place and even are prepared to help with a meltdown. You can be sure you are in the company of supportive people at Ripley's Aquarium. Some staff members even have kids of their own on the spectrum. 
While Ripley's Aquarium hosts Sensory-Friendly events throughout the year, the next upcoming event is May 13, 2023. In cooperation with Champion Autism Network (CAN), they will be hosting a sensory friendly morning for families with autism! The next time this event will occur is September so don't delay! Find more about the event on our Events Calendar. 
Two other perks to visiting Ripley's Aquarium during a sensory-friendly event is that if you have a CAN card, you get the entrance fee at a reduced price. You also get to exit the building without going through the gift store. Although, I must admit, this is one of the nicest gift shops I've ever visited. I am particularly fond of the plush octopus that can be switched from happy to sad with a simple flip. What a great tool for a child who has trouble communicating!
So, now that you know you can visit with confidence, let's talk about what you might see there! Mermaids and stingrays and fish! Oh! My! Yes! I said mermaids! Mermaids have been known to appear for breakfast, do a craft with the kids, tell a story to the kids and more. Museum admission is included in this special experience. Be sure to book on-line well in advance of your vacation. The stingrays are always making appearances in the shark tank but also in their own tank where you can hand feed them. Stingrays are also visible from a glass bottom boat which floats around on top of the aquarium's largest tank! There are over 7500 aquatic species in this tank including Gabby the green sea turtle. There is a modest added cost for this but it is well worth it! Be sure to check on-line for their other special events such as the penguin experience. Ripley's Aquarium can even help you celebrate a birthday.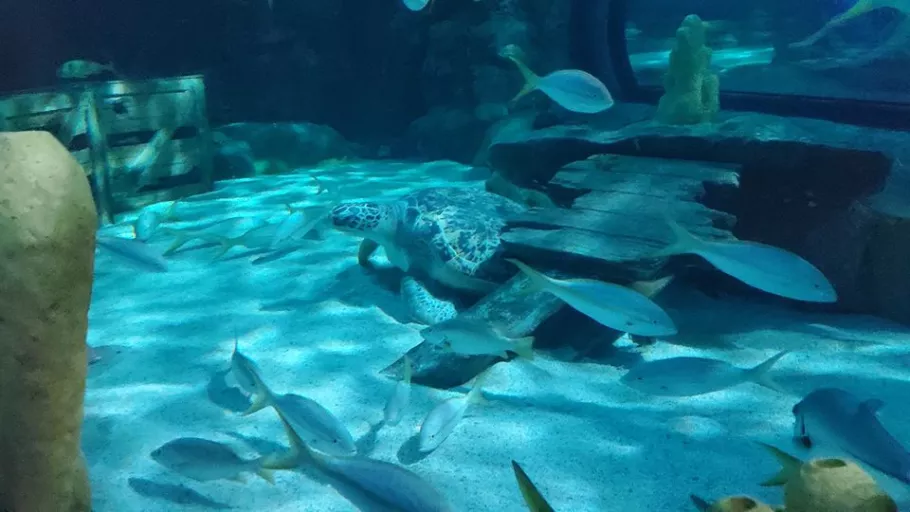 The penguins are probably the most popular display and it appears early in the tour. The arrangement of the Penguin Playhouse makes viewing easy for kids and adults alike. For those with a sense of adventure, you can climb into a tube that takes you to the center of the penguin colony, up close and personal inside a viewing bubble. All of the penguins have names and tons of personality. Watch for the lovebirds, Marley and Jello, who are together most of the time. There's always plenty of swimming penguins here to make you laugh.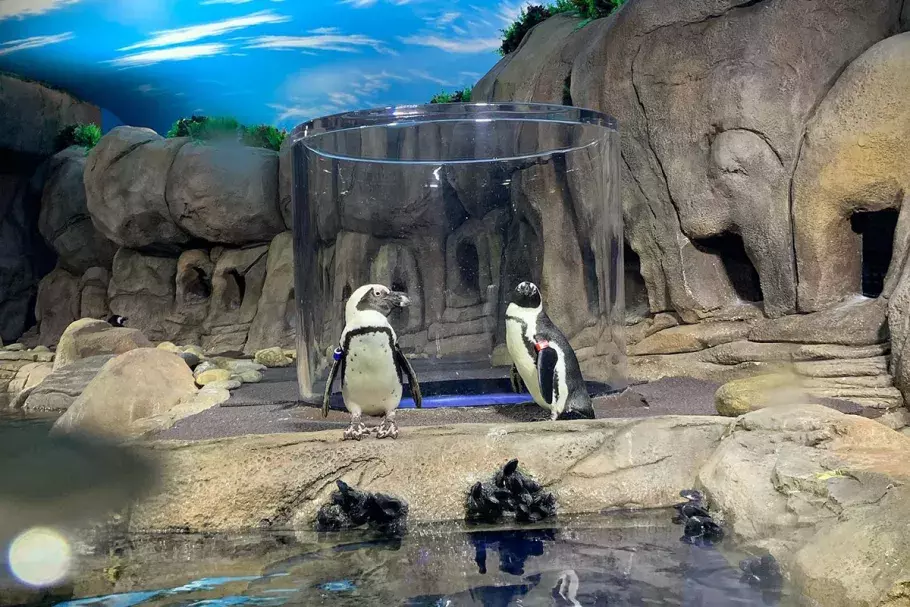 My personal favorite is the Amazon display. It's easy to fly past this, but I recommend you stop for a few minutes and admire the fish in this tank. They are so elegant and impressive in size. Since most of us will never get to the Amazon, this is a great opportunity to see some of the wildlife from there. Shortly past this tank is the shark tunnel. But don't be frightened! The sharks are safely swimming behind thick glass with all their friends. It's quite impressive to be surrounded by so many wonderful creatures such as sawfish, tarpon and moray eels! Near the end, if you need a little breather, there is a beautiful viewing room that is always quiet and still looks into the shark tunnel. Take advantage of this to refuel for the next part of your adventure.
A short distance from the shark tank, you will follow the path to the second level. First stop- the ray tank! Here you can actually feel and feed the rays. Say hello to the frogs and reptiles along the way to the rays, and be sure to keep an eye out for the mermaid! She often waits nearby for a photo with you! More adventures are just ahead including jellyfish tanks, a play area, and for those with hungry tummies, a snack bar. 
If this sounds irresistible, I agree! For those who want to take advantage of the sensory friendly day, visit the Champion Autism Network's website to order your Autism Travel Club card. Or visit the Chamber of Commerce and buy one when you arrive. You can use your Autism Travel Club cards at other attractions and restaurants in the area for special discounts and accommodations.
There is a map of the aquarium on-line under the guest services so that you can plan and anticipate what you might want to be sure to see. I would plan on spending at least 1-2 hours here. When you're done visiting Ripley's you have all of Broadway at the Beach to explore amusements, shopping and fine dining. If you haven't seen enough fish yet, you can even feed the koi in the big pond.
Happy underwater adventuring!