Sensory-Friendly: Big Air Trampoline Park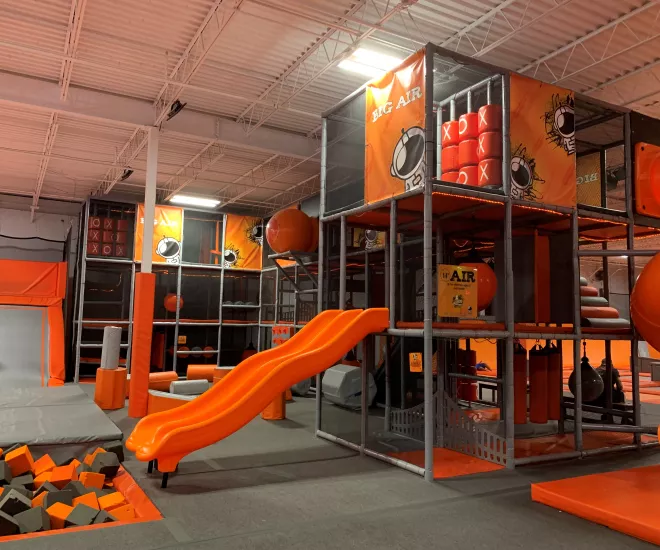 Sensory-Friendly: Big Air Trampoline Park
I'm flying! We all have that dream and Big Air in Myrtle Beach gets us about as close as possible! Not only is this thrill available for able-bodied persons but, once a month, Big Air also welcomes people with autism to come and jump their cares away!
The third Sunday of every month, Big Air opens its doors early just for autism families.  I had the pleasure of speaking with Devin Gomez, the manager. He explained to me how excited he was to become part of the Champion Autism Network (CAN) family which sponsors this autism event. When you show your CAN card the whole family gets in for a discounted fee of $13 per person. Devin expressed that it was a very easy decision to join CAN's mission because the facility naturally lends itself to being autism friendly! When Big AIr hosts their sensory friendly day, they turn down the music, turn off flashing lights and invite family members, including parents, to join in on the fun! As a CAN member, all Big Air staff have been trained to help autism families and they carefully monitor each station to be sure rules are followed.
I was very impressed with the variety of equipment they had! As soon as your kids enter, they are going to be drawn right to the pits of soft foam blocks. It only takes a minute to realize that there are numerous ways to tumble, fall or even throw yourself into the tempting, harmless pits! Just inside the door, kids can test their balance by walking across a beam over a pit of foam blocks. Or if they want a real challenge from the days of Robin Hood, they can go into combat with a friend and try to knock each other off. The next obstacle is a wall to jump up on. But not from a hard floor. Here you can catapult yourself from the trampoline up to the top of the padded wall. While I was there a brave soul was practicing flips and spins with ease. Next stop is the climbing wall. No harnesses required here because half the fun is falling off the wall into the pits of foam blocks. I've tried real rock climbing and this holds a lot more appeal! Similar to the climbing wall you can also let your fears dissolve as you zip-line across a pit and fall right in.
Do you have a basketball fan in your family? How about being able to jump up to the basket and dunk the ball right in? Forget wooden floors, here we have trampolines! The basketball section can be used for competitive play or just shooting hoops. If your child really needs to jump and needs visual stimulation, there is an amazing video game/trampoline combination that will occupy them for hours!
As a mom, one thing that concerns me about a trampoline park is safety. I was delighted to see that every hard surface was covered in padding and it's very unlikely that your child will get caught in springs or fall off. These ingenious trampolines are basically modified floors and provide plenty of opportunity for running, jumping, spinning and any other sensory movement your child can create! If they prefer something to test their balance the ninja course will do just that in a safe but challenging way.
If you are bringing along children under six they have their own play spot which is also big enough for parents to tag along. This multi-story structure is completely enclosed in netting and offers slides, maze-like tunnels, swings, and climbing structures.
If you anticipate this might be all a bit much for your child, there is a quiet sitting space for decompressing. There is also a snack bar for when they need to refuel and go back to jumping! 
The next sensory-friendly dates are July 17 and August 21 at 10 am. You can stay as long as you like but the sound and lights will only be turned down for the first hour. Be sure to get your CAN card by visiting Champion Autism Network's website so you can take advantage of the many discounts around town. Big Air also hosts birthday parties so keep that in mind as an option if you're planning a special event.