Lucy Buffett's LuLu's Opens 'Beach Arcade' and 'Mountain of Youth' Ropes Course
Lucy Buffett's LuLu's Opens 'Beach Arcade' and 'Mountain of Youth' Ropes Course
Earlier this month, Lucy Buffett's LuLu's at Barefoot Landing in North Myrtle Beach opened its Beach Arcade and Mountain of Youth ropes course… taking their already family-fun atmosphere to a whole new level (literally)!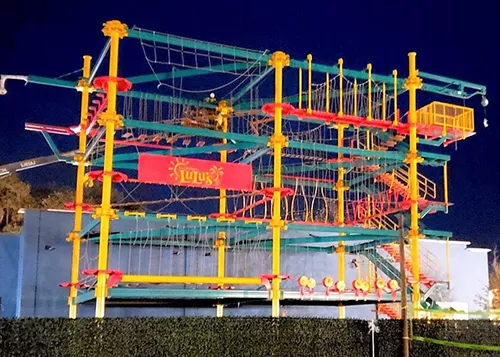 The Mountain of Youth features a bright color scheme that fits with the fun exterior of Lucy Buffett's adjacent restaurant. So after a climb on the tropical, 48-foot-tall ropes course, participants can head next door for some of the restaurant's incredible Gulf seafood. While I haven't been able to do the ropes course yet myself, I did get to attend the grand opening and watch Lucy Buffet herself take a turn on the optional 'free-fall exit' of the ropes course. It looked like so much fun! 
Participants are equipped with a harness through the multi-level attraction, which features 26 elements and takes around 20 minutes to complete (give or take how fast you feel like going.) Here's what Lucy Buffet had to say about the ropes course at the grand opening event:
"LuLu's has always been about family. When we added our first ropes course at the Gulf Shores location, it was wildly successful and complemented our mission to create a coastal dining and recreational experience for families. The kids get to play in a safe environment while the grown-ups have a drink, enjoy delicious fun food and listen to live music."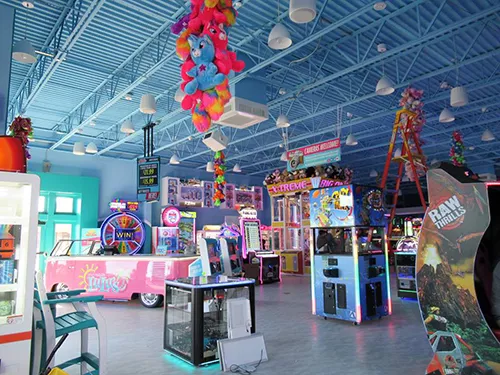 We agree 100 percent. And now that it's officially spring, I'm sure I'll be headed there with the boys a couple of times a month. In addition to the ropes course, they opened a new arcade next door to the restaurant. LuLu's Beach Arcade has both new games and old-school favorites like Skee-Ball, basketball and racing games that children and adults alike can enjoy.
To participate in the ropes course, you need to be at least 48" tall, and the cost to participate begins at $20. We think the best deal is paying $30, for the ropes course, the quick jump and a $10 arcade playcard to come together as a package. Whichever route you go, it's a great addition to any spring break itinerary.
Lastly, we love the events they are always hosting at LuLu's at Barefoot Landing. This coming April 21 from 2 to 4 p.m., they will be holding their Easter Egg Dash, a family-friendly event featuring the Easter bunny and egg dash in the beach area next to the restaurant. For more information, check out LuLu's online at www.lulubuffett.com/northmyrtlebeach.