Local Seafood Restaurants at Barefoot Landing and Restaurant Row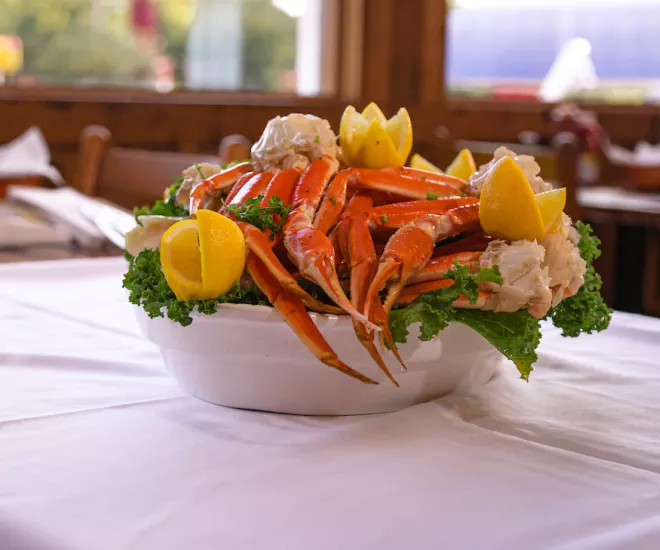 Local Seafood at Barefoot Landing and North Myrtle Beach Restaurant Row
The stretch of the Grand Strand between Restaurant Row and Barefoot Landing has arguably some of the best seafood restaurants in North Myrtle Beach and Myrtle Beach! All-you-can-eat crab legs at your favorite buffets, fresh catch of the day prepared your way and any seafood combination you can think of can be found at these local spots. Where will you try next?
Located in the heart of Restaurant Row, The Original Benjamin's Calabash Seafood has been serving all-you-can-eat crab legs on their endless buffet for years. It's just one of the tasty items that brings busses to them year after year! The restaurant itself is a sight to be seen with 11 different dining rooms, a model ship collection and a fun nautical experience for your little sailors. The endless buffet offers more than 170 items including stuffed shrimp, seafood wontons, steamed oysters, blackened salmon and so much more.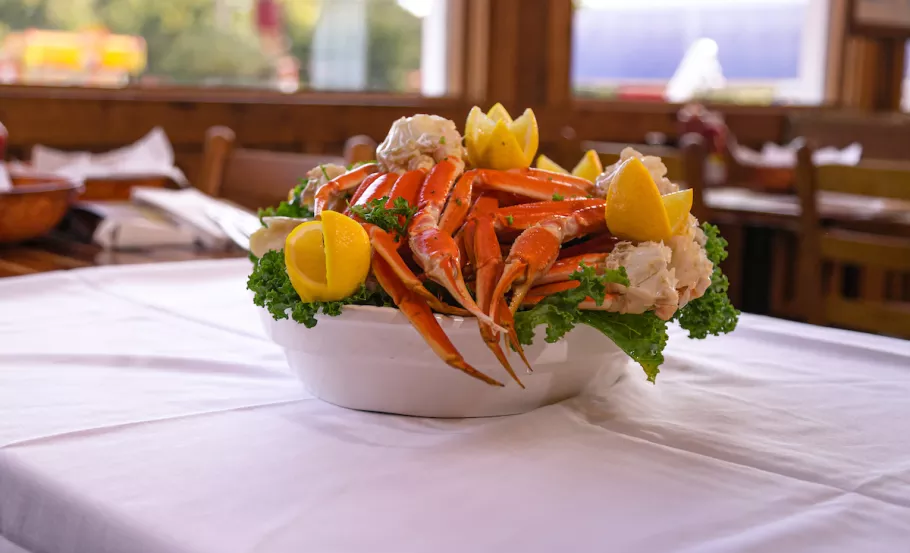 Flying Fish Public Market and Grill is located at Barefoot Landing with great ICW views and gives you a taste of what the fish markets on the west coast are like. Try your hand at catching one flying to you from the kitchen if you dare! The raw bar menu has fresh oysters, clams, shrimp as well as Nigiri and Sashimi. My recommendation for dinner is to try one of the fresh fish selections of the day and then you can choose the way you'd like it cooked and add additional toppings like honey lime butter or mango salsa.
Just north of Barefoot Landing is Rockefellers Raw Bar with a laid back, casual atmosphere and plenty of seafood for everyone in your crew. Apps include fried, raw or steamed oysters, Oysters Rockefeller (you knew that had to be on there) and their famous AnJeL's on Horseback which include four scallops wrapped in bacon on a bed of Rockefeller mix. Their "Infamous Steam Kettles" are served with your choice of shrimp, mussels, scallops, clams or crawfish in your choice of sauce like Old Bay and Beer or Fra Diablo.
Joe's Bar and Grill prides itself on its casual fine dining and has been a local favorite for three decades. The restaurant has many different seating areas, each with its own personality and plenty of water views. The Scallops Meuniere are sauteed in lemon butter and served with rice pilaf, while the Lowcountry Style Crabcakes are a blend of black fin and lump crab meat, spices, panko and sauteed with a spicy black bean cake and hollandaise. Other popular options include the Seafood Medley (my personal favorite), Local SC clams in white wine and butter, and shrimp and scallop alfredo.
One thing's for sure - you can't miss Giant Crab as you head north or south along Kings Highway in Myrtle Beach. The Calabash-style seafood buffet is located in Restaurant Row and features waterway views. The enormous buffet serves fried seafood specialties, steamed and raw options, all-you-can-eat Alaskan snow crab legs plus signature dishes like Crab Imperial, Deviled Crab and Broiled shrimp. Bring your appetite and a camera for fun pictures outside with the Giant Crab!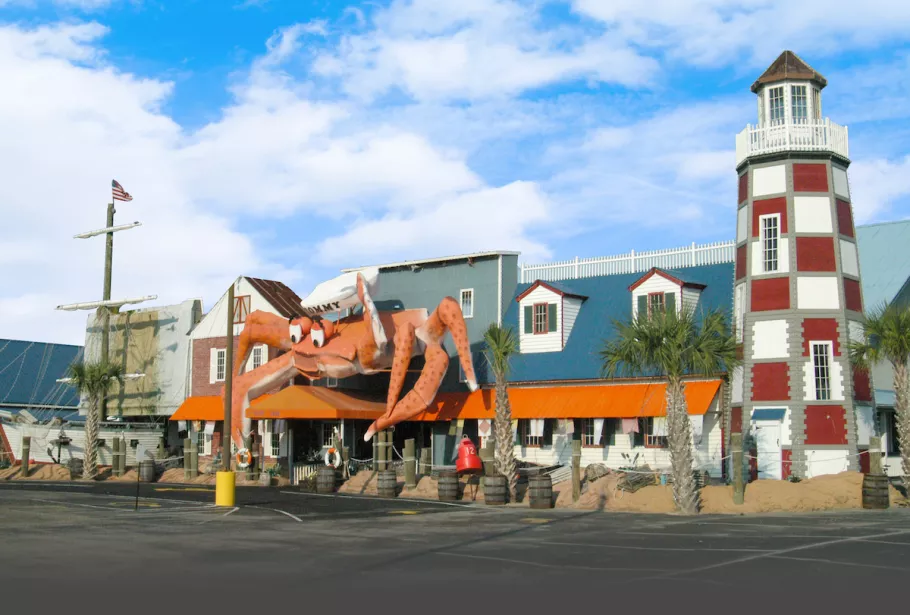 Chesapeake House has served fresh seafood to locals and visitors for more than 40 years along the Grand Strand. Some specials have been around since they opened like the Chesapeake Baked fish topped with a homemade crab mixture and their World Famous Fish Stew. Other menu highlights include Cajun Shrimp or Oysters, Fried Inlet Shrimp, Lobster Pie and the Summer Seafood Florentine with shrimp and clams served over linguine.
While Thoroughbreds is known for its fantastic steaks, it's also got plenty of bragging rights when it comes to their seafood dishes. Start with their fresh Tuna Tartare in a wonton bowl or the Seafood Cake made with whatever the freshest seafood of the day is. Entrees include stuffed shrimp over citrus risotto; seared grouper with sauteed shrimp; jumbo seared scallops over cilantro risotto; or twin lobster tails. This is a great spot for a romantic dinner out.
Chestnut Hill is located on the waterfront in the Restaurant Row section of Myrtle Beach serving up fresh, local seafood seven days a week. The menu weighs heavily on seafood dishes and offers options like Seafood Casserole; the Starboard Catch of the Day prepared your way; Seafood Florentine with deep sea scallops and Carolina shrimp and some of the best crab cakes on the strand. The sauteed mussels, Oysters Rockefeller and Shrimp Cocktail Chestnut Hill Style are all popular as well. 
Tucked just off the main drag is Bimini's Oyster Bar, but you'll certainly want to find it if you're craving great seafood! This no-frills oyster bar prides itself on its friendly service and the freshest seafood and shellfish. They offer Classic Steampots, Oyster Roasts, a Crab Leg Feast and tasty platters with oysters, shrimp, scallops and fish. Local Favs on the menu include the Island Conch Fritter Platter and the Flounder Dinner. Bimini's is sure to become one of your new favorite restaurants in Myrtle Beach!