Live Music on Main Street in North Myrtle Beach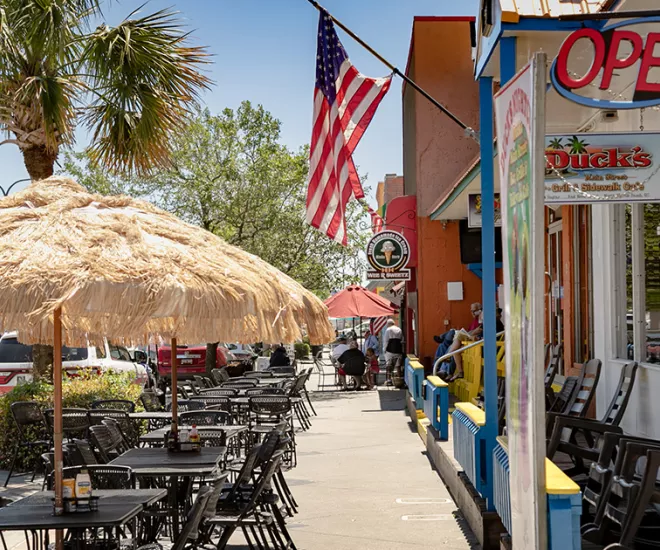 With a long tradition of live music at honkytonks, seafood shacks and large clubs alike, North Myrtle Beach (NMB) remains the home of resident and visiting Shaggers dancing to the South Carolina state dance, the Shag, every weekend and en mass during spring and fall "migrations." But beyond the Shag, there's a host of live music and DJ-driven nightlife on Main St. and the adjacent venues along Ocean Blvd., (also called "OD") still drawing revelers and new generations of music lovers from around the globe and around town.
Here are some of the biggest and best I've found from venues offering solo acoustic guitarists, to larger clubs with pop and variety trios to full bands – and let's not forget bout the annual festivals. Whatever you're musical tastes and mood, you need not travel beyond Main St. and Ocean Blvd. in North Myrtle Beach to satisfy most any live music urge.
While almost every town seems to have a Main St., and NMB is no exception, here at exactly the point where Main St. meets the Atlantic Ocean in the heart of NMB the dedication to live music and beach-town partying are legendary. The small chunk of roadway, nicknamed "The Horseshoe" for its semi-circular turnaround, is regularly closed for massive outdoor concerts featuring regional beach music bands, touring oldies acts, country, and variety pop bands and more.
Music On Main Concert Series
Always free, always on Thursday, from June – September, and now running 7 – 9 pm (instead of the former 6 – 8), this long running festival can draw thousands at the famed Horseshoe (11 S. Ocn. Blvd, NMB). It's recommended you bring a lawn chair, but most attendees don't, and are happy to wander the closed off section of downtown and enjoy the live music while roaming or standing. Expect a wide variety of acts from beach music bands, to variety pop, 80s rock, R&B, country and more.
St. Patrick's Day Parade & Festival
For more than 30 years the City of North Myrtle Beach has been hosting a St. Patrick's Day parade and festival, usually the Saturday prior to St. Patrick's Day. Three or more stages of live entertainment, hundreds of vendors and a fabulous community parade have made this a popular annual event drawing around 40,000 visitors.
The Irish-Italian International Festival
Held annually on Main St. in North Myrtle Beach this enormously popular event is usually held in September drawing around 15,000 to celebrate. Featuring arts & crafts, food vendors and two stages of live entertainment, the rain-or-shine event has been continuously held for nearly 20 years.
Main St. Bars, Clubs and Nightlife
As a quintessential beach town "Main St.," here you'll find a variety of beachwear stores, honkytonks, restaurants and quaint gift shops along sandy sidewalks. You'll also find live music every weekend (and mid-week in season) at more than just a handful of bars. As might be expected when rock 'n' roll is involved, there's some inconsistency in activity from week-to-week and year-to-year, so it's always best to call first to ensure the act you hope to see is actually still on the bill. In other words, everything is subject to change without much notice, but still, I think you'll have pretty good luck at the following hotspots.
Located inside the oceanfront Ocean Drive Golf and Beach Resort hotel, the art deco-styled Spanish Galleon first opened its doors in 1991. The large, nearly 19,000-sq foot club has remained vital to shag dancers and others featuring beach and variety bands and DJs. Also adjacent to the Spanish Galleon, is The OD Beach Club and HOTOS (Harold's On The Ocean), which feature occasional live music in season.
Pirate's Cove Bar & Grill
This staple of Main St. nightlife has been hosting and entertaining crowds for decades and even boasts a rooftop bar. Downstairs a large stage and dance floor mean acts of all variety and sizes will, mostly on weekends and in season, rock the house. The ultra-casual bar & grill/club is especially popular with the younger crowd.
Always with a crowd inside and out along the narrow sidewalk café, you'll find soloists street-side and big bands inside. Variety, pop, beach music, r&b, and top-40 dance bands are the main draw at this double-sided club, first opened in 1983.
Since 1962 Fat Harold's has been a Shag club, and though mostly featuring DJs, beach music bands do occasionally perform at special Shag events as well. A classic, iconic NMB Main St. institution, well worth visiting.
Sky Bar
Coming to life each spring, this multi-story nightclub does not feature live music, but it is one of the most popular nightspots on Main St. for music, drawing a large young adult crowd intent on socializing and dancing.
Deckerz
With three levels of outdoor decks, this popular NMB honkytonk features solo acoustic guitarists to big bands and plenty of open-air seating and standing room to people watch the nearby Main St. crowds.
Flynn's Irish Tavern
With live solo and duo acoustic guitarists six nights per week, this friendly little local's hang, which for decades served as the North Myrtle Beach jail, has a small tavern with seating for food and drinks, and an outdoor beer garden. A New York City /Boston-styled authentic Irish pub, Flynn's is a mainstay of Main St.
Part of the family of Key West-styled beach bars/oyster bars of the same name, Dirty Don's Oyster Bar, with three locations, opened their newest location in 2020 at the Shops on Main. With indoor/outdoor seating and a wide variety of nightly entertainment, Dirty Don's has quickly become a popular Main St. option for food, drink and live music.
Main St. Taphouse @ Shops on Main
Relatively new to the traditional Main St. live music venues, The Main Street Taphouse at the Shops on Main features regular live music, mostly in the form of acoustic soloists. The long bar features a huge variety of suds and though not large, the Main St. Taphouse has become a beer and music-lover's hangout.
In a renovated building that's occupied the same space since the 1950s, Buoys, just south of the Horseshoe at Main St and Ocn. Blvd, quickly became a must-visit beach bar since first opening in 2018. Live soloists and duos are featured every Thurs-Sat on the Boulevard patio.
Claiming to operate "the last open-air dance pavilion on the East Coast," the OD Pavilion on the Horseshoe (Main St. @ Ocn. Blvd.) still hosts DJ shag dancing and live bands for special occasions. Oceanfront with a grill, ice cream shack and all the memories of summer wrapped into one fun and funky family destination.
With a full arcade and one of the largest hardwood dance floors in the area, the OD Arcade & Lounge, just a block south of the Horseshoe (Main St. @ Ocn. Blvd.), has been hosting beach music DJs and live bands of all varieties for many decades. A small bar typically hosts the bands, but on occasion the main room is opened up for events and bigger bands.
Some of these venues are new, but many have enjoyed the staying power of several decades, proving that this little part of North Myrtle Beach, once a town called "Ocean Drive," is still the place for live music on the North Strand.
Enjoy!