Historic Pine Lakes Country Club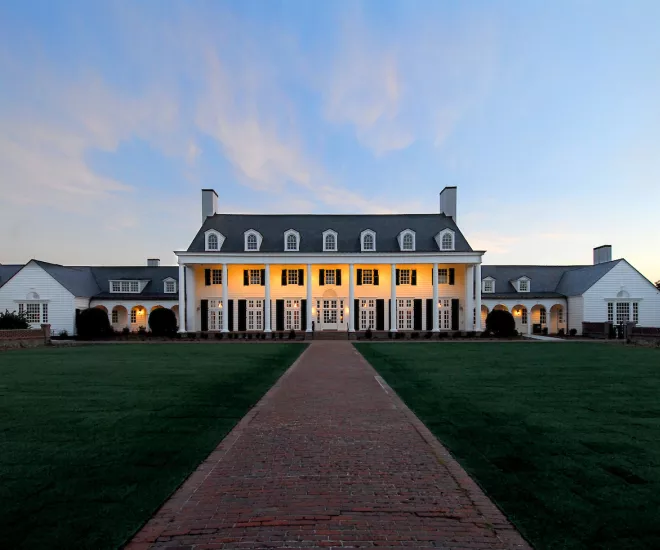 Historic Pine Lakes Country Club
I love taking guests to visit the Pine Lakes Country Club. Not only is it one of the most historic places in Myrtle Beach, it is also one of the most beautiful. We pull up to the original doors on the manicured circle in front of the building where the fountain is. Once inside, we are welcomed by a gorgeous foyer that leads us in three directions: to the ballroom, to the dining room, and up a staircase.  Well, actually, it used to lead visitors upstairs, but no more. 
When Pine Lakes opened in 1927, it offered about forty guest rooms on the second level. Those spaces are now used for offices and storage, but in 1966, they hosted the Hollywood legend, Slim Pickens.  His film credits include Blazing Saddles (1974) and, most notably the Peter Sellers' dark comedy classic, Dr. Strangelove (1964), in which Pickens' bomber-pilot character, Maj. "King" Kong, rides a nuclear bomb into a target all the while waving his cowboy hat rodeo-style.   
Sellers was the one who was supposed to have been on that bomb, but when he broke his hip in a fall prior to wrapping the movie, director, Stanley Kubrick, begged Pickens to fly to the UK to fill in.  He readily agreed to come. However, he had never traveled outside of the US before and was detained at the London airport. He didn't have a passport. They got him one while he waited and the epic scene was shot.
Kubrick wanted Slim for another iconic role in 1980's The Shining. He thought about the offer and recalled the famed director's tendency to take multiple retakes which apparently Pickens didn't enjoy.  He passed on the part of Dick Hollaran who was brought to life instead by Scatman Crothers; only to be killed off by Jack Nicholson in the film. In real life, those two actors were close friends and appeared in several movies together including One Flew Over the Cuckoo's Nest.
Slim Pickens was known primarily for his depiction of cowboys on film. However, he was the real deal, a highly respected rodeo competitor and talented rodeo clown (one of the most dangerous jobs in any ring). 
He would tell the story of how he came about his screen name as it coincided with the start of his rodeo career. When he was 15, growing up on a ranch in California, he wanted to enter a calf-roping competition, but his father didn't allow him.  So he entered anyway under an assumed name.  The problem was, he didn't have an alias in mind when he went to register.  He explained his situation to the rodeo manager who told him that, regardless of what name he chose, that there would be "slim pickin's out there today." The future actor told him, "That's as good a name as any, I reckon—put me down as Slim Pickin's (which the manager spelled Pickens).  Slim won $400 that day. 
It was a western that brought him to Myrtle Beach for the Sun Fun Festival in June of 1966. That was the year that our Chamber of Commerce hosted a regional premiere of the remake of Stagecoach which was first released in 1939.  In fact, in 1990, the US Postal Service issued a commemorative 25-cent stamp of that first movie in a four-stamp set that included the other blockbusters of that year:  Gone With The Wind, The Wizard of Oz, and the lesser-known, Beau Geste. Aptly, Slim Pickens played the stagecoach driver in the movie and drove an actual stagecoach through Myrtle Beach. 
"It's all part of a mountains-to-coast Stagecoach tour celebrating Myrtle Beach's Sun Fun Festival, and the eastern premiere of the new motion picture, Stagecoach, at Myrtle Beach Friday," reported the Greenville (SC) Times on June 5th. Originating in Asheville, NC, Slim Pickens, accompanied by the former and reigning Miss Myrtle Beach, drove a stagecoach drawn by six horses to the festival with stops in Greenville and Florence, SC, along the way. 
According to Myrtle Beach photographer and historian, Jack Thompson, it was only made to look as if Pickens had. A flatbed truck would transport the stagecoach from town to town where Pickens would drive it within each of the city limits leading up to a ceremony featuring local dignitaries where he would present the respective mayors with a limited reproduction of an 1866 Winchester rifle.  Once in Myrtle Beach, an engraved replica was given to then South Carolina Governor, Robert E. McNair. The governor had a second home at the beach in what is now called the Cabana Section.  That was about four years before the first cabana was built.
In return, Pickens was given the key to the city.  He was also given a Pawleys Island hammock. Jack Thompson recalls that he gleefully accepted the gift and remarked, "I hope I can fit in it with my boots on."
Jack Thompson was Slim Pickens' escort and chauffeur while in Myrtle Beach.  Jack told the story once that when they arrived at the Pine Lakes Country Club where the actor was to stay while here, he found that the beds weren't long enough for his tall frame.  So Jack helped him push a couple of beds together so that he could sleep across them thereby accommodating all of his six-feet, three-inches. 
That's just one of the many stories from Pine Lakes' past. The club opened in 1927 under the name, the Ocean Forest Country Club, as its initial purpose was to be an amenity for the grand Ocean Forest Hotel that stood on our shores from 1929, when it was completed, to 1974, when it was razed. The visionaries behind these and other opulent developments that never came to be because of The Great Depression, were The Woodside Brothers of Greenville, SC. 
Pine Lakes' nickname is "The Granddaddy," because it was the first golf club to be built in Myrtle Beach, dubbed the Golf Capital of the World by the late twentieth century. Pine Lakes' claim to fame is that it was the birthplace of Sports Illustrated magazine in 1954. The weekly launched that August after a marketing conference was held at the club the previous April. It brought dozens of Time Publishing executives to the Grand Strand for a little golf, sunshine, and strategy meetings that apparently were effective as the publication became one of the most famous brands in the world. 
The golf course itself was designed by Robert White, the first president of the PGA. Today, visitors can dine in the pub that bears his name. The Robert White Pub is open to the public daily for lunch until 3 PM.  You may eat in or take out.  
It makes for a perfect complement to a round of golf there which you are also welcome to enjoy. See their website about booking a tee time.
On the weekends, treat yourself and your guests to a historic breakfast.  It is served each Saturday and Sunday at 7:30 AM.  It remains available until 3 PM, for those of you who prefer to sleep in.
Then, on select nights, you are invited to come for dinner. Just check the dining page of their website to see dates, menus and to make reservations.  This is such a hidden gem of dining options. Most of these all-inclusive dinners are under $20 per person and the food is great. Add to that the privilege of dining in one of the most historic and attractive venues in Myrtle Beach and you have the makings of a night out to remember.