Give Your Pet a Beach Vacation in Myrtle Beach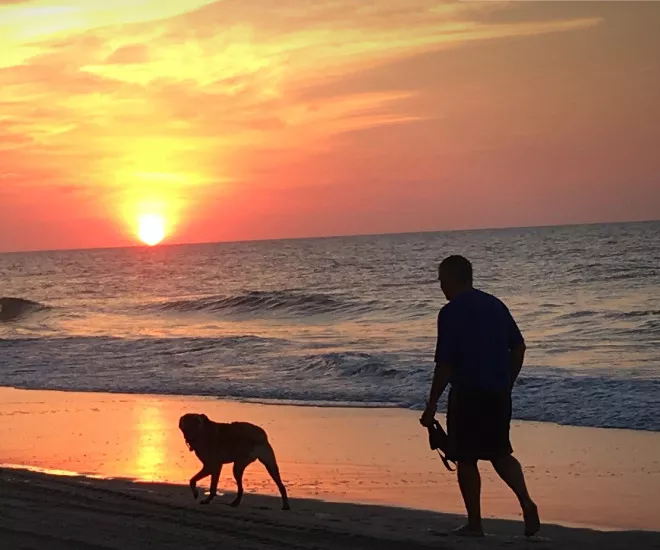 It's safe to say that our pets benefited greatly from all the humans working from home this past year. As much as we need a vacation, our pets probably do too! Myrtle Beach offers many pet-friendly accommodations, along with pet parks and stores, restaurants, and more. We've gathered some resources for you as you plan your next beach vacation in Myrtle Beach with your pet!
Accommodations
From hotels to beach houses, there are a multitude of options for every visitor and their pet, such as the DoubleTree Resort by Hilton Myrtle Beach Oceanfront and the Best Western Plus Grand Strand Inn & Suites, both located near the beach. You also have the option to stay at a pet-friendly house or condo through Elliot Beach Rentals, Garden City Realty, or Condo-World – to name a few. If camping is more your speed, several travel parks and camping resorts are pet-friendly, such as Ocean Lakes Family Campground and the Myrtle Beach Travel Park. Visit our website for an entire list of accommodations. Any pet fees or requirements will be listed on each individual resort's website.
Parks & Beach Rules
The City of Myrtle Beach has constructed two local "Barc Parc" playgrounds with drinking fountains and fenced-in areas for your dog to run free. Another option is to explore one of Myrtle Beach's many state parks and gardens – Myrtle Beach State Park, Huntington Beach State Park, and Vereen Historical Memorial Gardens. These three locations offer pristine views of our ocean and marshland, and plenty of space for your pet to enjoy the fresh, salty air.
In many cases, dogs must remain on their leash on the beach and are only permitted before 10:00 am and after 5:00 pm from May 1 to Labor Day. These rules vary from beach to beach across the Grand Strand, so check out our website for updated information on pet beach rules.
Restaurants
In our opinion, the best place to take your pet with you when dining out is a spacious outdoor patio – and some patios are even heated for year-around dining! Drunken Jack's, Senor Frog's, Tidal Creek Brewhouse, and River City Café, are just a few restaurants that offer ample space of you to enjoy the breathtaking views and delicious, local cuisine with your pet. Some of these spots may even provide treats or water for your pet!
And although Myrtle Beach commonly has an ocean breeze that cools down hot summer days, the temperature may be too hot during mid-day for your dog in the sun. Dark pavement can be too hot for the pads of your pet's feet, and ocean water can make some dogs sick if they drink too much at one time. It is a good rule of thumb to keep in mind your pet's safety and to always carry cold water for your pet &ndash, and you!
Visit our Pet-Friendly Myrtle Beach section to learn more.
Don't forget to take pictures of your pet enjoying all The Beach has to offer and use #MyMyrtleBeach.