Four Trolley Tours Cover Myrtle Beach's History Year-Round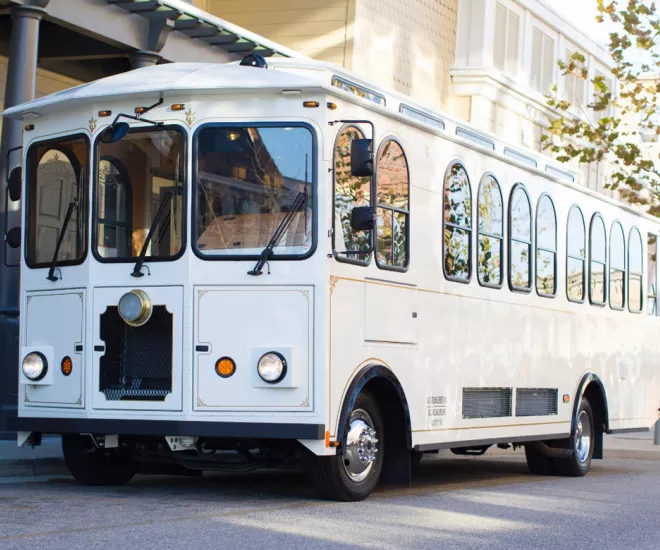 Learn About Myrtle Beach's Unique History
History lovers visiting Myrtle Beach may not realize how much there is to discover about our past.  Each week trolley tours depart from The Market Common that take on diverse aspects of our local history.  If your interests lie in the fields of music, movies, military history, specifically World War II history, or folklore, then there is a tour experience awaiting you on a climate-controlled trolley that won't soon be forgotten. 
Choose one of the following or opt to take all four as they were created to compliment each other.  Some visitors make a point to take a different tour each time they are here.  If you don't know where to start, Tuesday's tour would be a good suggestion as it tells about the past and things going on presently. 
The Wednesday tour takes a deeper dive into our history and discusses things that are no longer here or never came to be while sharing information about living through WWII on the home front that may apply to the places where our visitors come from.  Or it could be quite specific to Myrtle Beach.  Myrtle Beach High School students, for example, had the option during the war to use their study hall to do homework or they could walk the few blocks to the beach and man a watchtower to be on the lookout for German U-boats.
Once you've taken those two tours, you'll have a better handle on our local history than most locals.  The Thursday tour takes guests down the coast to discover our folklore and to learn more about the figures from our country's earliest years that aren't normally associated with this part of the world even though they had homes, families or made visits in this area.
The military tour on select Friday afternoons stays within the Market Common District where the streets are named after heroes.  Their stories are told both aboard the trolley and at the catered reception where your host there can tell you anecdotes of serving with some of them. 
It takes four tours, but guests will have a firm foundation of knowledge of the Myrtle Beach area's history once they all have been enjoyed.  Here are more specific descriptions of each. 
Hear the story of Myrtle Beach's coming of age in the mid-20th century to present day, the movies that were made or premiered here, and the role that Myrtle Beach played in music history.  Stops include a Green Book listing, The Fitzgerald Motel at Charlie's Place Historic Site.   That is preceded earlier in the tour by a short stroll through Myrtle Beach's new Historic District. 
Early Myrtle Beach History and The WWII Years Trolley Tour
Wednesdays, 10 am – 12 pm
This trolley tour shares Myrtle Beach's origin story and tells what it was like to live here during WWII with U-boat threats off the coast and the arrival of  German POWs. It makes stops at the Pine Lakes Country Club, and the Historic Myrtle Beach Colored School Museum.
Myrtle Beach Area Ghosts, Pirates and Historic Families Trolley Tour
Thursdays, 10 am – 12 pm
Take a half-hour trolley ride south of Myrtle Beach to the fishing community of Murrells Inlet, SC, and beyond. Hear the quintessential ghost stories that locals have grown up with (no ghost sightings here, just great stories), background on the pirates who were said to have frequented the local shores 300 years ago, and historical commentary on the influential families who lived in the area and helped shape our nation's history. This 2-hour narrated tour serves as a mere introduction to wonderful places that the trolley will be passing by that you'll want to come back to and visit, while conveying a great deal of information about the local folklore and history along the way. Brief stops, where passengers will hop off for just a few minutes, include The Gardener's Cottage at Brookgreen Gardens, The Historic Pawleys Island Hammock Shops Village, and at a photo-worthy overlook in Murrells Inlet. 
One Friday a Month, September to March (with the exception of December), 2 – 4 PM   
The trolley tour takes guests around the Market Common District in Myrtle Beach that was once the former Myrtle Beach Air Force Base and an Army Air Corps airfield during WWII which also housed a German POW camp. It makes three stops at Warbird Park, the General Robert H. Reed Recreation Center, and the Norton General Aviation Terminal.  That is accompanied by a catered reception at Tupelo Honey  with a presentation by a historic figure who was part  of the Myrtle Beach Air Force Base's past. THE 7TH SEASON'S SCHEDULE IS:  9/22/23, 10/13/23, 11/10/23, 1/19/24, 2/23/24 & 3/8/24. This tour meets at 1:45 PM in front of Tupelo Honey at 3042 Howard Avenue, across from Valor Park. 
---
Directions to the Trolley Tours' Meeting Point
Boarding begins at 9:45 AM in front of the Grand 14 Movie Theater at 4002 Deville Street at The Market Common (the zip code is 29577).  Take either Business 17 (Kings Hwy.) or Bypass 17 south and pass the airport.  Follow the signs to The Market Common and take Farrow Parkway to the light at the intersection of Reed Street and turn on Reed Street.  The Grand Lake is on the other side of the intersection, so you will only have one option as to which way to turn.  At the opposite end of Reed is the Grand 14.  There is ample free parking in two parking decks, several lots and on the street.  If you have any questions, you can call that morning at 843-446-7824, and if you need any additional assistance. 
While those tours are offered weekly throughout the year, the one that started them all back in 2017, is held once a month from September to March.  The format and timing are different from the weekly tours, and it features snacks. 
Directions to Tupelo Honey
Take either Business 17 (Kings Hwy.) or Bypass 17 south and pass the airport.  Follow the signs to The Market Common and take Farrow Parkway to the lights at the intersections of Nevers and Hackler Streets.  They flank Valor Park.  The Grand Lake is on the other side of the intersections, so you will only have one option as to which way to turn.  You will see Tupelo Honey on the other end of Valor Park.  There is ample free parking in two parking decks, several lots and on the street.  Again, if you have any questions or need any additional assistance you can call that day at 843-446-7824.
Ticket Information
Tickets are available through Tripadvisor or Viator at their full price of $40.  But if you would like discount tickets, click here.  While the weekly tours are offered every Tuesday, Wednesday, and Thursday (except Thanksgiving, Christmas and New Year's Day), if there are too few ticket sales to run by 8 AM on Monday morning of the tour's week, then any ticket holders will be contacted then for a full refund or the option of moving to another tour.  Anyone can cancel up to the day before the tour for a full refund.  On the day of the tour, those who are not able to attend can have their tickets honored in the future on one of those weekly tours.  It is best to book as soon as you know you want to go on a tour to best ensure that it is going to run.  If your plans change, you can change the date or cancel it all together up to the day before.  Passengers must be at least three years old to ride the trolley.