Enjoy the Great Outdoors at One of Myrtle Beach's Fabulous Campgrounds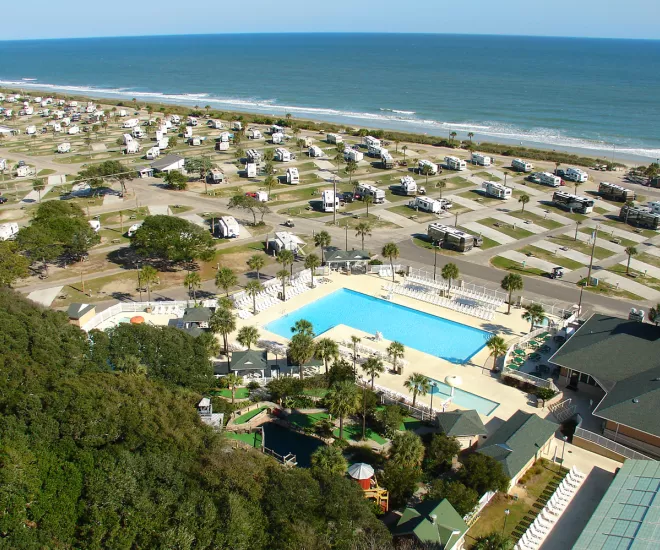 Traveling safely is not only possible during a pandemic, it's important—especially when travel takes you to sunny beaches to breathe fresh salt air, feel the sand between your toes, and make connections with family and friends. The Myrtle Beach area offers 60 miles of beautiful beaches (so there's plenty of room to spread out), and it also offers more than 10,000 camping sites at nine campgrounds and two state parks. When I say "campground" you may picture a few tents pitched near a small grove of trees, but I'm here to tell you—some of the Grand Strand's mega-RV parks are like towns unto themselves!
Several of our RV parks have oceanfront property, so you can choose campsites right by the beach! If you prefer shade, there are plenty of shady spots too! Most have RV, beach house, and cottage rentals available if you don't have your own RV, camper or tent. This way you can enjoy the unique campground settings while you keep yourself socially distanced.
If it's amenities you want, you'll be amazed to see what our campgrounds offer. Most have their own general stores, restaurants, snack bars, pools, lazy rivers, laundromats, and waterparks. They have wi-fi and most are pet friendly. Some have coffee shops, nature centers, mini golf courses, golf cart rental, basketball courts, lawn games, and regular programming such as bingo, arts and crafts, karaoke and much, much more!
If camping in or around Myrtle Beach interests you, check out these fine camping resorts:
Carolina Pines RV Resort
Hwy. 90, Conway, SC 29526
888-303-7096
CarolinaPinesRVResort.com
Offers a wide range of RV sites, cottage rentals and a variety of amenities. Suit up and jump into the Carolina Splash Water Park. Hit your high score in the Red Fox Arcade. Putt a round of mini golf. Find peace in their yoga studio. Or enjoy a quick bite poolside from their Lowcountry Landing-Carolina Bistro.
Lakewood Camping Resort
5901 S. Kings Hwy., Myrtle Beach, SC 29575
877-525-3966
LakewoodCampground.com
Oceanfront or lakefront campsites or villa accommodations. Available amenities include golf cart rentals, on-site telephones, heated swimming pool, three-acre recreation complex, and oceanfront amphitheater and meeting rooms for clubs and rallies.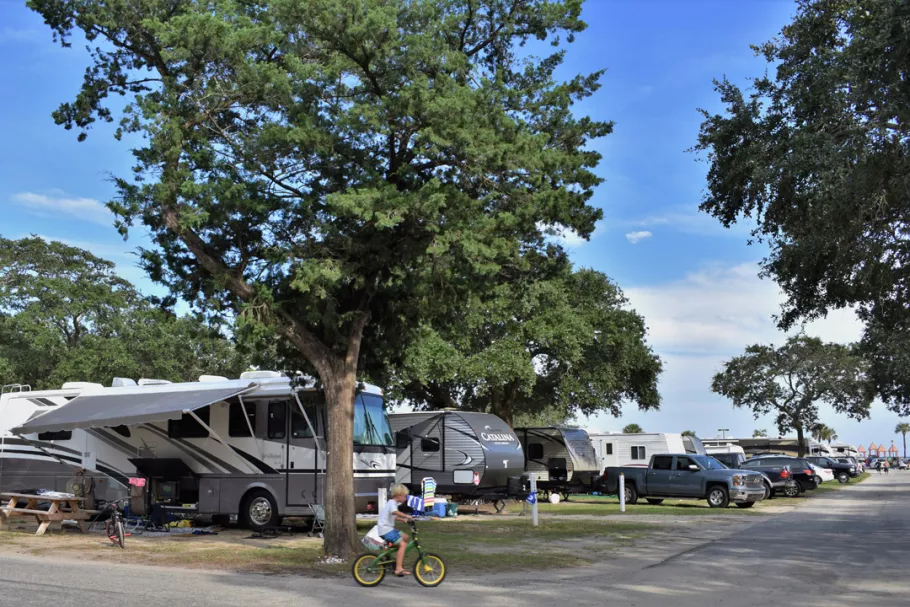 Myrtle Beach KOA Kampground
613 5th Ave. South, Myrtle Beach, SC 29577
843-448-3421
KOA.com/campgrounds/myrtle-beach
KOA offers tent sites, RV sites, cabins and deluxe cabin rentals. Enjoy loads of on-site activities, free pancake breakfasts, an adventure trail, KampK9® for your four-legged friends, outdoor cinema, beach shuttle and more! Family owned and operated.
Myrtle Beach Travel Park
10108 Kings Road, Myrtle Beach, SC 29572
1-800-255-3568 / 843-449-3714
MyrtleBeachTravelPark.com
125 acres and a half-mile of beach! Enjoy an arcade, laundromat, restaurant, pools and many fun activities!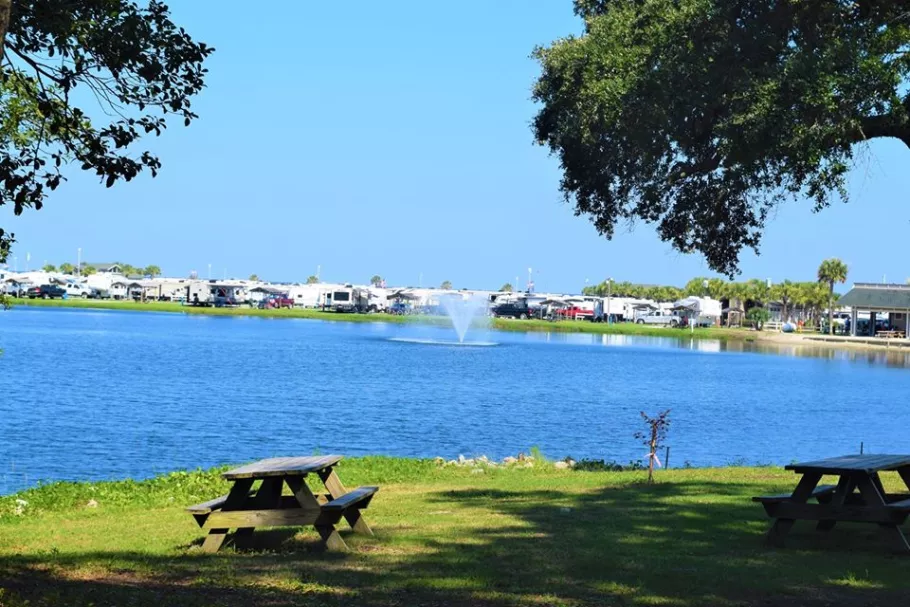 NMB RV Resort and Dry Dock Marina
260 Old Crane Rd., Little River, SC 9566
843-390-4386 (4FUN) / Toll Free: 844-777-5727
NMBRVResort.com
Enjoy extra-large paved campsites, 38 wet slips to dock your boat, boat and jet ski rentals, fishing, and a pristine luxurious oversized swimming pool with a 150-foot waterslide!
Ocean Lakes Family Campground
6001 S. Kings Hwy., Myrtle Beach, SC 29575
877-510-1413
OceanLakes.com
Visitors will enjoy beachfront camping on the eight fresh water lakes of Ocean Lakes Family Campground. On-site amenities include the Four Seasons Center with heated pool, and a 17,000-square-foot recreation center – plus nearly 900 campsites, 250 rentals units and over 2,000 annual lease sites.
Pirate Land Family Camping Resort
5401 S. Kings Highway, Myrtle Beach, SC 29575
800-443-CAMP
PirateLand.com
For nearly 50 years, PirateLand campground has been accommodating family travelers with more than 700 campsites, a heated indoor swimming pool, two- and three-bedroom vacation rentals, golf packages and a beautiful, wide span of beach.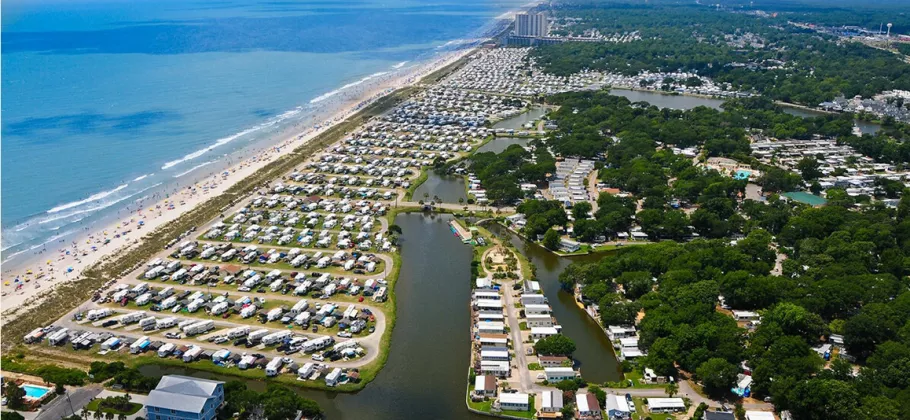 WillowTree RV Resort
520 Southern Sights Dr., Longs, SC 29568
843-756-4334 / Toll Free: 866-207-2267
WillowRreeRVR.com
Lakefront sites, cottage rental, fitness room, playground, activities, golf cart rental, free wi-fi and much more!
Yogi Bear's Jellystone Park at Daddy Joe's
626 Richard Wright Road,Tabor City, NC 28463
877-668-8586
TaborCityJellystone.com
Yogi's has 176 - 50x70 RV sites, cabin rentals, and first-rate amenities! Enjoy a water activity area, basketball and volleyball courts, a bike track, and the jumping pad. For nature lovers, there are hiking trails and nine stocked fishing ponds all on 350 acres on which you can enjoy various nature activities and exploration.
If those resorts don't give you enough options, remember, we also have two state parks:
Myrtle Beach State Park
The Myrtle Beach State Park is located in the heart of the Grand Strand and boasts an impressive beach, fishing pier, 350 campsites, cabins, picnic shelters, activity center, nature center, hiking trails and free nature programs with admission to the park. For more information, call (843) 238-5325 or visit SouthCarolinaParks.com/Myrtle-Beach.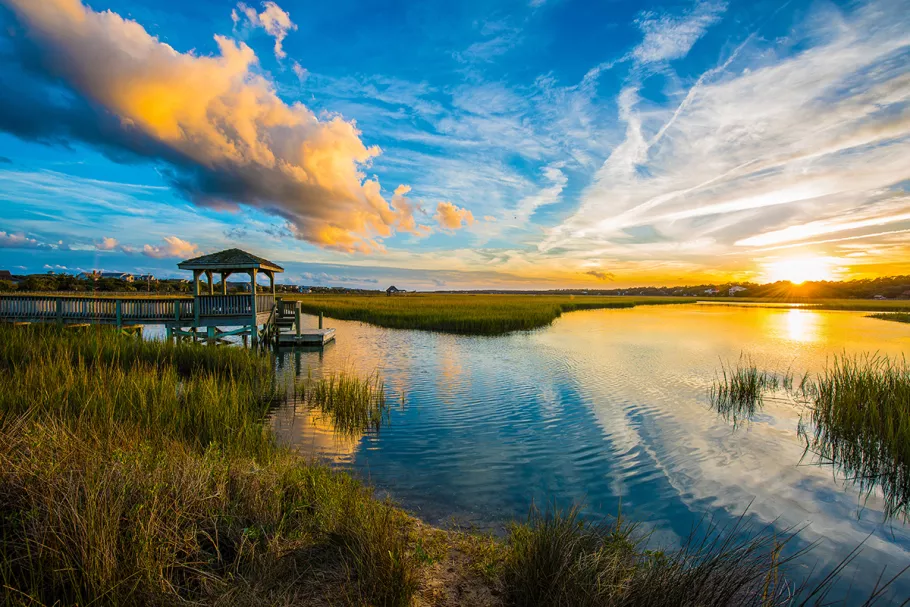 Huntington Beach State Park
The diverse natural environment of the South Carolina coast can be observed at Huntington Beach State Park in the freshwater lagoon, salt marsh, nature trails and along the fabulous stretch of beach. The park has 133 campsites, picnic areas with shelters, nature programs and the historic castle Atalaya, once the winter home of sculptor Anna Hyatt Huntington and her husband, Archer. For more information, call (843) 237-4440 or visit SouthCarolinaParks.com/Huntington-Beach.
Camping in Myrtle Beach offers fresh air, space, access to beaches and a variety of unique Grand Strand restaurants and attractions. Our campgrounds are committed to providing sanitary facilities and promoting indoor facemask use and providing hand sanitizer stations. It really is a great way to enjoy a much-needed vacation and stick close to your family and friends. This is the stuff memories and precious traditions are made of. For more information visit the RV/Campgrounds page.