Enjoy High-Flying Fun With a Parasailing Adventure!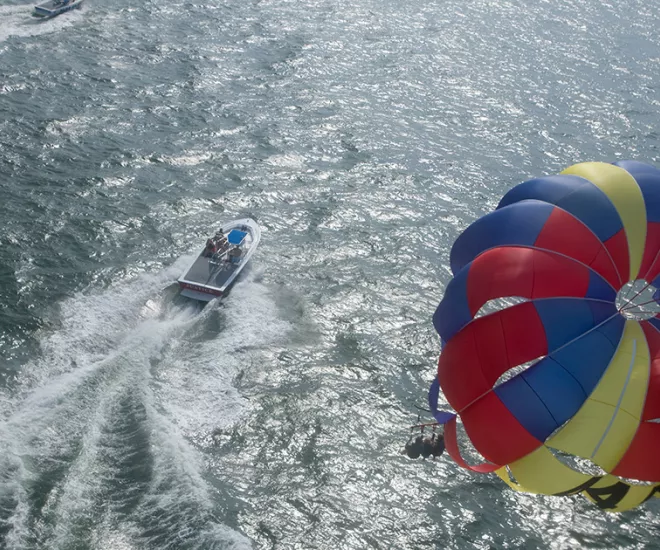 Enjoy High-Flying Fun With a Parasailing Adventure!
The first time I went parasailing, I didn't quite know what to expect. Nervous and excited, I got strapped into a harness while the small boat cruised out to open waters. After a safety check, I was told to hang on, and off I went! The cable slowly rolled out and up, up, up I sailed! Parasailing is thrilling and exhilarating, and it's a great opportunity to see the destination from a very different perspective. I'm glad to live in a region that has several parasailing options because this activity is also a bit addictive! Here are some of my favorite Myrtle Beach Area parasailing companies. Check them out next time you're in the Grand Strand and feel like flying.
Downwind Sails Watersports
2 Locations:
 410 South Ocean Blvd., Myrtle Beach, SC 29577, (843) 236-7245
2985 South Ocean Blvd., Myrtle Beach, SC 29577, (843) 448-7245
Since 1978, Downwind Sails Watersports has been providing vacationers and locals alike with affordable premium water sport activities in Myrtle Beach. Make sure you get your turn by making a reservation ahead of time, but if you decide to go on a whim, they do take walk-ups! Downwind also offers fun on paddleboards, kayaks, sailboats, parasails, and banana boats!
New Wave Watersports
1701 South Ocean Blvd. North Myrtle Beach, SC 29582, (843) 361-3322
Make your vacation one to remember! Enjoy a bird's eye view of Myrtle Beach from one of New Wave's Coast Guard inspected parasail boats or go for a banana boat ride. Either adventure is sure to put a smile on your face!
Parasail Express
4042 Highway 17 Business, Murrells Inlet, SC 29576, (843) 357-7777
Express Watersports offers the HIGHEST and LONGEST flight on the Grand Strand! Fly high above the Atlantic Ocean up to 500 feet in the air and a full 10-12 min flight time! Also available: scuba diving charters & lessons, ocean sightseeing/dolphin watch cruises, parasailing, kayak eco tours and rentals, banana boat rides and paddleboard rentals.
See more about Myrtle Beach Watersports and Watersports discounts.