Edventure Myrtle Beach Offers Interactive and Play at The Market Common
Edventure, our local branch of the Columbia Children's Museum, is now bigger and better with new play spaces for kids of all ages!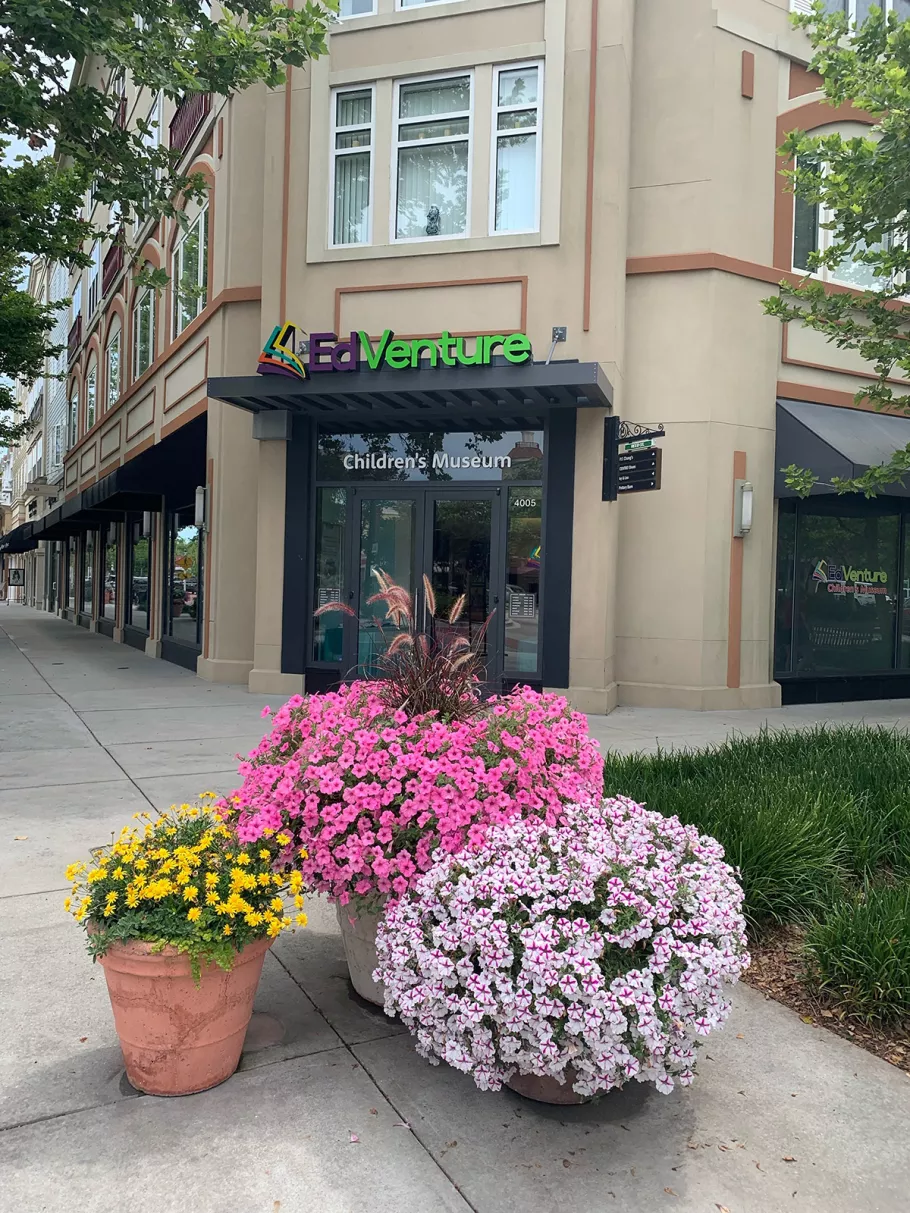 I had the pleasure of visiting the space. Jessica, the general manager, gave me a full tour! Right away, I was greeted by a beautiful space that is light and bright. The children will be drawn to the most visible hands-on exhibits but there's always something hidden around the corner too! The newest addition is called World of Work. In this space, children can try running an ice cream and pizza parlor with all the equipment they would need to pretend to run their own restaurant or practice being good patrons. Across the "street" is a dentist's office with a dental chair and next door is a doctor's office. For autism families, this is a great opportunity to practice behaviors in these settings and diminish anxiety when you have to visit the real office. My favorite part of this exhibit is the grocery store which was donated by Publix Grocery Store. Little shoppers can fill their carts with faux fruits, veggies, and canned goods. Or if they prefer, they can try their hand at the register or pretend to be the produce manager. Either way, children will learn the skills to help them through life and for assisting Mom or Dad with grocery shopping.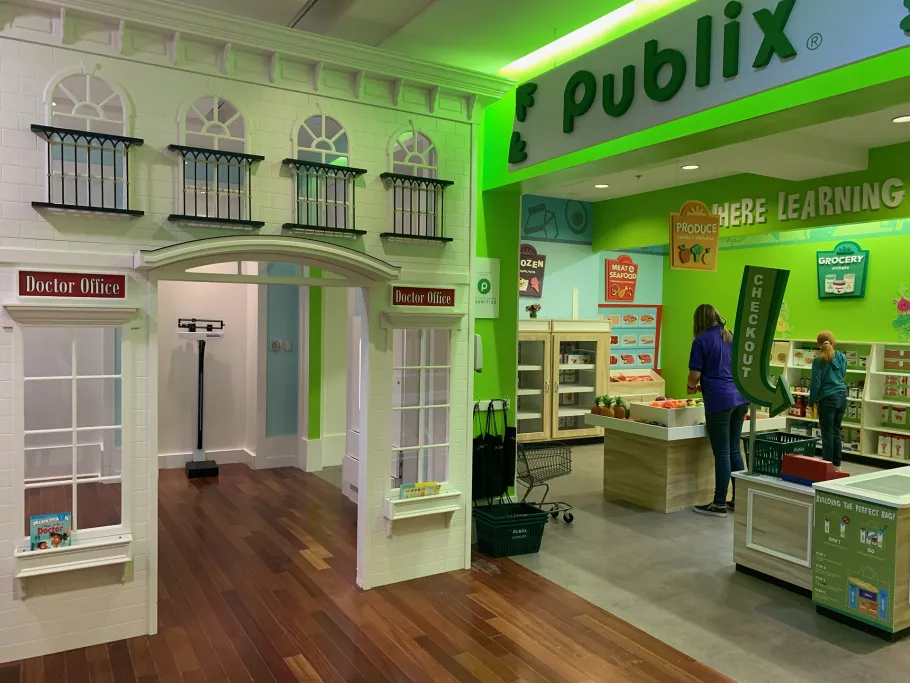 Around the bend from here the children will discover the Maker's Space. Numerous materials such as legos, fabric, pom-poms and more will be available for them to make an original creation at the large workbench. Behind the bench is a massive, wall-sized "Light Bright," familiar to those of us of a certain age! As the children work their way through the museum, they will see nooks in the walls with other items for creative thinking, problem-solving or hand manipulation.
The old favorite, The NASA Room, is still present. This room features a mission control panel and a rocket ship that communicates with it. For those who want a more realistic experience, there is even a flight simulator. Since humor is an important part of anyone's day, there is a massive life-size version of the game Operation, but the human figure is an astronaut! This display was awarded a grant from NASA so you can be sure they provide plenty of authenticity to this display.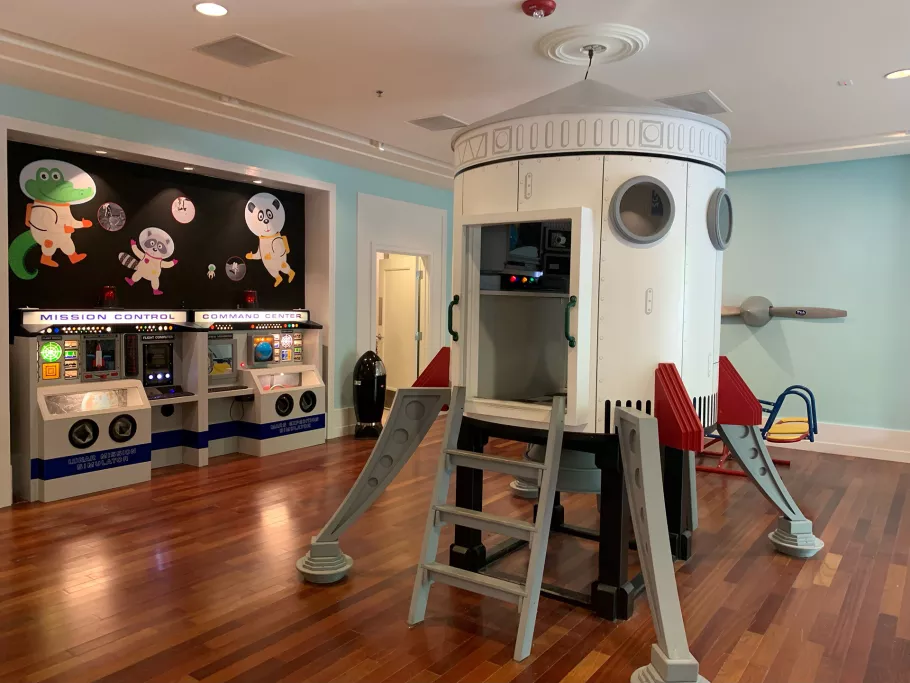 We can't forget about the toddlers. They have their own area with a beach theme. It's cordoned off by a low wall to provide them protection yet is easy enough for parents to access. 
As you know, museums can get over stimulating or even quite loud. To accommodate those who may need a break, Edventure will soon be adding a quiet room for children to calm down or step away from the stimuli. Headphones will also be available.
If you are seeking a wonderful place to host a birthday party or a special event, call Jessica and she will set you up. Their multipurpose room is a beautiful and perfect setting to eat birthday cake and then explore the museum. The quaint size of the museum means parents will always be within earshot of their child and can feel comfortable encouraging them to be independent. I am also proud to mention that they are also members of Champion Autism Networks certified businesses. All staff will very soon be trained to understand autism and there will be safety protocols put in place. If you show your CAN card you will get a discount.
You won't be able to miss the gift shop that is filled with creative and engaging toys and books. It is a children's paradise. You can even visit the store without entering the museum.
Edventure is open Monday – Saturday: 10 a.m. – 5 p.m.
Sunday: 12 p.m. – 5 p.m.