Downtown Myrtle Beach Live Music
Visitors seem to love downtown Myrtle Beach for all the right beach-town reasons; the ocean, of course, an award-winning boardwalk, plenty of amusements and thrill rides, little diners, restaurants and that seem to have remained unchanged for decades, and live music coming from some very old and very new nightspots. In no particular order, and since most all of these live music venues are walking distance from one another, here are a few worth checking out.
A relative newcomer (2018) to the Downtown Myrtle Beach live music scene, this rooftop oceanfront restaurant/bar/nightspot has been gaining a reputation for its unsurpassed views, great food and drink, and hosting some pretty awesome artists. With 20 locations around the country, and a history that dates back 20 years to Nashville's famed Music Row, Tin Roof takes its commitment to live music seriously. Soloists and duos have been known to perform outside on the open-air rooftop patio looking directly over the Atlantic Ocean, and on rainy days or when the big bands are booked, an indoor stage and dance floor accommodate music fans in any weather. Booking a variety of styles from cover artists, original acts, Reggae, rock 'n' roll, and even an up-and-coming country music artist series (Nashville Hits the Roof), you might find the Tin Roof your new favorite music venue. Open Tues – Friday 4 p.m.-2 a.m., Saturday and Sunday 11 a.m. – 2 a.m., closed on Mondays.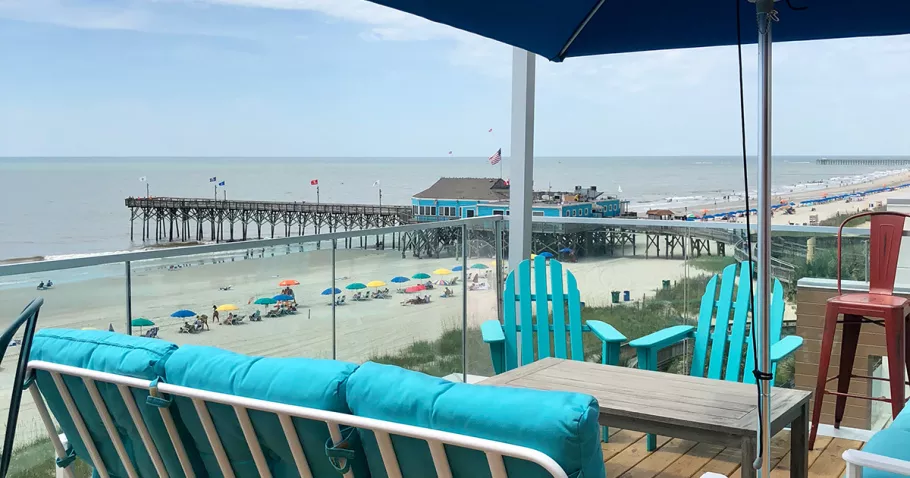 With its surfer and ocean waves motif, this hip, oceanfront joint on the famed Myrtle Beach Boardwalk took downtown by storm when it opened in 2017. RipTydz features a third-story rooftop patio bar/restaurant, open-air second-story bar/restaurant (seating some 500!) and live music and DJs off and on throughout the week and weekend. Soloists midweek and bands (in season) most Friday and Saturday nights ensure live music fans can get their fill. Free valet parking, an eclectic menu, tremendous views and a wide variety of musical artistry have helped secure RipTydz as a new favorite in the downtown region.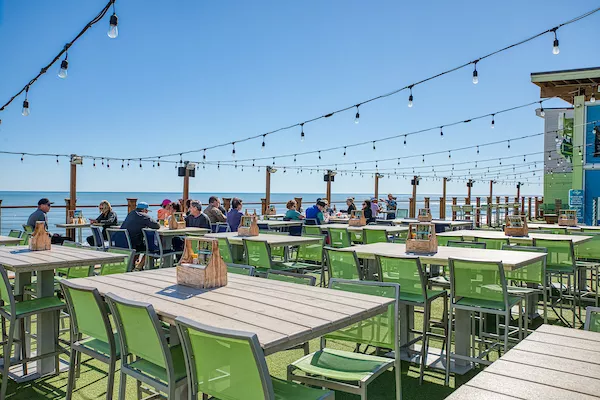 At Grand Strand Brewing Company (GSB), the beach, handcrafted beer, food, family fun and live music are all under one roof, and accompanied by one giant outdoor playground.  Located in the Arts & Innovation District "superblock" at Nance Plaza, a small city park in the heart of downtown Myrtle Beach, GSB opened in 2021 to great fanfare, and has grown a loyal clientele of beer lovers and music lovers alike. Here you'll find a variety of acts from soloists to full bands, which will move inside in inclement weather.  Open daily, 12 noon to 9 p.m.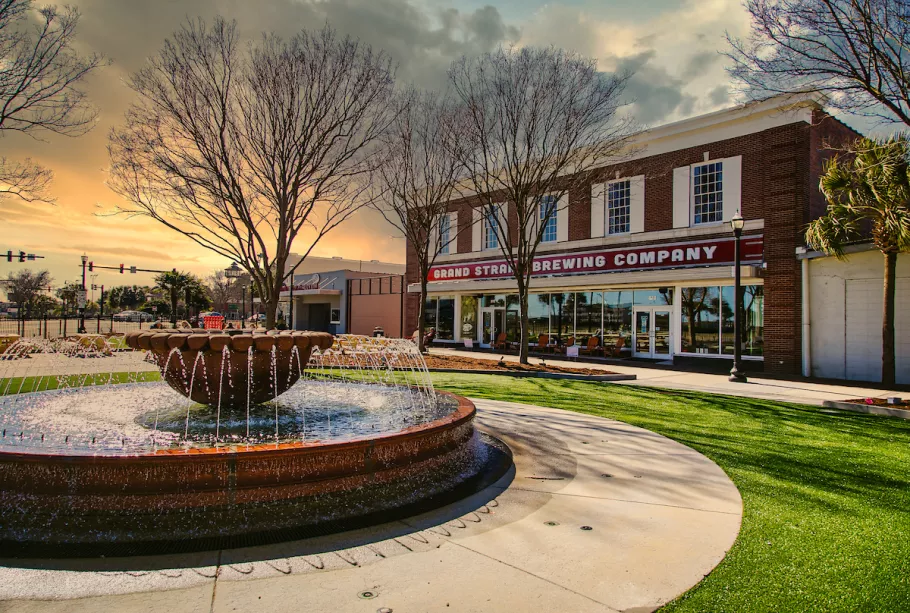 Nance Plaza
Nance Plaza and its permanent outdoor stage are home to a variety of musical acts throughout the year. Adjacent to Grand Strand Brewing Company (GSB), Nance Plaza is perfectly situated for food, beer and the giant outdoor games offered for free by the GSB. Though the Nights at Nance spring/summer concert series officially ends on May 12, it seems likely the City of Myrtle Beach will continue sponsoring shows off and on throughout the year.
Plyler Park
This city-owned oceanfront green space off the boardwalk and adjacent to the SkyWheel, is a park and venue for events including summer concerts, marathons, dance competitions and more. Live music here is sporadic, but will likely resume sometime in 2022. Open 6 a.m. – 12 midnight.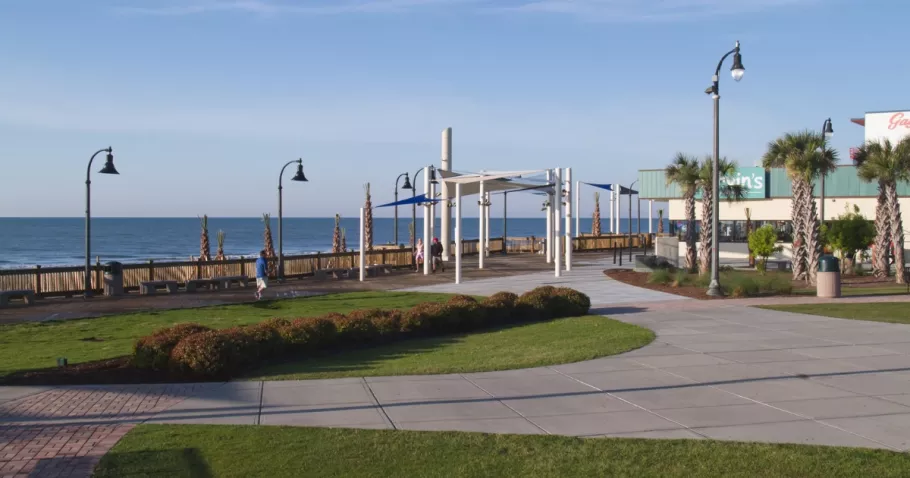 On the oceanfront along the Myrtle Beach Boardwalk, the 8th Ave Tiki Bar is a quintessential beach bar with indoor/outdoor seating, plenty of burgers, pizza and more, plus a full bar. Live music is presented each Thursday night in the form of solos and duos. Open Mon – Thu, 12 noon to Midnight, Fri and Sat closes at 1:30 a.m.
Arguably the oldest and most famous of all the Grand Strand's bars, The Bowery served its first beer in 1944 and hasn't ever quit. Located on the Myrtle Beach Boardwalk, this famous (some say infamous) bar was the home of country music super group Alabama for many years, before the band hit it big. Today, The Bounty Hunters perform country and southern rock hits six to seven nights a week with occasional special guests. Open daily 11 a.m. – til?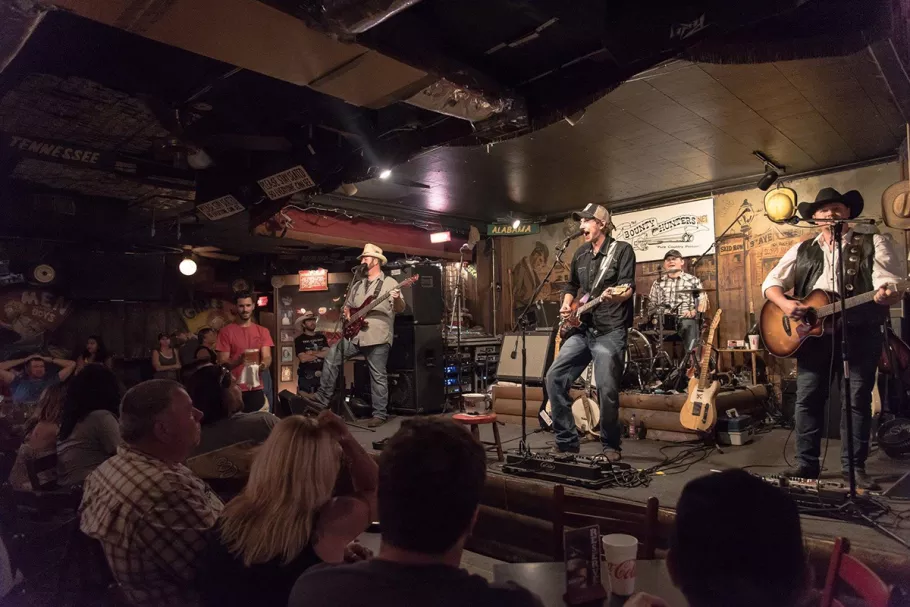 Two of three Dirty Don's locations are in downtown Myrtle Beach (the third is in North Myrtle Beach). The original, opened in 1991, sits between Ocean Blvd and Kings Hwy at 21st Ave N., the other right on the Myrtle Beach Boardwalk. All DDOB locations feature live music, usually soloists. As an ultra casual seafood dive, Dirty Don's can be the perfect place to unwind after a day at the beach or place to hang your hat for an all-night party. Great food and atmosphere. Opens daily at 11 a.m. and closes at 10 p.m. Happy Hour 4-6 p.m.
As authentic an Irish pub as you'll find at the beach, The Ole' Irish Pub was opened in 2018 by the Dublin-born owner, who takes pride in authentic Irish food and beverage. Seasonal live entertainment in the form of soloists and occasional DJs help the party go late into the night, especially on weekends. Opens 2 p.m. Mon-Thurs / Closes Daily at 2 a.m., Opens 12 p.m. Fri / Sat / Sun, and Happy Hour 4-7 p.m.
The 2nd Ave Pier in Myrtle Beach, located along the oceanfront at 2nd Ave N., is home to Wicked Tuna, an eclectic restaurant bar with a rooftop bar, open-air dining and live entertainment from soloists and duos every day, from 4 – 7, which nicely coincides with happy hour. A sister restaurant of the same name is located on the Marsh Walk in Murrells Inlet. Opens Daily at 11 a.m. and closes at 9 p.m., except Fri, Sat, closes at 10 p.m.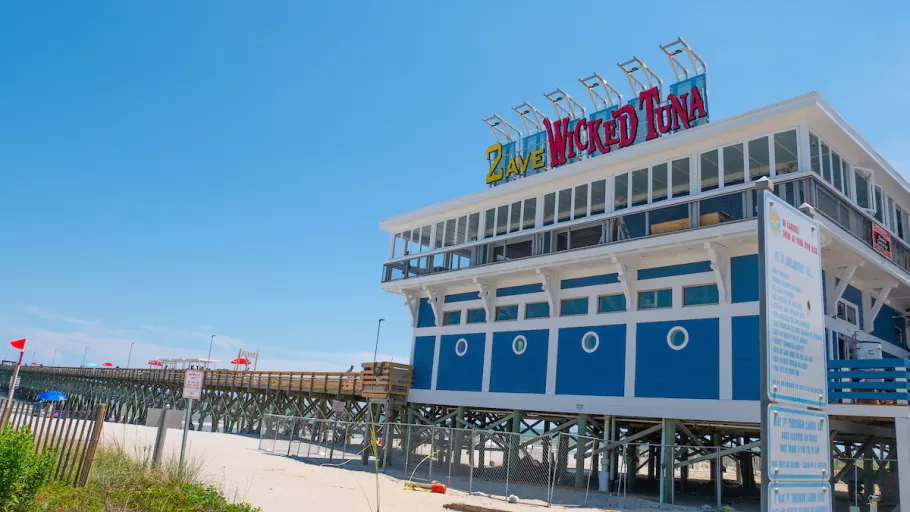 Since opening in the mid 1980s, this stalwart iconic restaurant and bar, that sits over top of the Atlantic Ocean, providing endless views of the Grand Strand's beaches, has been enchanting locals and visitors for decades. Very reasonably priced food for the entire family, plus seasonal live music may be enjoyed each Thurs – Sunday, 4 p.m. – 8 p.m.
This old beach house turned bourbon, bbq and craft beer bar & grill in 2014, offers a homey atmosphere with inside weatherproofed "rooms,' a friendly bar, and an outside deck with games and a small stage that hosts soloists and duos, mostly on the weekends. Open Mon-Fri at 4 p.m., Sat and Sun at 12 p.m.
One of the first downtown establishments to embrace the craft cocktail movement, their "farm to shaker" philosophy means fresh, locally sourced ingredients for their inventive cocktails and many small plate delicacies. Opens daily at 4 p.m., closed Sundays.
Undoubtedly by the time you peruse this list even more downtown Myrtle Beach bars will open and feature live music, and sadly some will close too, so it's always best to call before making a trip. Either way, you won't be disappointed with the seaside ambiance, unsurpassed oceanfront views and live music of every sort, all in 10 block radius. Enjoy!