Celebrate MLK Day and Freedom Week in Myrtle Beach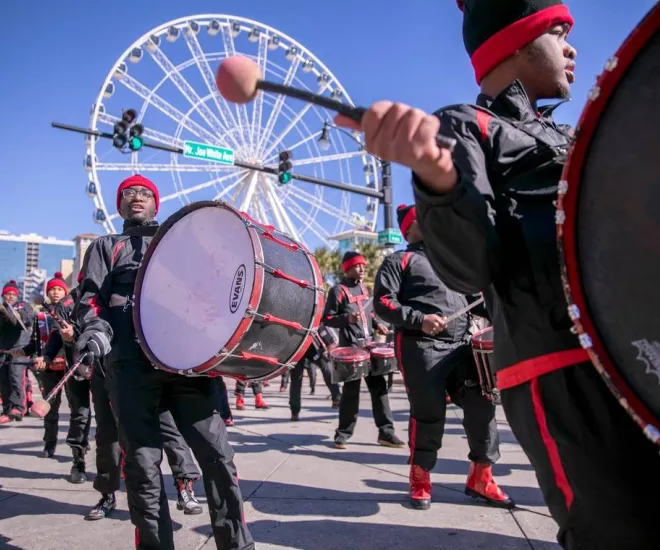 Celebrate MLK Day and Freedom Week in Myrtle Beach
The Grand Strand has been greatly influenced by its African American history and roots that date back to the 1700s. From what we eat to how we speak can be traced back to the African Heritage in the region. The Grand Strand is honored to celebrate Freedom Week from January 13-17, 2023 to recognize the life and work of Martin Luther King, Jr. and his dedication to service and justice.
There will be several events throughout the week organized by the Carolina African American Heritage Foundation (CAAHF) in partnership with the City of Myrtle Beach and the Myrtle Beach Area Chamber of Commerce. The CAAHF strives to promote cultural, arts and educational programs related to the history and culture of African Americans living in the Carolinas.
2023 Annual MLK Drum Major Parade
January 14, 2023 | 10 am
The parade will run from 15th to 8th Avenue North on Ocean Boulevard in Myrtle Beach.
Mental Health Forum
January 14, 2023 | 1-3 pm
Get a boost for your mental health, a perfect start to the new year. Led by Dr. Jessica Greene, licensed professional counselor private practice practitioner, Alfreda Small, licensed professional counselor at Small Counseling and Wellness, and Danielle Lewis, founder of R.E.A.C.H. Empowerment.
CommUNITY Ecumenical Service
January 15, 2023 | 4-7 pm
Evening worship service held at Mount Olive AME Church on Carver Street, Myrtle Beach.
Drum Major Awards and Breakfast
January 16, 2023 | 9 am
Community awards breakfast held at the Myrtle Beach Convention Center.
Economic Development Summit
January 17, 2023 | 9 am - 1:15 pm
Hosted at the Myrtle Beach Convention Center and the Myrtle Beach Downtown Alliance, this summit will feature keynote speaker Michael Allen, CEO and founder of MOA Architecture Inc. A panel discussion featuring local and regional entrepreneurs on building the small business ecosystem and supporting community collaboration will follow. 
For more details and registration information for all these events, please visit the CAAHF website. 
Beyond official MLK Day weekend festivities, here are a few other suggestions while you are in town for the long weekend: 
Dine out! January 12-22 marks South Carolina's Restaurant Week, where participating restaurants throughout the Grand Strand create special, three-course menus for a set price. This is a great way to try new dishes or even treat you and your loved one to a romantic evening out. 
Relax! A number of Myrtle Beach area spas also offer fantastic deals and packages this time of year! Winter weather can be hard on your skin (especially if you live further North), and its always luxurious to make a point to visit one of our local spas for a hydrating facial this time of year. 
Explore! Many of the area's larger attractions are open throughout the winter, and now is the time to check them out without having to navigate crowds of summertime travelers. From riding the SkyWheel to shopping our two outlet malls, this weekend is the perfect time to visit if you like easy parking and no lines of people.