Celebrate Halloween in Myrtle Beach, SC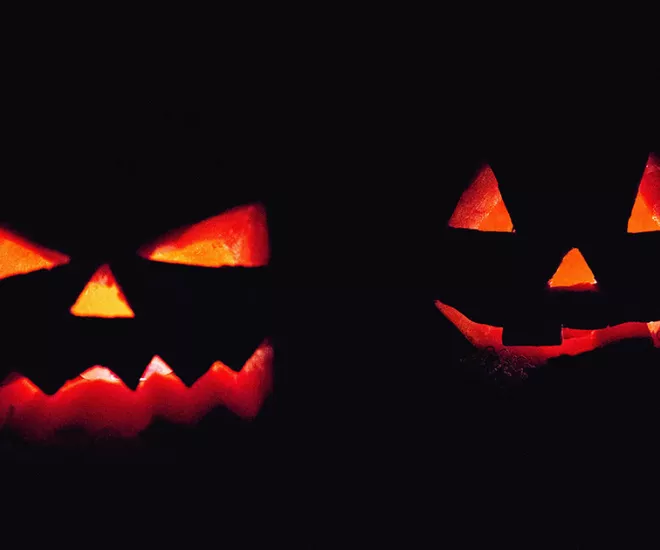 Celebrate Halloween in Myrtle Beach, SC
Boo! It's the time of year with a little chill in the air, ghost stories are swirling around, and we all enjoy a little more candy than usual - it's Halloween at The Beach! During the month of October, there is something to do practically every day to celebrate the spooky holiday. In fact, Conway, SC, one of the 14 coastal communities in the Myrtle Beach Area, declared the town to be now called "Halloween, SC" for the entire month! Come celebrate Halloween with us at The Beach. It will be fun, spooky and extra sweet. Check out these events! 

In this haunted mansion, zombies and other scary creatures lurk behind each corner to 'welcome' you to the Haunted Adventure. You will be given a laser gun to help take down the zombies and defend yourself as you make your way through the house. Open every Friday and Saturday throughout October from 12:00 pm to 9:00 pm for ages 8 years and up. 
This just may be the biggest Halloween Bash yet! This event will take place on The Avenue located at Broadway at the Beach on October 29 at 7:00 pm. A live DJ and a costume contest are just the beginning for this event! Then, head back to Broadway at the Beach on Halloween, October 31, for Trick-or-Treating around to your favorite shops, restaurants, and attractions. These festivities will take place from 4:30 pm to 6:30 pm, perfect timing if you have little witches in tow. 
Enjoy a spooky Saturday at Barefoot Landing on October 29, 2022, from 12:00 pm to 4:00 pm. With fun for all ages, there will be family friendly activities, a DJ dance party, and more. Kids and pets can come dressed in their most creative costumes such as witches, zombies, ghosts, super heroes, etc. for a costume contest. There will also be a free showing of Hocus Pocus at 7pm on the Amphitheater Lawn. 
The North Myrtle Beach Park and Sports Complex transforms into a haven for the thrill seekers of North Myrtle Beach on Saturday, October 29, 2022 from 5:00 to 8:00 pm. Open to all ages, the Parks and Recreation Department in collaboration with Coastal Carolina University's Recreation Management class converts the North Myrtle Beach Park and Sports Complex into a spooktacular site for an array of activities that includes hayrides, marshmallow roasting, trick-or-treating and much more. Both 'Scare Free Zones' and 'Scare Zones' offer a variety of excitement levels sure to satisfy all. Admission is $2 for adults (ages 15 and up), $1 for children (ages 5-14) and free for children 4 and under. 
The Murrells Inlet MarshWalk Halloween celebration is one you won't want to miss. Taking place on Sunday, October 31, the Marsh Walk will host costume contests for kids and adults and trick-or-treating beginning at 5:00 pm. The kids' costume contest is up first with prizes for Most Creative, Best Group, Funniest, and Scariest for ages 3 and up. Kids ages two and under will compete for the "Awes Applause" award. Prizes include trophies, ribbons, and candy bags and will be awarded in front of Drunken Jack's at 6:00 pm. Finally, the adult costume contest begins at and will award over $4,000 in cash and prizes. Compete for peoples' choice, best duo/group, best individual, big & bulky, Murrells Inlet-themed and honorable mention. Ceremonies will be held at Wicked Tuna at 10:00 pm. Enjoy food and drinks at all the eight MarshWalk restaurants throughout the evening! 
Halloween Dance Party at Ripley's Aquarium 
Dress to impress in your best Halloween costume and enjoy and evening of dancing, giveaways, games, snacks and drinks, and more after hours at Ripley's Aquarium on October 29 from 7:00 pm to 9:00 pm. Explore the aquarium and the undersea creatures with the whole family. Buy tickets online for this spooktacular evening! 
The City of Conway declared a name change for the month of October to be "Halloween, SC", so you know they are celebrating this spooky holiday big time! Head on out to downtown Conway on October 29 from 11:00 am to 1:00 pm. 
More Tricks and Treats
Broadway at the Beach: This free event elebrates the best part of Halloween… candy! Dress up in costumes and walk around Broadway at the Beach on Monday, October 31 from 5 to 7 p.m.
Thompson Farms Flashlight Fridays: This event takes place every Friday in October and features movie night, fun around the fire pit, play area, and a 6.5-acre corn maze at Thompson Farm at Brickyard Plantation. Movies begin at dusk - 5:00 pm. General admission is $12 per person, with kids under 2 allowed free. Also available for purchase onsite are s'mores kits, coffee, hot cider, and flashlights. 
Trunk or Treat at Buoy's on the Boulevard – Buoys on the Boulevard in North Myrtle Beach is hosting a trunk or treat event in the O.D. Pavillion Arcade from 4:30 p.m. to 9:30 p.m. on October 29. The rear parking lot will be closed where cars will be lined up in a weaving trail of spooky fun. All cars will be spaced out, and only candy in-store packaging will be handed out. They'll also have hot dogs, chips, hot chocolate, and apple cider for kids.
Halloween Heliocopter Treat Drop at Thompson Farm – Come grab some candy as it drops from a heliocopter at Thompson Farm on Saturday, October 29 from 10:00 am to 6:00 pm - the candy drop will be at 4:00 pm.