Best Places for Hush Puppies in the Grand Strand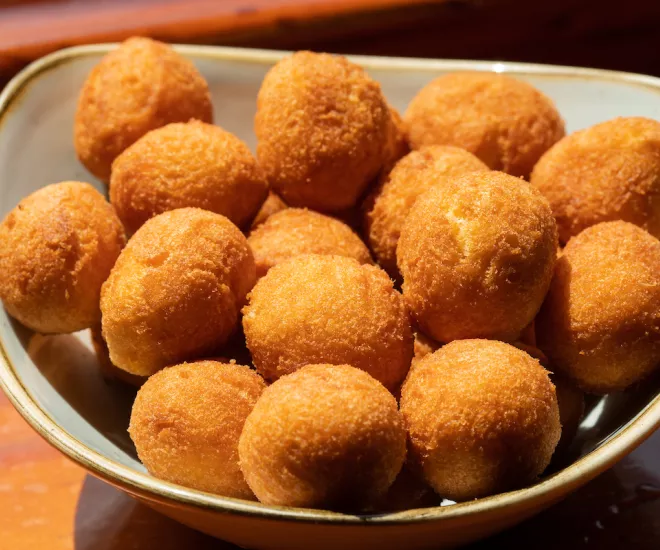 Best Places for Hush Puppies in the Grand Strand
Hush puppies are a way of life for locals and visitors right here in the south, and everyone seems to have their favorite spot for these fried delicacies. These fried fritters are typically made with a cornmeal-based batter and fried until golden so that they're crispy on the outside but chewy on the inside. Each basket comes out to your table hot off the fryer and often served with a variety of honey butters, regular butter and sometimes even jams. Whether you prefer the giant savory kind or the lightly fried bite-sized pieces, we've got them all. Here's a sneak peek at just a few of the great restaurants around Myrtle Beach that dish out the best hush puppies along the Grand Strand!

4031 Hwy. 17 Bus., Murrells Inlet, SC
Everyone raves about the homemade hush puppies served piping hot with honey butter at Drunken Jack's. This classic MarshWalk restaurant also offers plenty of fresh seafood entrees, oysters on the half shell, Chef Casey's Risotto with Mahi Mahi and scallops and plenty of char-grilled options as well. Be sure to pose with pictures with the fun statue outside along the marsh as well as the goats across the water on Goat Island!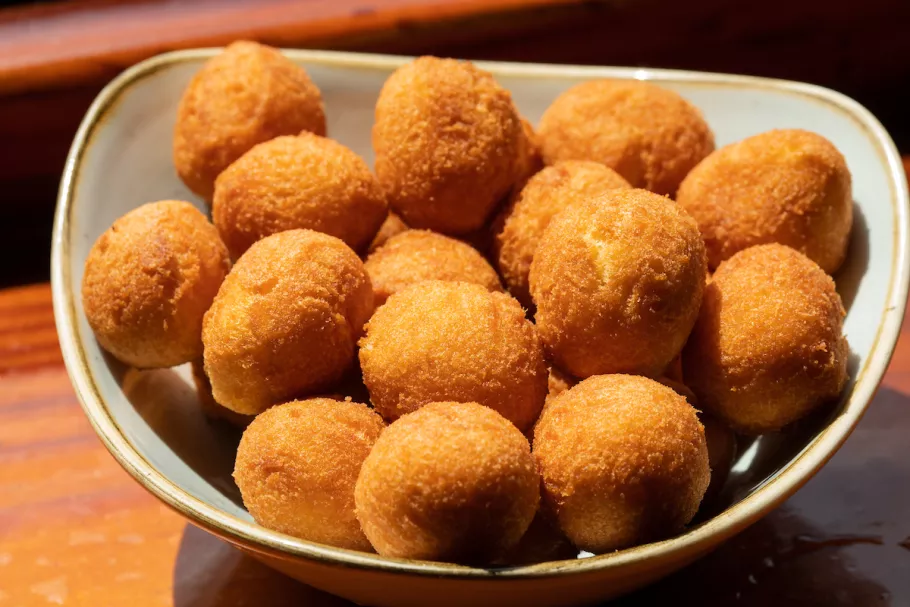 3002 N. Ocean Blvd., Myrtle Beach, SC
The hush puppies are one of the first things mentioned whenever you talk about Sea Captain's House in Myrtle Beach. The ocean views and award-winning She Crab Soup are definitely a close second and third at the historic restaurant. Other popular menu items include the shrimp and grits, Captain's Shrimp dinner and the Carolina Sea Scallops.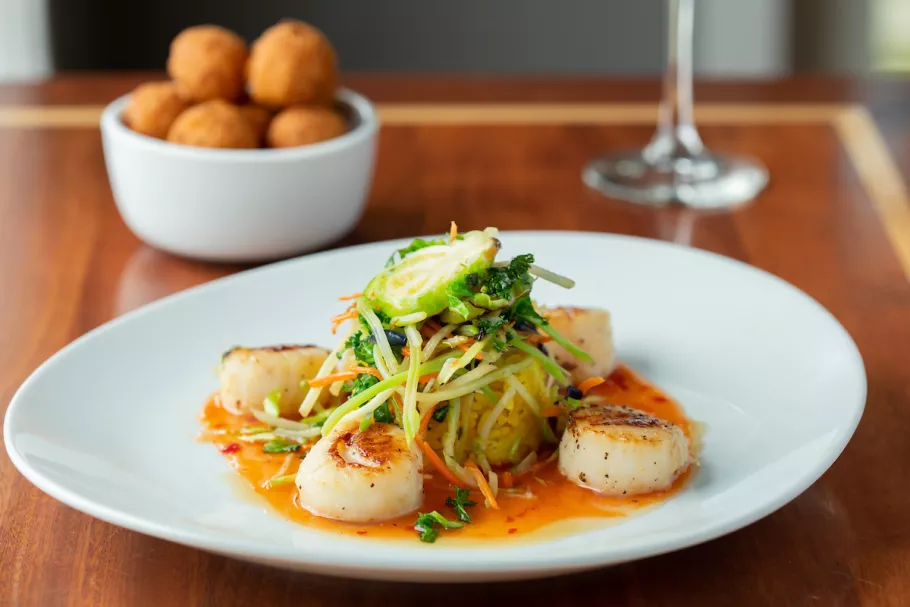 930 Lake Arrowhead Rd., Myrtle Beach, SC
Bimini's claims to have the "world's most perfect hush puppies" but we think the rest of their menu is pretty great too. It's also known for their Steam Pots, Oyster Roasts and Crab Legs and locals can't get enough of the Island Conch Fritters, Fried Seafood platters and Bimini's Famous Fish Plate. Get there early as they tend to be packed year-round!
4079 US-17 Bus., Murrells Inlet, SC
Expect to find mouthwatering bite-sized hush puppies with gooey honey butter at Dead Dog Saloon in Murrells Inlet. Famous for its live music and salt marsh views, the restaurant serves up breakfast, lunch and dinner with specialties like Boo Boo's Tender Bites, tacos, burgers, seafood baskets and house-made BBQ.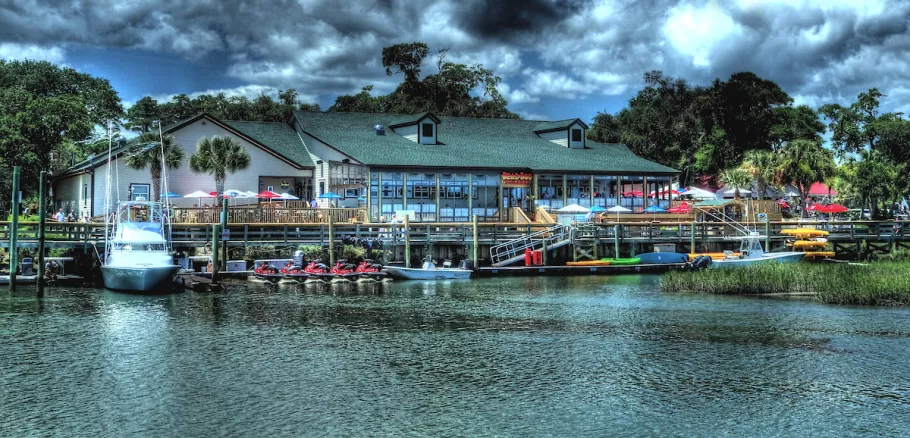 4883 US-17 Bus., Murrells Inlet, SC
Plenty of folks recommend the hush puppies at Nance's Creekfront Restaurant in Murrells Inlet solely because of their tasty maple butter. The unpretentious spot in the Inlet is known for its local oysters and other fresh seafood that's been served the same way since 1967!
2051 Bridgeview Ct., North Myrtle Beach, SC
The strawberry honey butter makes these hush puppies a crowd favorite and has been known to spoil dinners every night! The Marina Bar and Grill also offers plenty of appetizers, salads, tacos, sandwiches, burgers and baskets.
1536 S. Waccamaw Dr., Murrells Inlet, SC
Enjoy views of both the salt marsh and the Atlantic Ocean while you graze on the famous hush puppies from Gulfstream Café. The restaurant serves upscale seafood like Grouper Francaise, Shrimp and Grits and a daily local catch. Gulfstream is also known for its amazing Sunday brunches.
314 Atlantic Ave., Garden City, SC
Sara J's Seafood Restaurant has been a staple in Garden City for years. Visitors and locals flock to the marsh view restaurant to see the enormous Billfish they caught back in 2004 and for their tasty hush puppies. Other highlights include Oysters Rockefeller, Seafood Chowder and the Fried Oyster Salad.
9918 US-17, Myrtle Beach, SC
Chesapeake House makes their hush puppies daily with a family recipe that has been handed down for decades. They have a fantastic Early Bird and Senior menu along with specials like their world famous fish stew, fried gator bites, Chesapeake Baked Fish topped with crab and so much more!
4474 Water Front Ave., Little River, SC
Crab Catcher's prides itself on being "not fancy, just fresh" and that's exactly what their menu delivers. Their savory hush puppies are served with honey butter and are best paired with the blue crab bites, steamed seafood or the huge seafood platter. You'll love the waterfront views from this Little River restaurant.
We quizzed plenty of locals (and a few tourists too) to come up with our list. Other great restaurants worth mentioning include Judy Boone's Family Kitchen, Mr. Fish Seafood Restaurant, Lee's Inlet Kitchen, Driftwoods Seafood and Steak Restaurant, The Shack Southern Restaurant in Cherry Grove and both Bar-B-Que Restaurant locations on the beach.