Best Chicken Wings in Myrtle Beach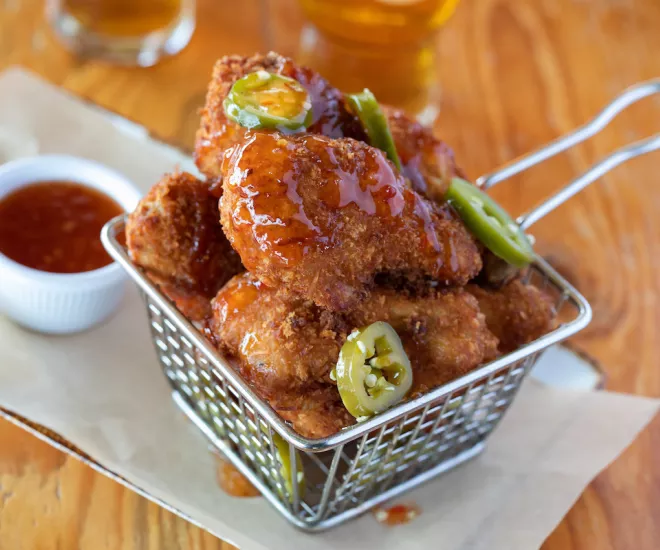 Nothing goes better with football season than chicken wings, and there's no shortage of great restaurants and sports bars along the Grand Strand serving up the good stuff. From funky takes on classic Buffalo wings to your traditional bone-in or boneless wings, these guys know their stuff. Grab your wings to go or sit and stay awhile as you cheer on your favorite team at these great spots for chicken wings in Myrtle Beach!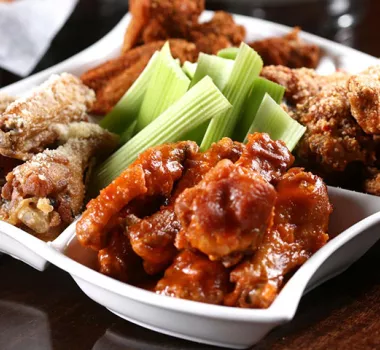 1.
Magoo's Sports & Spirits
Boasting one of the biggest bars on the beach, Magoo's also serves up arguably some of the best chicken wings as well. They come in sauces like BuffaloGarlicParm, Jalapeno BBQ, Peanut Thai, traditional hot, and even dry whether you want them seasoned, Cajun, or Florida Bay-style. Wings are on special every Sunday and Monday after 4 p.m. – just in time to catch your favorite sports games.
local's fav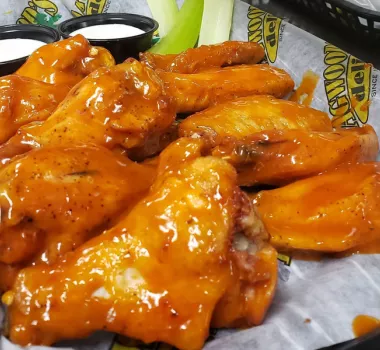 2.
Dagwood's Deli & Sports Bar
Dagwood's Deli and Sports Bar recently opened a third location in North Myrtle Beach near Barefoot Landing that's serving up great food just like its other two restaurants. While most people think of their specialty subs, they also serve great snacks including chicken wings! My personal favorite flavor is the spicy teriyaki with the perfect mesh of sweet and salty to spicy. Other flavors include their famous Garlic Parm, Honey Hot, BBQ, and more traditional wing sauces.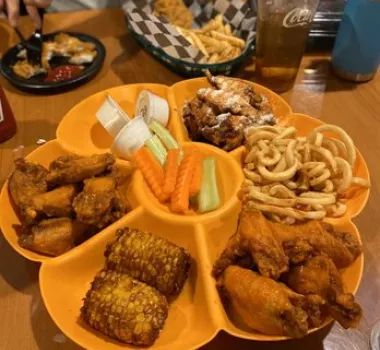 3.
The Original Fat Jack's Wings & Things
This popular spot for wings has won countless Readers' Choice Awards across the Grand Strand and even features a "sauce of the month" to keep things exciting. Fat Jack's wings are purchased fresh daily and fried in your favorite sauce in pure vegetable oil. They provide a color-coded sauce chart with the spicier version highlighted in red. Check out sauces like the Ragin Cajun, Honey-Barbeque, Undressed, Jamaican Jerk, and their own House sauce with a gourmet, sweet and savory, soy-base that's lightly dressed.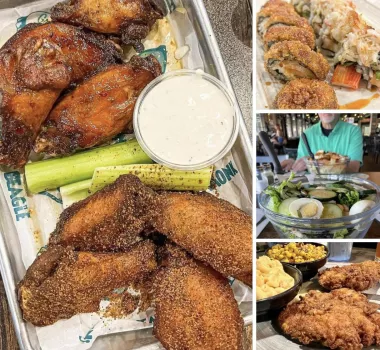 The Grumpy Monk is run by Coastal Carolina University Alumnus and prides itself on quality food using great local ingredients whenever possible. Don't expect your typical wings here either. Their Monk wings are "not traditional-style Buffalo wings" and are often caramelized while cooking. They have three categories of wings including Dry Rub, Spicy, and Savory with sauces like Lemon Pepper, Monk Fire, Thai Honey Butter, Nola, and Maple Chipotle. 
featured
5.
Crooked Hammock Brewery
Crooked Hammock Brewery has quickly made a name for itself on the Myrtle Beach beer scene but their food packs a flavorful punch too! While they don't have an entire menu dedicated to wings, they have a few tricks up their sleeves including a Sticky Lager Sauce served on boneless or traditional wings. Try the unique Pineapple Express Wings slow-cooked right in their kitchen, coated in coconut then drizzled with a pineapple jalapeno sauce. Wash them all down with a seasonal or year-round brew.
local's fav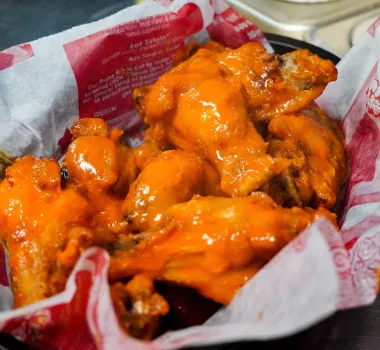 Thorny's has been a long-standing crowd favorite for food, sports, and fun! This fun, family-friendly sports bar in Myrtle Beach also serves some crowd-pleasing wings. They come in flavors like Sweet Thai Chili, Blackened, Spicy Garlic Parm, Thorny's Sweet and Spicy, and BBQ. Take your pick of 8 or 14 traditional or boneless wings all served with Ranch or Bleu Cheese dressings.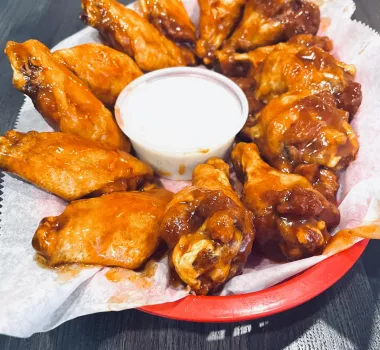 Wing Kings is a surefire way to please a crowd with its 22 different wing flavors and even catering options. They offer bone-in and boneless wings served in combos with up to four flavors. Sauce options include Naked, Suicide, Garmesan, Honey Mustard, Mango Habanero, Mustard BBQ, Ranch, Spicy BBQ, Thai, and more. Feeding a crew? Order the Kings Special with 25, 50 or 60 wings, fries, and a two-liter or soda or a half gallon of tea.
local's fav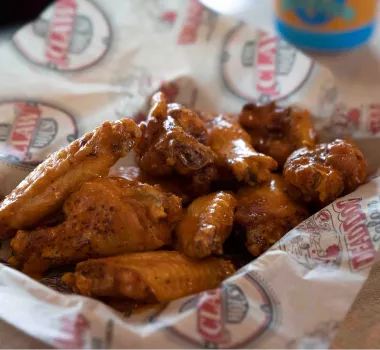 Watch your favorite game on the big screens or just listen to live music as you catch amazing views of the Murrells Inlet MarshWalk from your table at Dead Dog Saloon. Their extensive menu wouldn't be complete without wings and things! Try the Woof Woof Wings tossed in hot, milk, teriyaki, Chipotle, Korean Pepper, or even Honey Sriracha. Or mix things up and order a batch of the Caliente Bites breaded in Panko crumbs in your favorite sauce.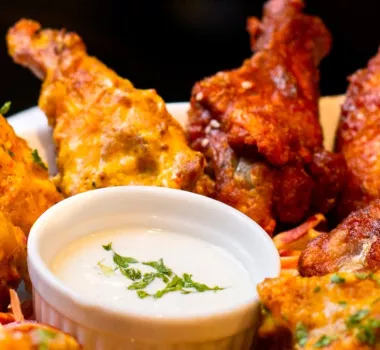 9.
Oscar's Food & Spirits
Oscar's Food and Spirits is probably the most famous Steelers sports bar along the Grand Strand. The sprawling restaurant features unique décor in every space, huge TVs, and great wings in a family-friendly atmosphere. Wings are served with carrots and celery and tossed in flavors like Kickin' Honey Mustard, Old Bay, Gold, Hot Yaki, and Cajun. Cool your mouth off with one of 20 beers on tap at the bar!